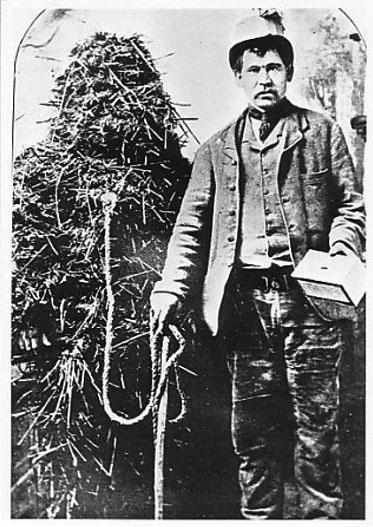 File under: Trails and Influences: Recent Explorations. Case #27/52.
Not so long ago I went for a wander in the footsteps of By Our Selves (see Day #221/365) and had something of a curiousity piqued visual gander at Andrew Kotting, Iain Sinclair and Toby Jones filmic journey, which follows in the footsteps of the troubled poet John Clare and heads off to meet Mr Alan Moore (who apparently went to school next to where Mr Clare was incarcerated; see more on such things below)…
…during and since then I've had some more of a wander around this project and wanted to return to it to peruse some more of the associated imagery…
…in particular the Straw Bear figure. As English folkloric characters go, I find this one of the most intriguing. I think in part it reminds me of Charles Fréger's photographs of European folklore figures, Wilder Mann (see Day #69/365); it has a similar surreal uncanniness and so when investigating its origins, history and story, I wasn't surprised to see that it is a character which also appears in European folklore.
Anyway, below is a Bakers Dozen of Berberian Straw Bears, companions and one owl-ic interloper…

(Above: shades of Electric Eden's cover…)

(Above: such Wickerman-esque masks seem to be a somewhat frequent signifier of a certain kind of otherly folklore, its tales and atmosphere. See also pathways from and via Sproatly Smith around these parts here, here and elsewhere here.)

(…amongst the towns and town folk…)
(

(The above photograph reminds me of The Eccentronic Research Council for some reason…)

(Amongst the corn rigs and barley rigs… I expect it's actually wheat but I couldn't say for sure, the not knowing of which may well in part be a side effect of not all that long ago nearly half the population on this particular island worked in agriculture, a figure which apparently now barely wanders into single figures per hundred of us good folk…)
(Above right: The interloper.)
What's this (once was a Berberian) Straw Bear journey and film all about you may ask? Who was this John Clare chap whose footsteps it is following in?
Well, a wander round the ether may well tell you more. I'm wary of writing in-depth about another's troubles but I would point the interested reader in the direction of a somewhat masterful, lyrical exposition on Mr Clare, his journey, life, work, class position/change/conflict and "sharp eye for detail in the wood, the trees, the bark" by Mr Alan Moore.
That can be visited here and in the ether here (page 98 to be precise, though you will need to delve into the old pennies a touch, though if you do you may also then be able to peruse about Mr Alasdair Roberts via the writing of Mr Rob Young and well, a fair bit more).
A Straw Bear went a-wandering; By Our Selves in the ether here and here (where you may well also discover the history of why this particular character is being lead along).
Straw Bear records and documentation: on these shores / on other shores.