There's been something of a bumper overview of A Year In The Country recently, via an interview with AYITC by Bob Fischer for his The Haunted Generation site and an "A Year In The Country Special" episode of the Kites and Pylons radio show.

So first up, The Haunted Generation interview, of which Bob Fischer said: "We covered pastoral headspace, Cold War dread, Rob Young's Electric Eden book, Noah's Castle, Ghost Box, The Prisoner, his new book/album… and so much more."
Bob Fischer also writes The Haunted Generation column in Fortean Times, and both the site and the column continue similar explorations to the 2017 article he wrote for Fortean times, which was an overview of hauntology, its themes, his personal connections with it and so on. Along which lines, at the first post on The Haunted Generation site he said this:
"…my 1970s childhood was imbued with an odd sense of melancholy and a vague, unsettling disquiet. Hoorah! These were feelings that I vainly attempted to describe, evoke and recapture for decades, until I realised that a generation of musicians, artists and writers were already – rather conveniently – doing the job for me. If you're reading this, then it's likely you're familiar with the world of 'hauntology' – of Ghost Box Records and Scarfolk Council and Boards of Canada – but if not, then that's fine. I'd be delighted for this blog to act as a gentle introduction…"

He can also be found hosting a regular radio show for BBC Tees, alongside hosting events where he interviews the likes of Stephen Brotherstone and Dave Lawrence, who wrote Scarred for Life: Growing up in the Dark Side of the Decade – Volume One: The 1970s (a book which explores the more eerie, unsettled side of 1970s pop culture – public information films, dystopian science fiction and so on).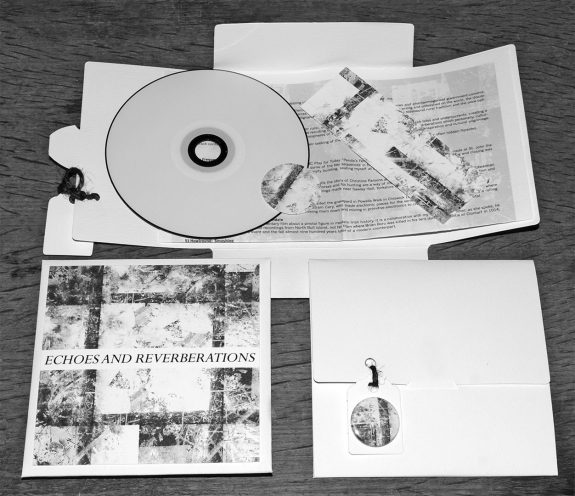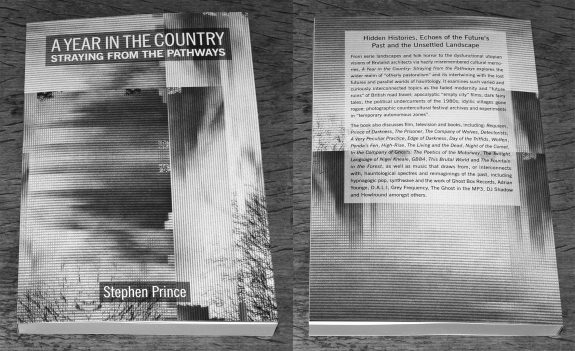 (If you're curious, the new album mentioned above by Bob, is Echoes and Reverberations, which is a field recording based exploration of real and imaginary film and television locations, and includes work by Grey Frequency, Pulselovers, Dom Cooper, Listening Center, Howlround, A Year In The Country, Sproatly Smith, Field Lines Cartographer, Depatterning and The Heartwood Institute. The upcoming new book is A Year In The Country: Straying from the Pathways, which is released on 8th October 2019 and which "wanders amongst eerie landscapes, folk horror, the dysfunctional utopian visions of Brutalist architects and hazily misremembered cultural memories, taking in the likes of the faded modernity and 'future ruins' of British road travel, apocalyptic 'empty city' films, dark fairy tales, the political undercurrents of the 1980s and idyllic villages gone rogue.")

Next up, on the 8th September 2019 there was "A Year In The Country Special" of the Kites and Pylons radio show.
Kites and Pylons is a show hosted by Lee Pylon, which focuses on "Library music, strange radiophonics, otherworldly electronica", often of a hauntological nature, and on the show you'll find the likes of Belbury Poly, Boards of Canada, Polypores, Sinoia Caves, Broadcast, The Focus Group, Joe Meek, John Baker, Delia Derbyshire and Basil Kirchin.
The show has also featured guest mixes by amongst others Midwich Youth Club, Simon Heartfield and sometimes fellow AYITC travellers Keith Seatman and Mat Handley (Pulselovers/Woodford Halse).
Each episode is originally broadcast via Mad Wasp Radio and then archived on Mixcloud and could well act as a spectral soundtrack for when reading the posts at The Haunted Generation.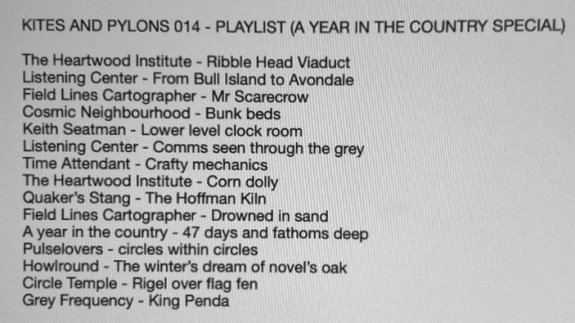 The "A Year In The Country Special" episode included tracks from the A Year In The Country themed albums The Quietened Village, Audio Albion, The Quietened Bunker and others, and features music by The Heartwood Institute, Listening Center, Field Lines Cartographer, Cosmic Neighbourhood, Keith Seatman, Time Attendant, Quaker's Stang, A Year In The Country, Pulselovers, Howlround, Circle/Temple and Grey Frequency.

Anyways, thanks indeed to Lee and Bob for their interest and support. It's much appreciated – a tip of the hat to both, and as always to those who have created the music for the AYITC albums.
Links:
Elsewhere at A Year In The Country: