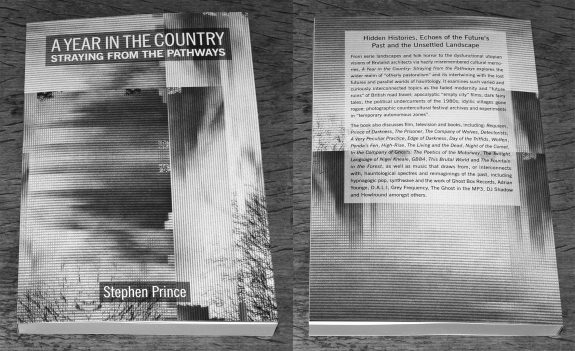 A selection of some of the reviews, mentions etc of the A Year In The Country: Straying From The Pathways book…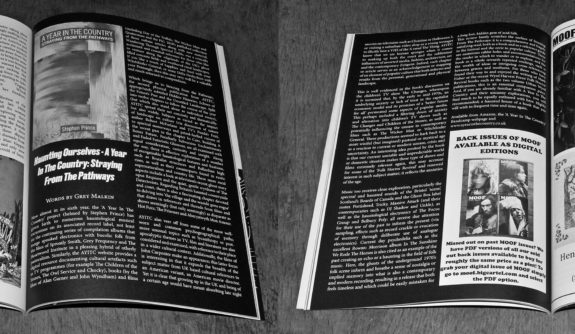 First up is a review in Moof magazine by Grey Malkin (of Widow's Weeds and formerly The Hare And The Moon):
"Straying From The Pathways is a comprehensive and hugely satisfying read, both as a book and as a reference guide to the liminal and the eerie in popular culture. There are numerous rabbit holes and recommendations for the reader in which to wander or to explore, and the book as a whole rewards repeated readings, such is the wealth of ideas or intriguing cross-referencing between genres and mediums… Highly recommended; a haunted house of a book that you will wish to frequent time and time again."
Moof is a psychedelia orientated magazine that's well worth seeking out (although the print copies tend to sell out relatively quickly). It includes period and modern-day explorers of psychedelia and related areas such as acid folk. Issue 7, the one with the review in it, includes articles on and interviews with amongst others Sharron Kraus, Burd Ellen, Dr. Strangely Strange, The Incredible String Band and much more.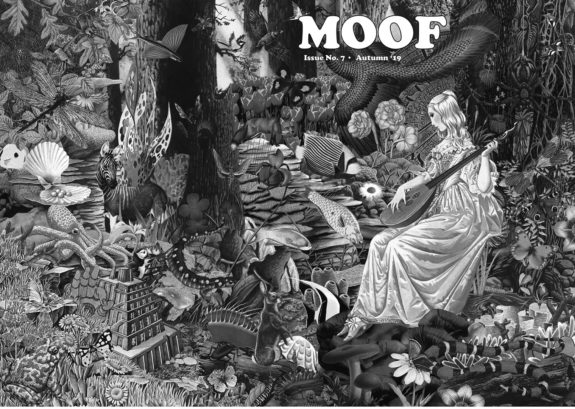 Reading Moof is almost like stepping into a time slip and, although it in part covers contemporary music releases etc, it can feel like having discovered some long-lost underground press magazine from previous decades… or maybe one from the future that's tumbled back in time.
Next there is Ben Graham's review in Shindig! magazine:
"A second volume of musings on all things hauntological and 'otherly pastoralism'… always accessible and informative… another indispensable guidebook to our cultural edgelands."
The review sits next to a review of 1965 science fiction/musical fantasy pop culture film oddity Gonks Go Beat's Blu-ray release, which features the likes of Lulu and the Luvvers, Ginger Baker and members of the Graham Bond Organisation. A Blu-ray release of Gonks Go Beat? Yep!
Elsewhere in the issue there's Pentangle, the Incredible String Band, Richard Hill's Chanctonbury Ring concept album from 1978 and The Delaware Road 2019 festival, which, along with the review of Straying From The Pathways, is something of an intertwining in the magazine of work that draws from the undercurrents and flipsides of the landscape, folk and pastoral culture and the places where they meet the spectres of hauntology.
That intertwining can often be found in Shindig!, amongst its coverage of psychedelia, prog, garage rock etc, but it is notably foregrounded in issues 39 and 52, which featured Broadcast, Ghost Box Records, the Children's Film Foundation, Emerald Web, Mike Heron, the BBC Radiophonic Workshop, Tape Leaders: A Compendium of Early British Electronic Music, Psychomania, the Berberian Sound Studio, the A Year In The Country released album The Quietened Bunker etc.

And then onto a piece about the book in Electronic Sound:
"We were pleasantly surprised when, last year, the literary accompaniment to the label 'Wandering Through Spectral Fields' landed in the office. We liked it so much so we named it one of our top reads of 2018. Oh what's this? A sequel has arrived? Perfect."
The book is in Electronic Sound's The Front section, which is the part of the magazine where they cover all kinds of often potentially wallet damaging gadgets, synths, hi-fi equipment (is that still the phrase to use?), books, music and so on. Straying From The Pathways can be found next to the Corgi toy car replica of Gary Numan's Telekon-era stage vehicle, which induced several days of "I want one but do I need one (?!)" around these parts.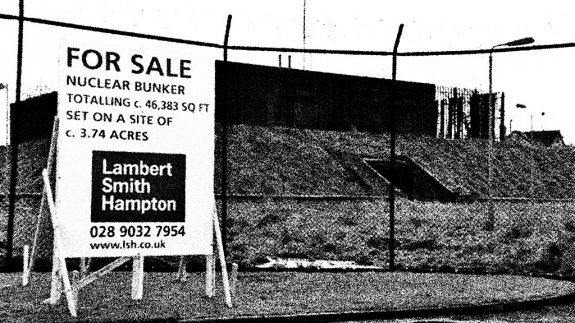 Oh, there are also details of an underground Cold War era bunker that's for sale (! again). Not the first time I've mentioned such things at AYITC (see above image). It's a funny old world…

And then there is Dave Thompson's review of the book at Goldmine's website:
"Author Prince's eye remains firmly fixed on things you may not have seen, even when you were watching them…  takes reality as its starting point, and not only makes its weirdness tangible, it tells you why as well."

And Alan Boon's review at Starburst's website:
"Chock full of treasures, both well-known and obscure… the twelve chapters tackle their subjects in an accessible yet scholarly manner, never shying away from often weighty concepts but never using unnecessarily complex language when simple terms will do… Simply put, A Year in the Country: Straying from the Pathways is a delight, and will thrill existing seekers of hauntological fare as well as serve as an introductory hit to those yet to sample its enchantments."

The book is discussed during an interview in issue 7 of Wyrd Daze's ezine:
"I think one of the underlying things that connects say the initially disparate seeming areas of otherly pastoral/wyrd folkloric culture and that of a hauntological nature is a sense of loss; in hauntological culture that is often a sense of post-war lost progressive futures, within otherly pastoral/wyrd folkloric culture that may be a sense of a form of lost Arcadian utopias or idylls. The two areas may have quite different surface aesthetics but they appear to be connected by a similar exploratory, visionary or utopian spirit and, as I say in the A Year In The Country: Straying From The Pathways book, they have come to 'shadow and inform one another's journey's within an alternative cultural landscape'. There is also a sense in both of allowing space for the hidden, semi-hidden or not fully explained – which I think can be appealing in contemporary times when that is often not the case."

Plus, I've mentioned this before – the book is also discussed in an interview at Bob Fischer's The Haunted Generation website:
"[A Year In The Country: Straying From The Pathways] explores the undercurrents of folk/pastoral culture and where it meets and intertwines with the lost futures and parallel worlds of hauntology… It includes writing about some of the core culture from such things while, as I say in the introduction, I also wanted to push back the boundaries and look elsewhere for where hauntological-esque spectres, lost futures and re-imagined echoes of the past might be found… To semi-quote from the cover, it wanders amongst eerie landscapes, folk horror, the dysfunctional utopian visions of Brutalist architects and hazily misremembered cultural memories, taking in the likes of the faded modernity and 'future ruins' of British road travel, apocalyptic 'empty city' films, dark fairy tales, the political undercurrents of the 1980s and idyllic villages gone rogue."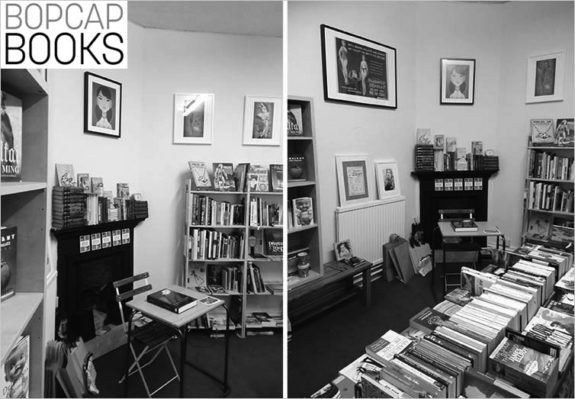 And finally, both Straying From the Pathways and Wandering Through Spectral Fields were variously edited and typeset by Ian Lowey and Suzy Prince, who are the co-proprietors of the newly opened Bopcap Book Boutique in the Antiques Village at Levenshulme in Manchester.

Where else are you likely to hear Blue Note Strikes a Radical Chord, Serge Gainsbourg, The Advisory Circle's Ways of Seeing and The Sound of Music as "interpreted to gloriously kitsch effect by Slovenian industrial ironists Laibach" while perusing a selection of carefully curated vintage cult books and literature curios?
Here are a few other things they've written and/or published: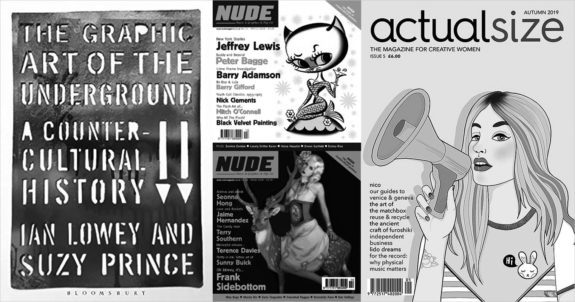 Thanks and a tip of the hat to all concerned. Much appreciated.
Links:
Elsewhere at A Year In The Country: