"Drawing a line back from A Year In The Country to early discoverings of more experimental or left-of-centre forms of pastoralism, then on the way to the likes of Bagpuss (1974) and other Smallfilms produced work, then doubtless a dot would be marked on the said line, and a pause made for a cup of tea, to consider the work and interweavings of Kate Bush."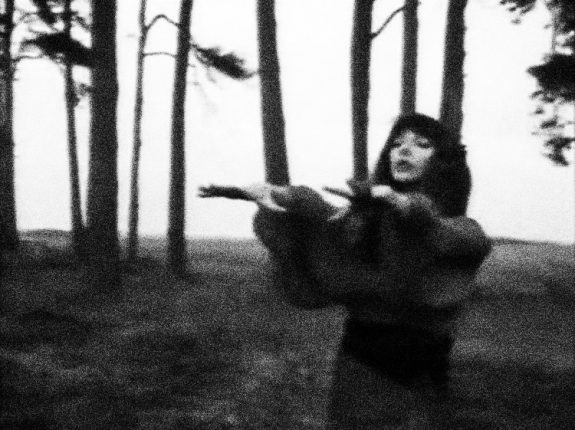 As mentioned in Chapter 37: "…Folk Revisiters, Revivalists and Reinterpreters", Mike Scott of the band The Waterboys said that when Kate Bush's "Wuthering Heights" went straight to number one in the UK charts in 1978 that it "was like an old British soul got returned to us".
That resonates in part because her work seems often to delve amongst and have roots in the myths and tales of the land, of its magic and mystery...
…this was pop music, if of an exploratory nature; in the earlier parts of her career Kate Bush worked within the realms of pop music, the charts and related work such as promotional videos. There were experimental elements to her work but such things were also generally intertwined with accessible and even catchy song structures and melodies."
"Although working within the realms of pop music and generally commercially successful releases, her work often explored themes which you would not normally expect to bother the pop music charts but these most definitely did, featuring numerous Top 40 or even number one hit albums and singles over the years.
As a small snapshot of such things, some of those themes included:
1) "Breathing" was a five-minute single based around Cold War dread and the maternal passing on of radioactive fallout, which at one point wanders off into a public information broadcast about how to recognise the size of the weapon used in a nuclear attack.
2) The Ninth Wave, the concept album side of The Hounds of Love album is in parts breathtakingly beautiful and takes in dreams of sheep, bucolic bliss, traditional folk jigs and a sense of the sun rising over the earth, while it is actually about somebody in the water, close to drowning and there is a genuinely nightmarish folk horror quality to it at certain points.
3) The single and video "Experiment IV" (1986) tells of scientists being asked to create a militaristic sound weapon, which results in the creation or summoning of a malevolent spirit that sets about devastating and doing away with the staff of the research establishment which brought it forth."
"The song Cloudbusting and its accompanying film tell a cinematic tale in miniature of a father's attempt to create and operate a cloud-creating, steampunk-like machine, accompanied and aided by a son/daughter (although played by Kate Bush, the gender of the child is not completely clear in the video).
In the video, Kate Bush's character pulls a copy of a paperback called A Book of Dreams from her fictional father's pocket while they are on a hilltop and about to operate his cloudbusting machine.
This is essentially breaking the fourth wall in a metafictional manner as the book is a real world autobiography written by Peter Reich and published in 1973, which inspired the Cloudbusting song."
"A Book of Dreams was the biographical story of Peter Reich growing up amongst the world and work of his father, the non-conventional and controversial scientist and psychologist Wilhelm Reich.
Wilhelm Reich amongst other activities did build actual cloudbusting-style devices and at points used them to attempt to break droughts in the US…
…it was reprinted in US in 1989 after Cloudbusting was released… in 2005 the book was republished with a new cover design but the appeal remains with the original, the one Kate Bush's character pulled from her fictional father's pocket and the associated sense of layering and stories within stories that it induced. And although now more easily available, there is a sense that it possibly should be left alone to continue to work its magic unimpeded."
Online images to accompany Chapter 39 of the A Year In The Country: Wandering Through Spectral Fields book, alongside some text extracts from the chapter:
Details of the A Year In The Country: Wandering Through Spectral Fields book and the collection of its accompanying online images can be found at the Book's Page, which will be added to throughout the year.