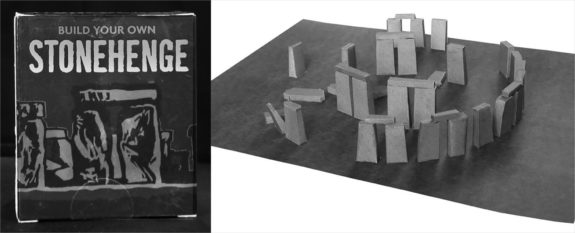 Now, I know that Stonehenge holds a unique place in people's imaginations, and there are endless and ongoing debates about why  and how it was built etc.

Alongside more traditional heritage and archaeological interest in them, the sense of mystery, the ancient past and so on that stone circle's often contain also interconnects with a "wyrd" or "otherly" sense of history, folk culture and so on, which has added to the interest in them.

I also knew that there have been an awful lot of books published on Stonehenge and stone circles in general. However, even allowing for all that I was still somewhat pleasantly surprised to see just how many Stonehenge model and construction kits of one form or another have been released commercially. In this post are just a few of those that I've come across.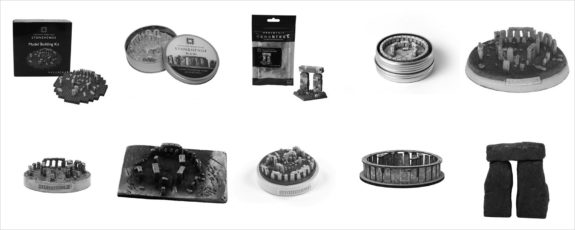 English Heritage's online shop stocks some of them along with all kind of Stonehenge ornaments, including two different "Stonehenges in a tin" (!)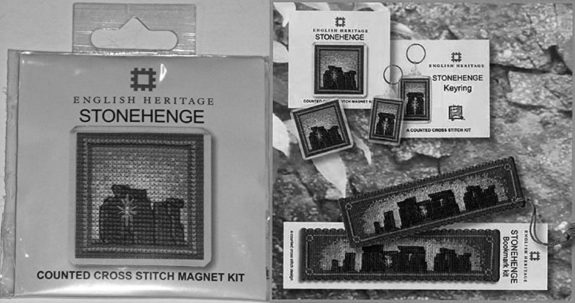 English Heritage also used to sell a Stonehenge fridge magnet cross stitch kit, which I rather liked the idea and look of, as it seems to interweave so many things in a sort of slightly wrong but also interesting way; a certain Wicker Man-esque aesthetic, ancient history, traditional crafts, the commercialisation of religious or sacred souvenirs etc. Other related cross stitch items which I don't think are still available from them include a bookmark and a keyring. For some reason the bookmark seems a bit more "acceptable" than a fridge magnet or a keyring, perhaps because books are often held in higher esteem than such things.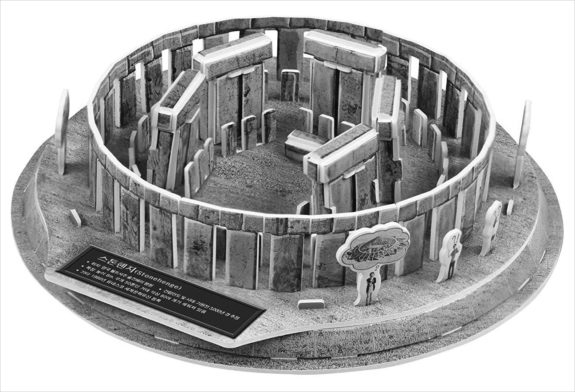 I like the figures of the visiters in the pop-out kit above, who seem to variously be questioning or bemused by Stonehenge, or in one case imagining an elaborate possibly worship orientated wooden structure over the top of it.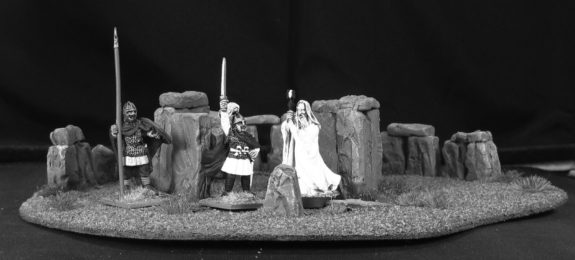 (Above: Stonehenge model kit with Arthurian extras, completed by zoidpinhead – link below.)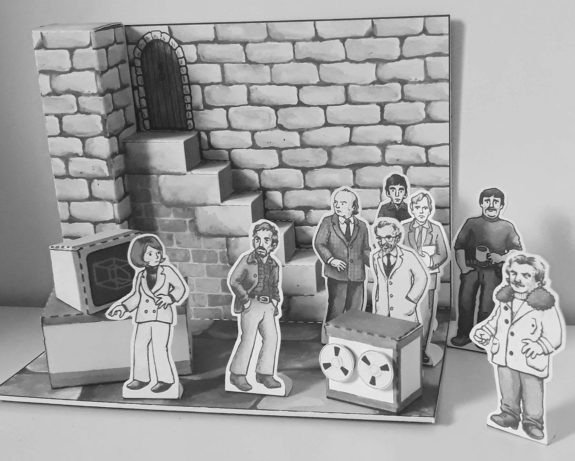 These various model kits seem to be a mixture, and possibly inspired by, an interest in the sacred, profane and at times just sheer playfulness. In that sense, they could well be filed alongside some of HeyKidsRocknRoll pop-up diorama sets of the likes of Delia Derbyshire, The Stone Tape, Quatermass and the Pit, The Wicker Man etc. Those dioramas could be considered examples of when contemporary secular cultural work, which for some people has gained an almost sacred-like aspect, is the inspiration for playful or child-like build at home ornaments.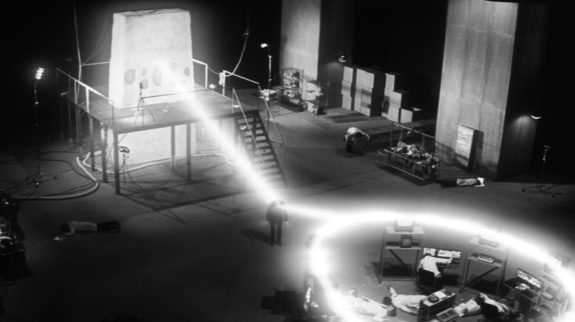 Actually, surprisingly, I don't think HeyKidsRocknRoll have made a Stonehenge or stone circle related diorama. A Halloween III: Season of the Witch set might well work, one which incorporated the film's nefarious company scientists' lab and their use of chippings from Stonehenge, the ancient power of which is used in novelty Halloween masks sold to the public, that are intended to bring about the destruction of their wearers.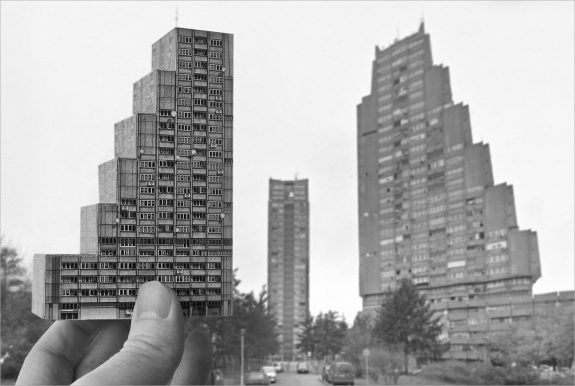 Another reference point might also be Zupagrika's various build your own Brutalist architecture kits, particularly those based on Soviet-era Eastern Bloc architecture, as that was built during and as symbols of a regime which attempted to do away with traditional religion and replace it with a belief or faith system based around the political system and its figureheads.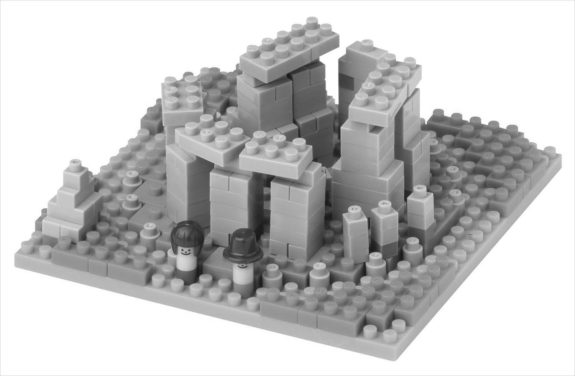 The above model isn't a Stonehenge LEGO kit as it first may appear, but rather a LEGO compatible nanoblock kit, which in its utilising of the grey areas of copyright law could well be considered a form of profanity in terms of the corporate world's belief systems.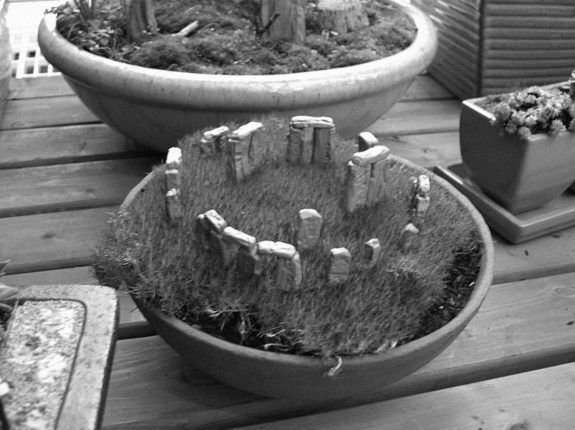 I was rather taken by the above adapted kit, the photograph of which is included in an article on building your own miniature stonehenge garden – link below.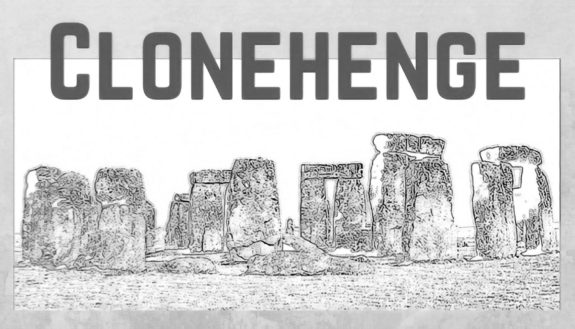 When I was searching for Stonehenge model kits I came across a blog called Clonehenge which contains a searchable set of posts, lists etc of Stonhenge replicas "from the megalithic follies of the 1800s to the present". It includes amongst other things posts on retail bought and custom kit builds, large permanent replicas and laptophenge which, of course, does what it say on the can. And a whole lot, lot, lot more. Blimey, there's been a fair old bit of Stonehenge clonehenging that's gone on in the world.
And talking of mixing the sacred, profane and playful, last but not least, there's Jeremy Deller's inflatable bouncy castle replica which has travelled around Britain and the world. Funded in part by Creative Scotland and Arts Council England it is called, appropriately enough, and in a way that I expect both undercut and annoyed its critics, Sacrilege.
Links:
Elsewhere at A Year in the Country: