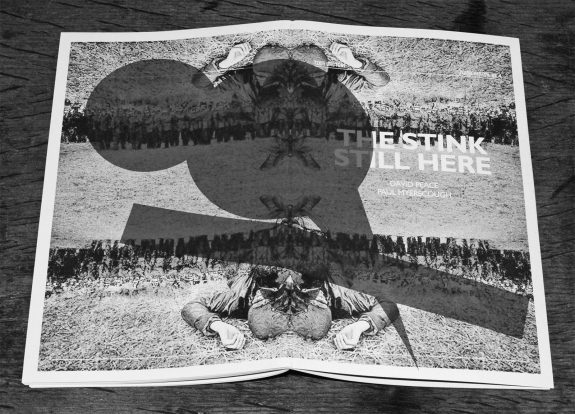 In Part 1 of this post (which can be read here) I wrote about The Stink Still Here, a booklet published by Texte und Töne, which records an extended conversation between author David Peace and London Review of Books editior Paul Myerscough concerning the 1984-1985 Miner's Strike in Britain…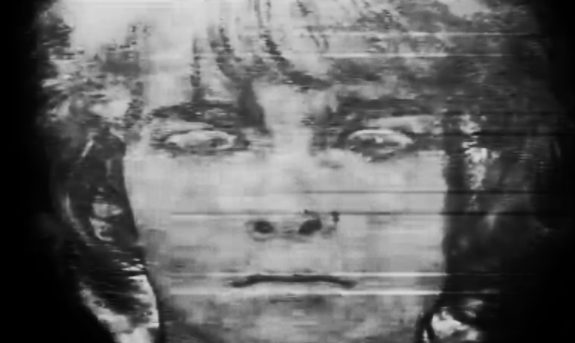 Previously at A Year In The Country I have talked about how in some ways television broadcasts etc from pre-1979, when Margaret Thatcher and her right-leaning/neo-liberal government were elected, can be seen as being somehow "imbued with an antideluvian quality, they are now broadcasts or remnants from an 'other' time" – essentially seeing 1979 as a tipping point in society, its directions, aims, politics, economics etc towards a more free market, individualistic stance.
However, since then rather than such a markedly defined tipping point, I have wandered if rather it was the start of a transitional or liminal period and for a while at least rearguard actions from older, progressive/social consensus ways of thinking.
The Miner's Strike could be seen as part of that period of transition and the resulting conflicts or as David Peace says in The Stink Still Here:
"…people often talk about 1979 and the election of Margaret Thatcher as a sea-change. But these things rarely take place overnight. And I still think her re-election in 1983 represents the clearest marker of how far things had changed. And of what was to come…"
Hence "the Year is Zero" from GB84, with the Miner's Strike being a marked tipping point or ground zero ending of the older ways in terms of history.
The Stink Still Here is available in a limited edition of 100 copies and it was produced to accompany a day long series of screenings and talks that took place in New York in 2015 which were intended to commemorate the 30th anniversary of the Strike, which was organised by the Colloquium for Unpopular Culture.
The screenings included a film about industrial band Test Dept and their work around the Miner's Strike, during which they toured and recorded and album with South Wales Striking Miner's Choir, both of which raised funds for the Strike.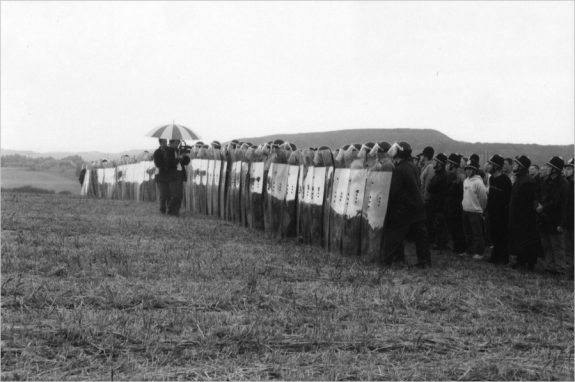 The Battle of Orgreave was also shown which documented the Jeremy Deller instigated re-enactment (also mentioned in Part I of the posts about The Stink Still Here), in which miners and police who had been involved in the Strike alongside re-enaction enthusiasts recreated one of the turning point and most notorious conflicts of the Strike.
The event also included a showing of the BFI released The Miner's Campaign Tapes in which independent film and video makers documented the conflict, plus the also BFI released The Miners' Hymn collage based film by Bill Morrison, with music by Jóhann Jóhannsson, which Nick Bradshaw has written the following about at the BFI's website:
"Bill Morrison's archive collage film The Miners' Hymns, an elegiac testament to the lost industrial culture of the Durham coalfields, takes in sweeping helicopter shots, lunar-esque landscapes and pitched battles with police cavalry… It features shades of action movie, industrial noir and zombie sci-fi, but true to the Decasia director's signature work it's also a dialogue with the ghosts of the past, those of workers and communities now permanently lain beneath Durham's remodelled landscape, yet here exhumed on film."
And talking of ghosts of the past:
Two of the defining aspects of hauntology is a collective mourning or melancholia for the times before the flood and related lost futures (in a socially progressive sense), alongside the present being haunted by spectres of its past.
Considering the above, GB84 could be seen as an "occult" and "hauntological" take on the Miner's Strike but rather than being more overtly a mourning or melancholic take on related potential lost futures, it is possibly more a roar of outrage, rage and memory – or as Texte und Töne themselves say at their site about the Strike, it is a view of the conflict as an "open wound".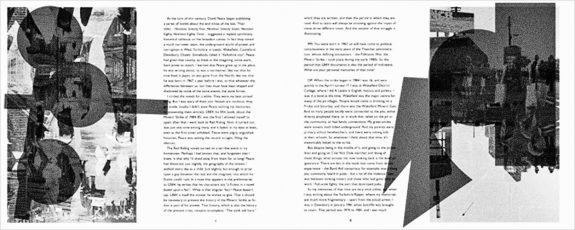 Elsewhere:
Texte und Töne
Nick Bradshaw on The Miner's Hymns at the BFI's site
The Stink Still Here event and poster at Test Dept's site
Shoulder to Shoulder at Test Dept's site
The Fuel to Fight tshirt
The archived details of The Stink Still Here: The Miner's Strike on Film event
GB84
The Battle of Orgreave: at Artangel / The film
The Miner's Campaign Tapes: at the BFI / Watch online
Elsewhere at A Year In The Country:
1) Day #15/365. The Twilight Language Of Nigel Kneale
2) Day #183/365: Steam engine time and remnants of transmissions before the flood
3) Wanderings, Explorations and Signposts 7/52: In The Morning I'll Be Gone, Orkney Twilight, GB84 and Edge of Darkness – Hinterland Tales Of Myths, Dark Forces and Hidden Histories
4) Wanderings, Explorations and Signposts 16/52: David Peace, Texte und Töne, The Stink Still Here and Spectres from Transitional Times – Part 1