File under:
Trails and Influences: Recent Explorations.
Case #8/52.
A look at and consideration of the posters and other items which accompanied Ben Wheatleys slice of psychedelic historic pastoralism, A Field In England…
When the first teaser poster for A Field In England appeared (see left) I was all a-flutter, I expect in a way that the sixteen year-old me once was when I saw similar things for my then favourite bands.
And then it would appear that a small-scale industry was marshalled into existence to produce A Field In England posters and other ephemera…
Lovely work by Twins of Evil on the main poster and it's variations. Tip of the hat to you gents. An intriguing and fascinating behind the scenes look at the evolution of the poster can be found here (well worth a look-see, especially for the animated orb teaser).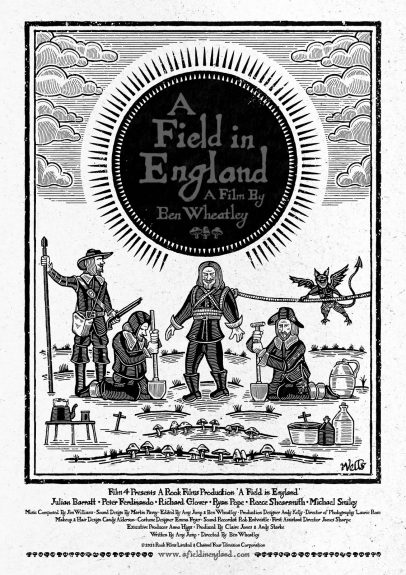 Having always had something of a soft spot for screenprinting (and having spent a fair bit of time with a squeegee or two myself), this page on The Private Press production of Richard Wells woodcut style poster was quite a find.
And then there is the beyond the shores of albion subsidary of the A Field In England industry… Below is Jay Shaw's US poster artwork, released for sale by "blink-and-you'll miss them" poster reinvention coordinators Mondotees.
Meanwhile, here is an alternative trailer for the film, coordinated by Julian House of Ghost Box Records/The Focus Group (see stills from the trailer below).
I'd actually quite like to see a remix of the whole film done in this style. Just an idea to put out into the ether and hope that one day it may take roots…
And below is a Twins Of Evil poster for a Kill List and A Year In The Country double bill/Ben Wheatley Q&A… Nice link between the two in the design…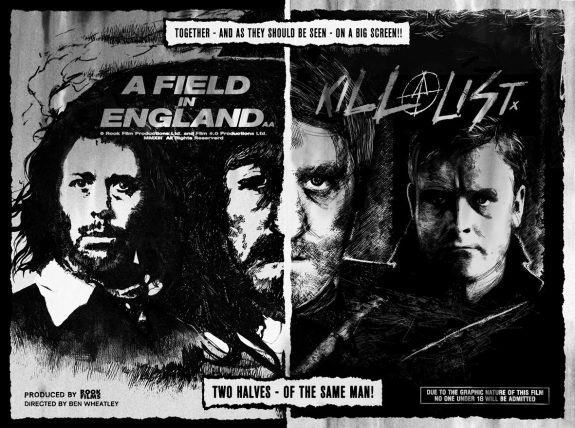 A double bill of those two films? Well, that's one audience that won't sleep properly for a week or three.
Various other variations by The Twins Of Evil are below (the first one is the poster that was included with the soundtrack):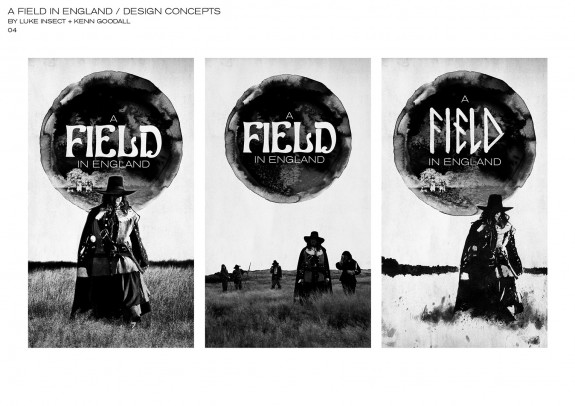 A Field In England here. Twins of Evil's graphic (design) take on folk horror here. Twin of Evil Luke Insect here. The other twin of evil Ken Goodall here. Mr and Mrs Wheatley here. Rook films and shop where you can possibly purchase posters and soundtracks but they've quite possibly already wandered off into the world via here.