File under:
Trails and Influences: Recent Explorations.
Case #10/52.
A page which could well be subtitled More Fields In England (see Day #78/365 on Winstanley and Day #73/365 on A Field In England for previous celluloid meadow visitings).
This was an issue of the BFI's Sight and Sound magazine which was published in August 2010.
The main feature The Pattern Under The Plough was written by Rob Young and could well be seen as a companion piece or a lost chapter for his Electric Eden book which journeys through the "imaginative time travel" impulses of folk and interconnected music and culture (see Day #4/365 and Day #40/365).
As the title to the article suggests, it delves beneath the topsoil of British cinema to find a rich seam of films which take the landscape, rural ways, folklore (of the traditional and reimagined varieties) or "the matter of Britain" as their starting point and which often wander off through a celluloid and cathode landscape that the article describes as one where an older weirder Albion peeps through the cracks or "the sense of the past lying just behind the present".
As a journey the article has many stopping points of such things, amongst them are the earlier mentioned Civil War era document of a search for an earthly paradise Winstanley (from which the opening still is taken), the folk horror of Witchfinder General and The Wickerman, the journey through a rural year of Akenfield, the "almost quite straight documentary but it's not, something else is going on there" Sleep Furiously, the almost-canon of pastoral hauntological television The Changes, The Owl Service and Children Of The Stones, the art film experiments and psychogeography (a form of explorative wandering) of Derek Jarman, Patrick Keiller and Chris Petit (Journey to Avesbury, Robinson In Space, London Orbital), the atavistic memories of Quatermass and The Pit and the "was this really commissioned and allowed for mainstream television broadcast?" of Penda's Fen…
And as can be found in Electric Eden, connections and lines between things are drawn… the article mentions how David Hemmings, who stars in 1969's Alfred The Great, a Dark Ages costume drama which opens the piece, went on to fund one of the definitive acid-folk records, Mellow Candle's Swaddling Songs… curiouser and curiouser
The Pattern Under The Plough is also accompanied by a shorter article by William Fowler; Absent Authors: Folk In Artist Film, which concentrates on the more experimental art film side of such things and I think both articles were published to accompany the BFI's Here's A Health To The Barley Mow compilation of folklore films (a still from its booklet is below)…
Which lead me to the Colloquim for Unpopular Culture and their presentation of The Barley Mow: Archive Folk Film Program (1912-2003), presented by William Fowler, who contributed to the risograph finery of The Twilight Language of Nigel Kneale book (see Day #15/365) and appeared at the associated A Cathode Ray Séance event…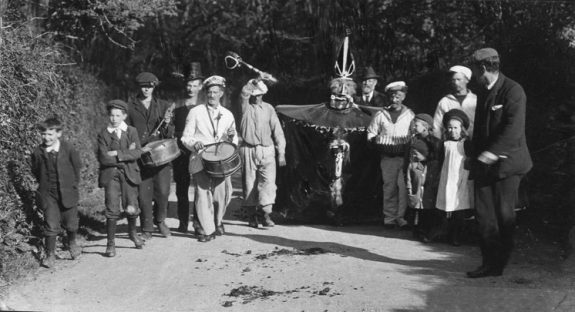 Here's a (slightly edited) text about The Barley Mow Film Program from here:
"Recent years have seen a 'rural turn' in British cultural studies. Artists have wandered into an interior exile and a re-engagement with the countryside – its secret histories, occult possibilities. Psychogeographers are drawn to its edgezones and leylines, fringe bibliophiles are rediscovering the dark glories of writers such as Alan Garner, John Wyndham and Nigel Kneale, while organizations such as English Heretic and Lancashire Folklore Tapes exult in mystical toponymies and wiccan deep probes.
Key to this rural turn has been a critical reappraisal of 'folk culture', seeing it less as a repository of conservative tradition, but rather a teeming, eerie, almost surreal archive of customs and practices that might serve as an antidote to pasteurized urbanism. The Barley Mow, a kind of Anglo-celluloid version of Harry Smith's American Folk Anthology, is a 60-minute programme that illuminates the charming, startling, uncanny convergences between populist and experimental approaches to capturing the folk music, dances, customs and sports of a semi-forgotten Albion."
Well, that sums things up quite well I do believe.
The cover to this issue was designed by Becca Thorne. You can find her here (rather fine and lovely illustration work, well worth a visit indeed).
Details on this particular issue of Sight & Sound and backissues here. Akenfield here. Here's A Health To The Barley Mow here. Will Fowler at the BFI here. And it can't hurt to once again say Electric Eden here.