The 1950 film Gone to Earth, adapted from Mary Webb's book originally published in 1917 and directed by Powell and Pressberger, has long been something of a favourite around these parts. The plot involves a free-spirited young woman living a rural life close to nature, who marries a kind-hearted local priest but, in part due to physical attraction, takes as a lover and runs away with something of a cad and bounder. Its depiction of the story seems to be straining at the very seams of acceptable cinema mores of the time, and features some wonderful, almost surreally vivid Technicolor views of the British countryside.
And what's this that's arrived in the post? Well, I appear to now have two different versions of the book that were released to tie-in with the film's release; one British edition and one American (I already had the British one, which I didn't know about until, appropriately enough, as it is the setting for the novel, I discovered it in Wales, in amongst a second hand bookshop's literally tottering stacks of books). They both have illustrated, rather than photographic covers; I'm not sure quite when photographs started to be more prominently used in film tie-in novels? I'm guessing here rather than knowing, but I think it was probably at some point in the sixties.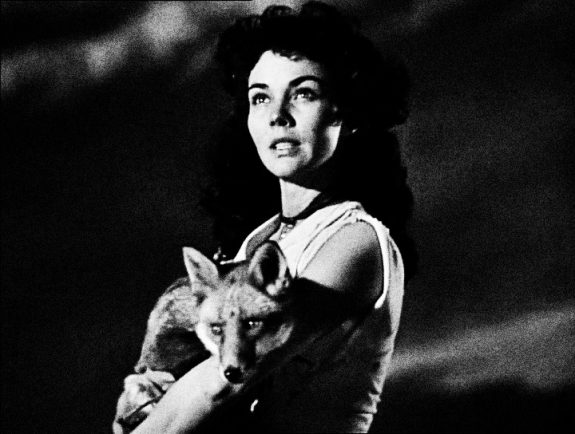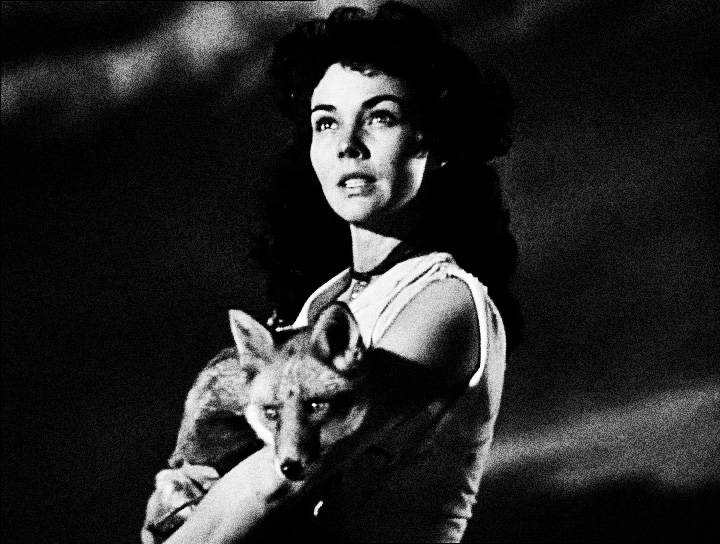 In contrast with later film tie-ins, where that it's the book of the film tends to emblazoned quite clearly on the cover, it's not immediately obvious that they are film tie-ins. The US edition has "Jennifer Jones stars in the motion picture" printed in small text on the cover, while the British edition does not mention any connection to the film on the cover, but on the first page inside there is some, also small text, that says "The cover is from the Powell-Pressburger film, distributed by British Lion".
The film had a troubled release as, although he was apparently involved throughout the filming, the executive producer David O. Selznick disliked the finished version and took The Archers, Powell and Pressberger's production company, to court, in order to try to be allowed to change it. Although he lost the case, he subsequently discovered that he had the right to change it for the American release. He had some extra scenes shot and edited the film from the original 110 minutes down to 82 minutes, leaving around two-thirds of the original film intact. It was subsequently released during 1952 in the US as The Wild Heart.
I assume due to legal obligations in regards to Mary Webb's book, the US edition of the novel tie-in, which was published in 1953 after the film had been released as The Wild Heart, still has the original title of Gone to Earth, which I expect may have confused some readers and buyers.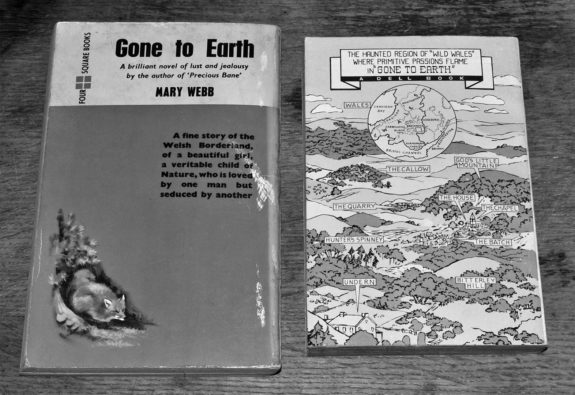 I'm particularly taken with the US edition's map of the story's setting on the back, and the way it describes the area as "The haunted region of 'Wild Wales'". This mention of a "haunted land", some of the semi-magical rural folklore of the film (whenever she has problems the lead character Hazel, played by Jennifer Jones, turns to the book of spells and charms her gypsy mother left her), along with the the Harps in Heaven song sequence, which is sung by Hazel atop a hill to the harp accompaniment of her father, and has an enchanting otherworldly quality not dissimilar to acid folk of the late 1960s and 1970s, seem to presage the current interest in all things "wyrd" or "otherly" folk and pastoral. Or, as I say in A Year in the Country: Wandering Through Spectral Fields:
"As a film it… appears to be a forebear of later culture which would travel amongst the layered, hidden histories of the land and folklore, showing a world where faiths old and new are part of and/or mingle amongst folkloric beliefs and practices… In some ways the air of not-quite-real-ness that can be found in Gone to Earth makes it seem like a forerunner to the more adult fairy tale side of the Czech New Wave (especially Valerie and her Week of Wonders from 1970 and possibly Malá Morská Víla / The Little Mermaid from 1976) and also of the style, character and imagery of a younger Kate Bush, of a free spirit cast out upon and amongst the moors."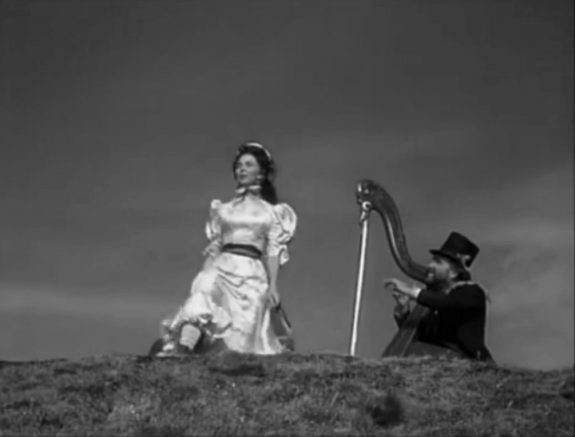 For a long time I thought I would never get to see the The Wild Heart version of the film. I wasn't sure if it even still existed, and all the various UK and elsewhere in the world home releases were always of Gone to Earth.
Also, the DVD releases of Gone to Earth seem to have that odd ratio issue that often happens with DVDs released before approximately 2006, prior to HD widescreen television sets started to become the norm, where the aspect ratio is all out-of-sorts. No matter which ratio setting you choose on your TV, you either can't see all the picture, the picture is squashed or stretched out of shape and so on. Because of its somewhat fine imagery and cinematography, this is a film that I very much wanted to see via a decent, sympathetic high-definition transfer.
(Yes, I'm looking at you Blu-ray release companies who variously oversaturate skin tones to give people "salmon coloured faces", apply too much digital noise reduction so that the actors' skin looks waxy, or make the detail very harshly defined and distracting, to the point where in some releases which contain both the DVD and Blu-ray, I've turned off the Blu-ray and put the DVD on. Yes, I know I'm quite fussy about such things, but I think a good transfer should effectively be invisible. Anyways, I digress…)

One day I was browsing through the titles of upcoming films to be broadcast on Talking Pictures TV, when all of a sudden I saw the title The Wild Heart. I thought, no, surely not, but yep, it was indeed that The Wild Heart.
If you don't know of Talking Pictures TV, it's well worth seeking out. It's a British television channel, broadcast on Freeview and elsewhere (see image above), that specialises in what could be called archival film and television, and tends to focus on British productions. It generally shows things that were originally released between 1930 and the early 1990s, although the majority of its content is possibly from the 1950s to the 1970s – or maybe that's just the films etc that I notice more. It shows a lot of older black and white films that once, decades ago, might have been broadcast on, say, Sunday afternoons on mainstream British television, but which aren't shown there anymore.
But it doesn't just show such things, and has a fairly eclectic remit that takes in amongst other things: BFI documentary shorts; the kind of British television series that are often otherwise only available on DVD released by Network, such as young adult fantasy/supernatural anthology series Shadows; British B-movies; cult and classic film, which takes in everything from the early 60s Soho time capsule The Small World of Sammy Lee to cult horror Carnival of Souls via 1973 science fiction curio The Final Programme and British New Wave films such as Saturday Night and Sunday Morning; various quota quickie films from the 1930s (these were made quickly and cheaply for US distributors, so that they could comply with their legal obligations under the 1927 Cinematograph Films Act, which stipulated that, for a duration of 10 years, British cinemas had to show a certain quota of British films); and spotlights on/interviews with related directors and actors.
And sometimes I'll come across things on it, such as The Wild Heart, that previously I'd never known be available elsewhere.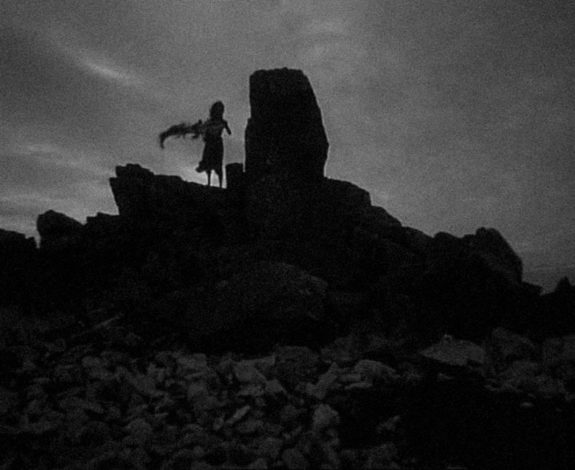 And it's all available for free (well, for a little of your time, as it does show adverts), which is something of a treat and rarity in contemporary times, when a lot of broadcast and streamed television is now viewable only via subscription and/or one-off fees.
Andrew Male, the senior associate editor of Mojo magazine, wrote about the channel in the October 2017 issue of the BFI's Sight & Sound magazine, where he says that within two years the channel had 1.3 million viewers per week, and that it was still run from a tiny home office by a staff of just three family members (husband and wife Neill and Sarah Cronin-Stanley, and her father Noel). He also comments that it has gained vocal celebrity supporters such as Mark Gatiss and Danny Baker (elsewhere it has been written that Matt Lucas and Barbara Windsor are also fans). Elsewhere in the article he discusses how "superfan" Vic Reeves took over the programming of the channel for a day and selected "British cinema landmarks", including Woman in a Dressing Gown, the aforementioned Saturday Night and Sunday Morning, Whistle Down the Wind and Hell Drivers. The article quotes Noel Cronin as saying that much of what they acquire the broadcast rights to they are "literally saving from the grave", as essentially it is just being left to rot in storage:
"Much of the 24-hour roster is dictated by the large cache of films the Cronins own the rights to, [which is] the legacy of more than 25 years spent running the independent production company Renown Pictures, and Noel's work throughout the 1970s as head of UK film distributor Dandelion." (Andrew Male, writing in the above article).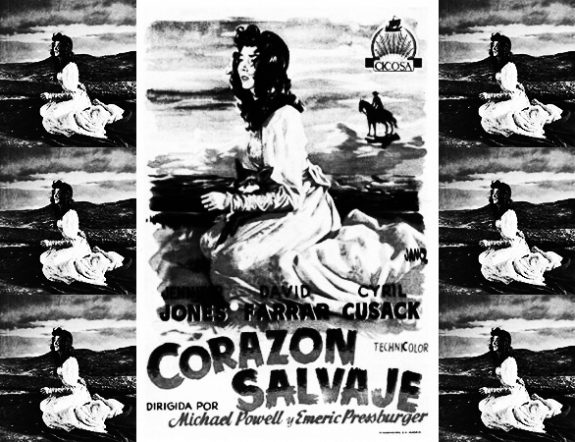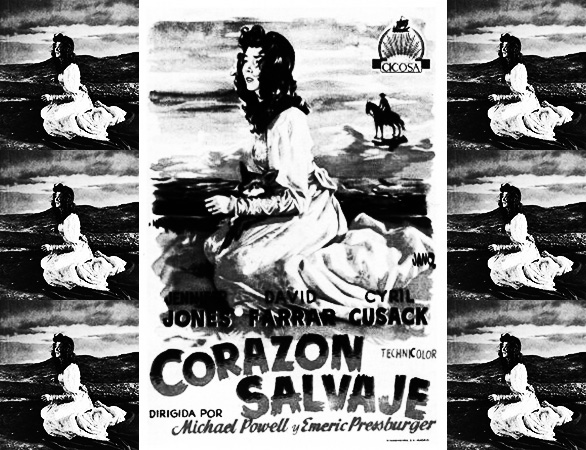 Since the early 2000s they have also run the successful niche DVD label Renown, which has released a lot of the same or similar archival films that are now also shown on Talking Pictures TV:
"Renown Pictures was the first company, that's been running for about 18 years. It was a small independent production company and the owner of rights to films. My dad used to go and buy libraries and in those libraries of older British films, which we're predominantly interested in, he would retain the copyrights because not many people were into looking after films from the 30s, 40s and 50s… People were interested in the big titles but he wanted to save the smaller, more obscure titles, from getting lost. We own the original Scrooge film and we would rent it out to play on TV. Sometimes companies would buy a film for DVD and then we thought why we don't give it a go ourselves." (Sarah Cronin-Stanley, interviewed in Watford Observer, 17th November 2016).

And it still really is a small, family operation, apparently run in a manner that is, in part, separate from the modern digital age; in an interview with Antonia Quirke on the 12th April 2018 edition of BBC Radio 4's The Film Programme, Noel Cronin discussed how he relies on his own memory to recall viewing figures and the popularity of things they show, rather than having them stored on computer databases etc, and in the above interview with the Watford Observer it is noted that the broadcast schedules are still handwritten.
(As an aside, a limited selection of the films shown and released by Renown / Talking Pictures TV they also release digitally, and they can be streamed as part of an Amazon Prime subscription or via pay per view VOD, with the films being identifiable by the company's logo, their 2 x 2 grid of black and white stills and their distinctive blue and yellow artwork designs.)
As a channel, it seems to be dedicated to broadcasting the overlooked, often fading, history of cinema and television history, its shadows, as it were.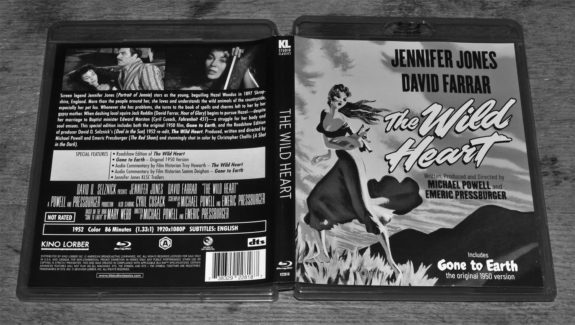 With seeing The Wild Heart there, I knew that it was available in the world, and lo and behold, I discovered that it had been released on Blu-ray in the US by Kino Lorber. The disc is locked to Region A, meaning that standard British Blu-ray players won't play it but because of, gawd bless 'em, multi-region Blu-ray players, I would finally be able to both watch and own it.
In a manner that is reminiscent of the novel tie-ins' mentions of the film, "Includes Gone to Earth – the original 1950 version" is only in small text on the cover. Also, I think, but I'm not sure, that the cover image is actually from the UK Gone to Earth release, rather than the US The Wild Heart release.
Curiously the version of The Wild Heart is listed on the box the "Roadshow Edition". Looking that up, I discovered that such versions of films were released with music that preceeded and followed the feature, alongside having a recommended presentation policy from executive producer David O. Selznick and his staff that included:
"Beautiful, well-appointed theatres at least 100 miles apart. Reserved seats. Bookings running from three to nine months or more. A maximum of three showings daily. No popcorn. Expensive candy bars… [and] Courteous ushers." (Quoted from the Widescreenmuseum website)
Anyways, something of a treat to arrive through the letterbox…
Links:
Elsewhere at A Year in the Country: