File under: Trails and Influences: Recent Explorations. Case #40/52.
Recently I was reading a zeros and ones handbill sent by Howlround/Robin The Fog that related to some work I was involved with sending forth into the world.
It was curious to read as although that was the case (ie my connection with it), it made me want to wander off and find out about the work. Piqued the old curiousity as it were.
So, with that in mind, I thought this particular handbill deserved another audience (slightly abridged/edited for this particular place in the ether):
"Hello you. Welcome to the very fourth in a highly irregular series of updates from the life and times of Robin The Fog and the radiophonic tape-loop wranglers Howlround…
We shall start with this sighting above Hither Green: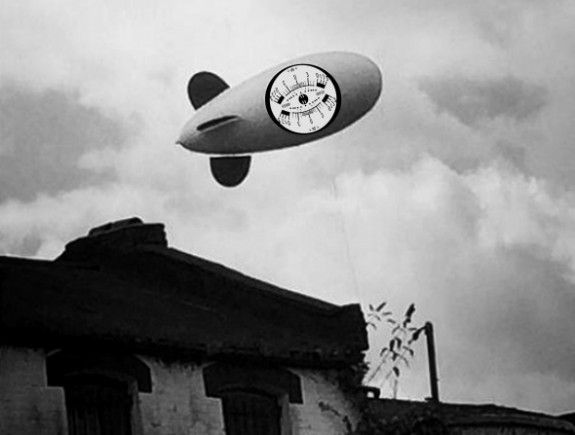 Following The Ghosts Of Bush and Secret Songs Of Savamala, both composed entirely from acoustic recordings taken from historically-and-sonically-interesting buildings; many people have been asking us what Howlround's next 'sound portrait' might be. Now, after months of working away in secret, we can finally reveal the rather surprising answer: Torridon Gate. All of the music on this new album was created from a single recording of a suburban garden gate on Torridon Road, Hither Green, London. Just that.
We attached a contact microphone to the metalwork of the gate and recorded as it opened and shut and moved in the wind. These sounds were then processed, looped and edited on three reel-to-reel tape machines with all electronic effects or artificial reverb strictly forbidden. Despite these restrictions, we like to think the results are as haunting and beguiling as anything from our previous albums, shifting from ethereal tone-patterns to demonic scrunches and back again – a long journey from the pleasant suburban street where it all began. Who would have thought a single 'common or garden' gate (pun intended) could offer such hidden wealth? Well, perhaps the two good folks below had an inkling…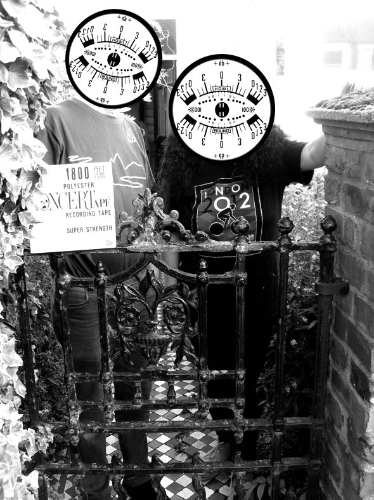 The project started life as a prize on this years Resonance FM fundraising auction, but quickly spiralled out of control, and we're very grateful to gate-owners Tony and Kath, not only for their generous winning bid; but also for allowing us to share the results. 'The gate was one of the things that attracted us to the house in the first place' says Tony."
I suppose one of the reasons I wanted to replicate the above handbill (or have strands of electrons do that for me – see Day #294/365) is because it made me think and ponder upon the way that Howlround are often mentioned in the sense of belonging to a lineage that stretches back to The Radiophonic Workshop…
…to me they share a similar sense of audiological technology related exploring but in a way that interestingly is also a mirror of our times and a mirror world reflection of the work of The Radiophonic Workshop.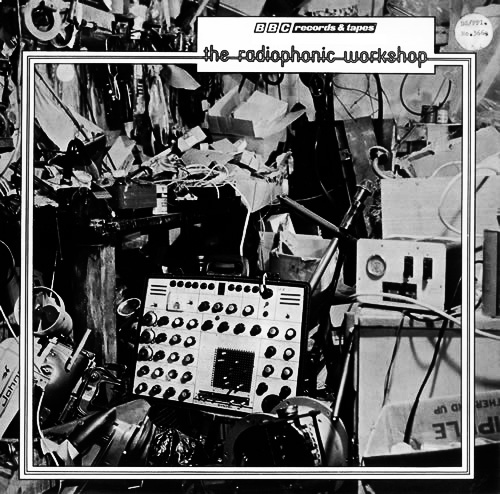 The Radiophonic Workshop existed at a time when the tools for the electronic creation and manipulation of music/sounds were quite limited and so they used what was to hand, repurposed it and literally built things from the ground up. This seemed to involve a fair old bit of the physical manipulation of recording medium and the instruments that they had imagined into the world
Howlround carry on in that tradition of the physical manipulation of recording mediums but this is carried out in a time of technological plenty… and so hence my thinking of how their work and the techniques used to create it are a mirror of our times.
In times of plenty, sometimes the difficult thing to do can be filtering out all the endless possibilities, narrowing down your palette.
Which got me to thinking of Mr Billy Childish.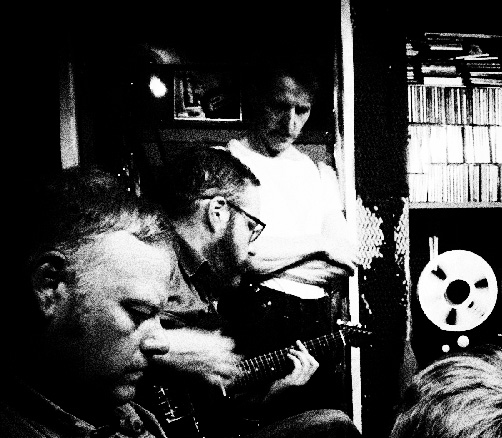 Now, it's not necessarily an obvious or easy hop, skip and jump from the tape-wrangled soundcapes of Howlround to thee kitchen sink punk of Billy Childish but in a way it is:
"…in the fifties and sixties… discipline was given to you by the limitatations of the material or the technology. But what happened next is that people decided those limitations were a problem rather than the life. Nowadays, to have any sensible life, you have to artificially impose limitations. Otherwise you have limitlessness, and limitlessness is the opposite of freedom." Billy Childish, quoted in Simon Reynolds Retromania book.
(Along which lines, the chap in the foreground of the above photograph is sometimes Stuckist, sometimes  beatsman and sometimes worker in pre zero and ones lightcatching, Mr Wolf Howard.)
Anyway, as I type, my thoughts wander to some of Mark Fisher's writing in Ghosts Of My Life that I've visited around these parts before, where he talks about how creating new work can:
"…depend upon certain kinds of withdrawal from, for instance, sociality as much as from pre-existing cultural forms but the currently dominant form of socially networked cyberspace, with its endless opportunities for micro-contact… has made withdrawal more difficult than ever before… in recent years, everyday life has sped up but culture has slowed down…"
Hmmm. Sustenance for thought as it were.
"Why Don't You Just Switch Off Your Television Set And Go Out And Do Something Less Boring Instead?" seems kind of appropriate here (and yes, the irony/contradiction of that being the full title of a television program and replicated on, well, a modern-day television screen by my good self/strands of electrons is not in the lost part of the lost-and-found section around these parts).

Visit Howlround in the ether here. Visit Torridon Gate in this particular ether here.
Visit Mr Billy Childish (a little curiously I tend to think) in the ether here. Visit Mr Billy Childish and companions in this particular ether here.
Visit Mark Fisher in the ether here. Visit Mark Fisher in this particular ether here.
Visit Simon Reynolds in the ether here. Visit Simon Reynolds in this particular ether here.
Visit the original handbill pasted to the telegraph poles of the ether here.