"…folk horror is a film genre which as a cultural strand has created ever-growing reverberations and led to and/or inspired more recent work.
One such piece of work is Ben Wheatley's thoroughly unsettling film Kill List from 2011. As a film it is an intriguing, fascinating, inspiring piece of work. An online discussion about the film said "some pieces of culture are the thing that they purport to be about"; this is a film about evil.
Visually, if not thematically, it shares similarities with the grittier side of social realism British cinema. For a large part the world it represents, although about the lives of somewhat shady mercenaries, is presented in an every day, social realist, kitchen sink manner."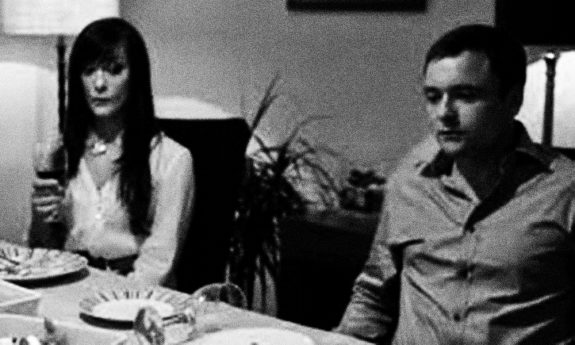 "It does not feel like an esoteric otherly world, at least initially; people are shown having dinner, a couple argues about money and so forth. But something else lurks and creeps in; a symbol is scratched behind a mirror, a descent begins and the mercenaries are drawn into an arcane, hidden world and system.
In many ways the film feels like a sequel to 1973's The Wicker Man, or at least of its direct lineage or spirit, exploring the themes of that film but through a modern day filter of a corruption that feels total and also curiously banal; there is a sense of occult machinations and organisations but also of just doing a job, of the minutiae of it all…
The film utilises tropes from more recent horror and possibly voyeuristic exploitational film but seems to layer and underpin this with what psychogeographic thought has called "the hidden landscape of atmospheres, histories, actions and characters which charge environments": occult in both the literal and root meaning of hidden."
"Continuing on from Kill List, kitchen sink or realist folk horror is a description that could be applied to other films such as Josephine Decker's Butter on the Latch (2013), Alastair Siddons In the Dark Half (2011) and Nicholas Roeg's Puffball (2007).
These films take some of the recurring themes of folk horror (precised by Adam Scovell, author of the 2017 book Folk Horror: Hours Dreadful and Things Strange, as featuring landscape, isolation, skewed moral beliefs and a happening or summoning) but which strip away some of the more fantastical presentation and sometimes stylisation that can be found in The Wicker Man or 1970's Queens of Evil and utilise a more "rooted in the real world" approach."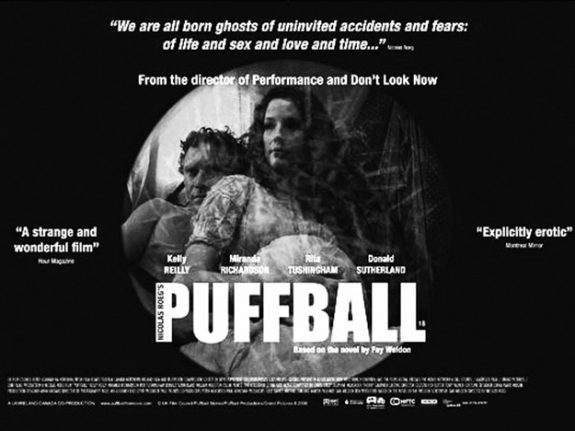 "Puffball is… set in a remote part of the countryside, it is a television-esque kitchen sink folk horror film that mixes Grand Designs with the music of Kate Bush and England's Hidden Reverse.
(Grand Designs is a long-running British television series that documents people spending often large sums of money custom building unusual homes for themselves and their families, England's Hidden Reverse is a 2003 book by David Keenan that focuses on the work and music of Coil, Current 93 and Nurse With Wound and posits the idea that they represent the real English cultural underground. The soundtrack to Puffball features Coil and Nurse With Wound, with the music to the film all sinister portents and drones that veers upwards and outwards, venturing into more normal climes and back again.)
In the film new age-ish imagery intermingles with "are-they-real or not?" folkloric and witchery shenanigans, tales of fertility battles, fertility ending with ageing and the slick yuppie-like outsiders gutting and rebuilding a cottage that was previously the site for intense local loss in a possibly inappropriately modern, minimalist, over-angled style.
In some ways it feels like the story of the old ways battling with the new: of the arrogance of money and man trying to push out the mud and nature of the land."
"(Robin Redbreast) is reminiscent of the Play for Today television drama Robin Redbreast from 1970 in the sense of the entrapping of an outsider in fertility rites and rituals and the use of a slightly simple man of the land for those ends.
Puffball adds a graphic, almost dissolute sexuality to that realism. This is not an easy film in parts: it is both unsettled and unsettling in various ways."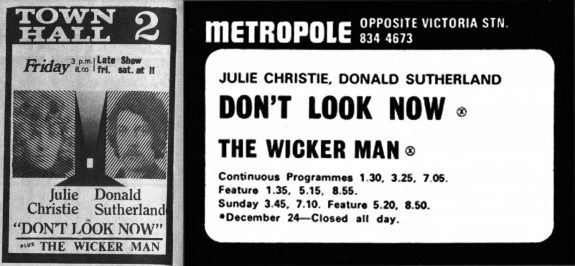 "As an aside, (Puffball) is loosely connected back to early 1970s folk horror by the appearance of Donald Sutherland, and being directed by Nicolas Roeg, it is but a hop, skip and jump from them to The Wicker Man via Nicolas Roeg's 1973 film Don't Look Now, in which Donald Sutherland stars and which was released cinematically as part of a double bill with The Wicker Man."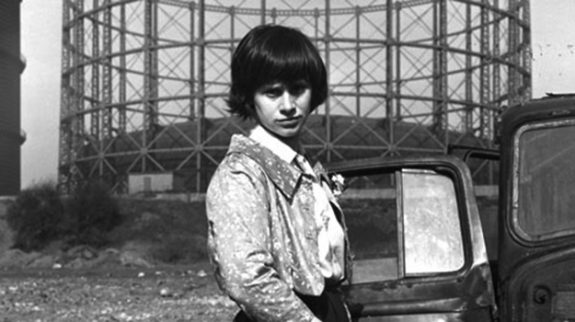 "Further connecting Puffball to kitchen sink, the film also features the bird-like late beauty and fascinating screen presence of Rita Tushingham, who appeared in A Taste of Honey (1961), which is known as one of the classic 1960s kitchen sink/British new wave films; here she is all staring eyes and grasping country ways."
"Throughout the film Kate Bush's song "Prelude" from her 2005 album Aerial, which features the angelic voice of her son accompanying her piano playing, appears and reappears, interconnecting the themes of the film and its stories of progeny to come and those lost.
Puffball is also further connected to Kate Bush's work through two of its actors: Donald Sutherland appeared in the video for her 1985 single "Cloudbusting", while one of the film's lead actors is Miranda Richardson, who was also one of the main cast members in Kate Bush's The Line, the Cross & the Curve film which accompanied her Red Shoes album from 1994."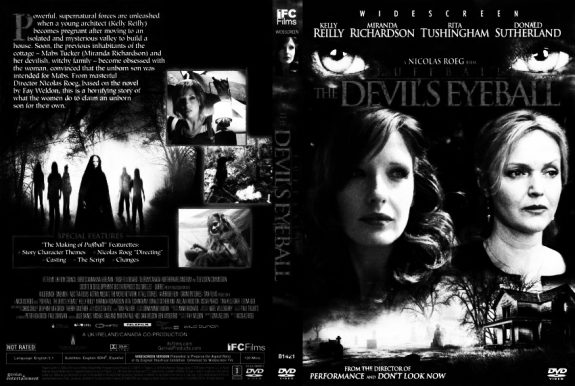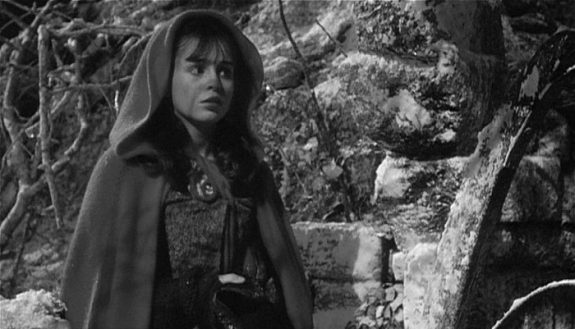 "(Puffball) also has the more exploitation friendly title The Devil's Eyeball (puffballs are large round white fungi, also known by this other name). The imagery which accompanies The Devil's Eyeball version of the DVD release makes the film look nearer to a cheap b-movie, teenage friendly take on say the 1984 gothic fantasy-horror film The Company of Wolves, which is in part an adult take on the fairy story Little Red Riding Hood and could be considered an early example of folk horror with its tales of deceitful ravenous wolves in the wood."
"In the Dark Half takes some of the tropes familiar from British social realist cinema such as a rundown estate on the edge of the countryside, family loss or dysfunction and a sense of social depravation or lack of chances to escape but wanders elsewhere with them.
It is not quite magical realism, but rather the subdued, downtrodden landscape is given a subtle sheen which creates a sense that you are looking in on a magical otherly world.
There are folkloric, borderline folk horror elements to the film, but it is not so much those which create the sense of a world with its own rules and even magic.
Rather via its visual presentation there is a certain lush, soft beauty to the rundown estate and the nearby countryside: a refreshing view of such things in contrast with gritty, realist and sometimes-dour cinematic presentations of similar locales."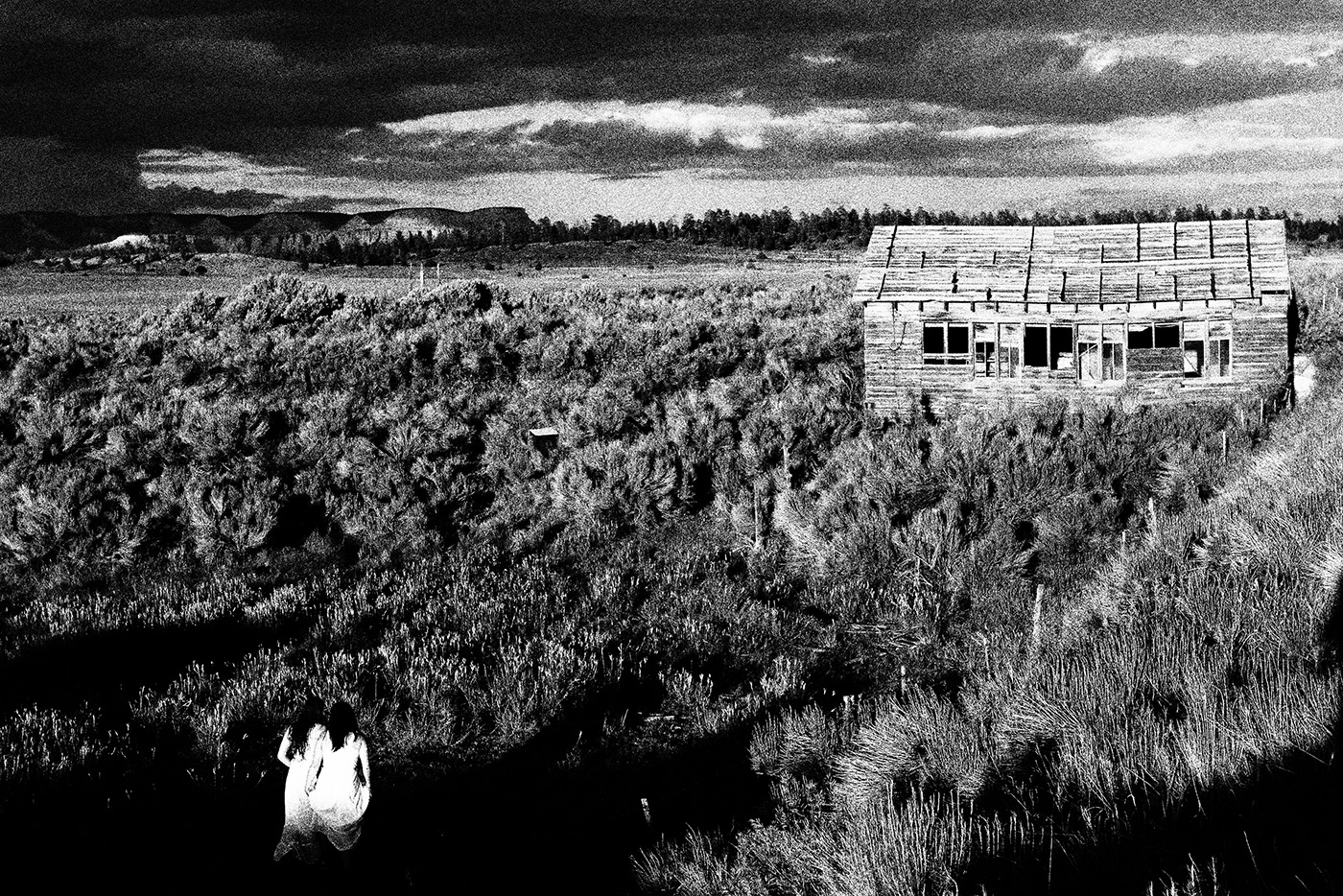 Joesphine Decker's Butter On the Latch was discussed in the BFI's Sight & Sound magazine… with the headline "Dark Pastoral" and with "Lovely, dark and deep" written below a picture of a solitary wooden shack-like building in an isolated moorland landscape, with two female figures approaching it from the edge of the frame.
It is an intriguing image and pair of descriptions which, while not overtly signalling such things, seemed to conjure up a dreamlike, rather classy take or variation on folk horror.
Along with the above, a well-known online commerce site has this description of the film:
"At a Balkan folk song and dance camp in the woods of Mendocino, California, Sarah reunites with her old friend Isolde and with a song she learned years before about dragons who entwine themselves in women's hair and carry them off through the forest, burning it as they go."
…while Butter on the Latch interacts with cinematic tropes and conventions, it beats its own fragmentary path through them; the film is imbued deeply with a sense of dread and dysfunction and following those just mentioned conventions there's a sense of waiting for something terrible to happen in a conventional thriller or slasher manner."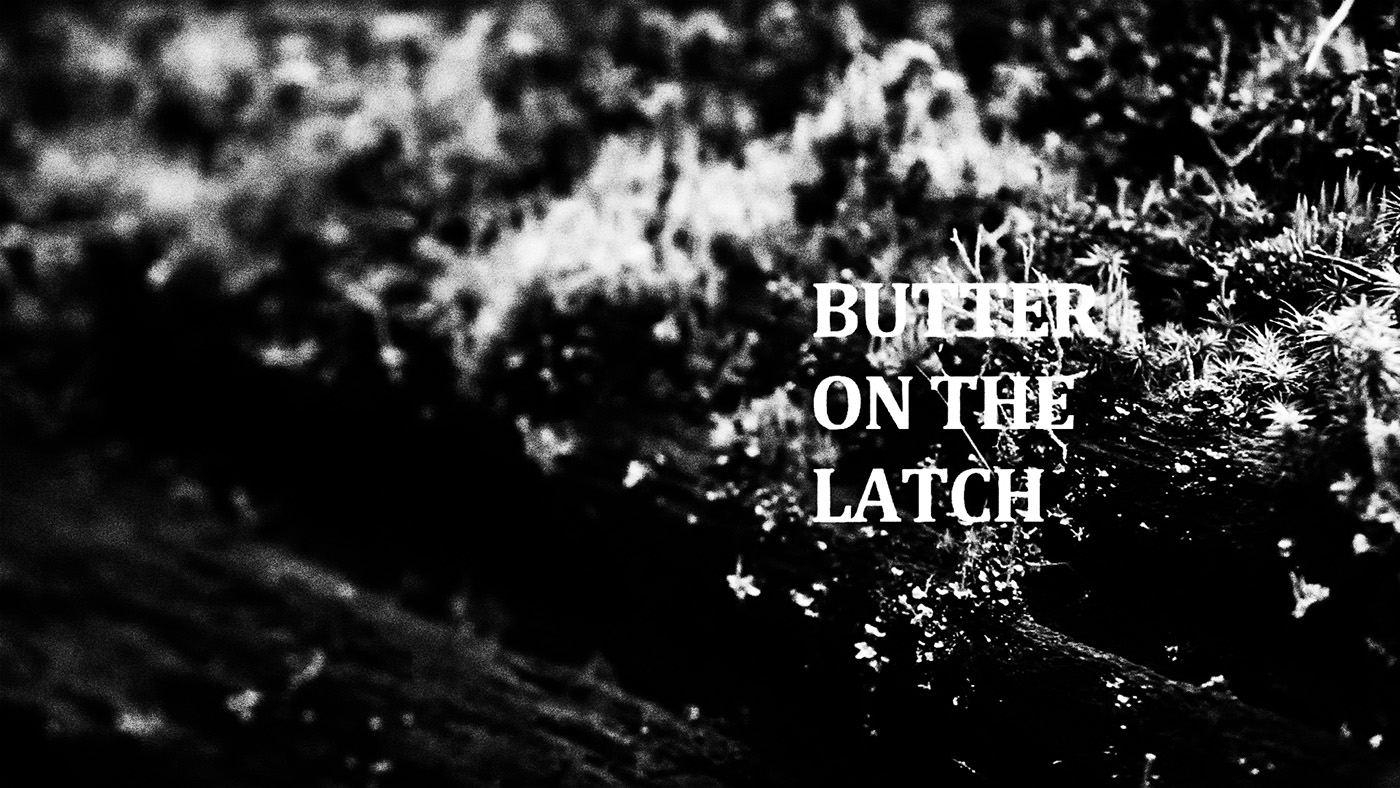 As a moment or two of calm amongst that dread, at points the film may just stop, pause and focus on close ups of woodland foliage. There is an entrancing beauty captured in such moments: you hope to remain ensconced in them but in this tale that is not how things are to be.
This is a form of folk horror where "folk" could be taken as implying "being from the wild woods"; these are woods that seem both tamed and untamed, connected to civilisation and yet those within it have also crumbled away from it." 
"…the music that accompanies the film and which is played in the camp is to the untutored ear in part not far removed from the stately, elegiac, otherly album of Bulgarian folk songs Le Mystère des Voix Bulgares which 4AD released in the 1980s. While the film is also reminiscent here and there of the lower-fi aesthetics of David Lynch's 2006 film Inland Empire; Hollywood but at a far, dark remove."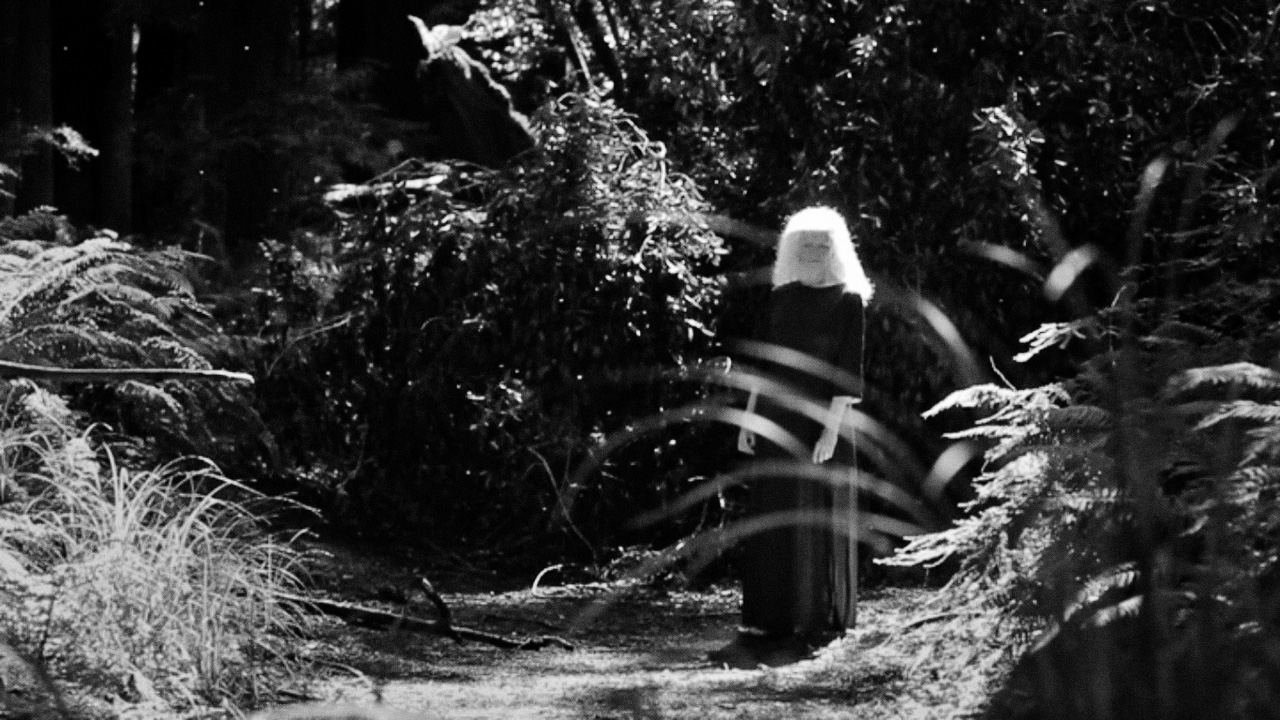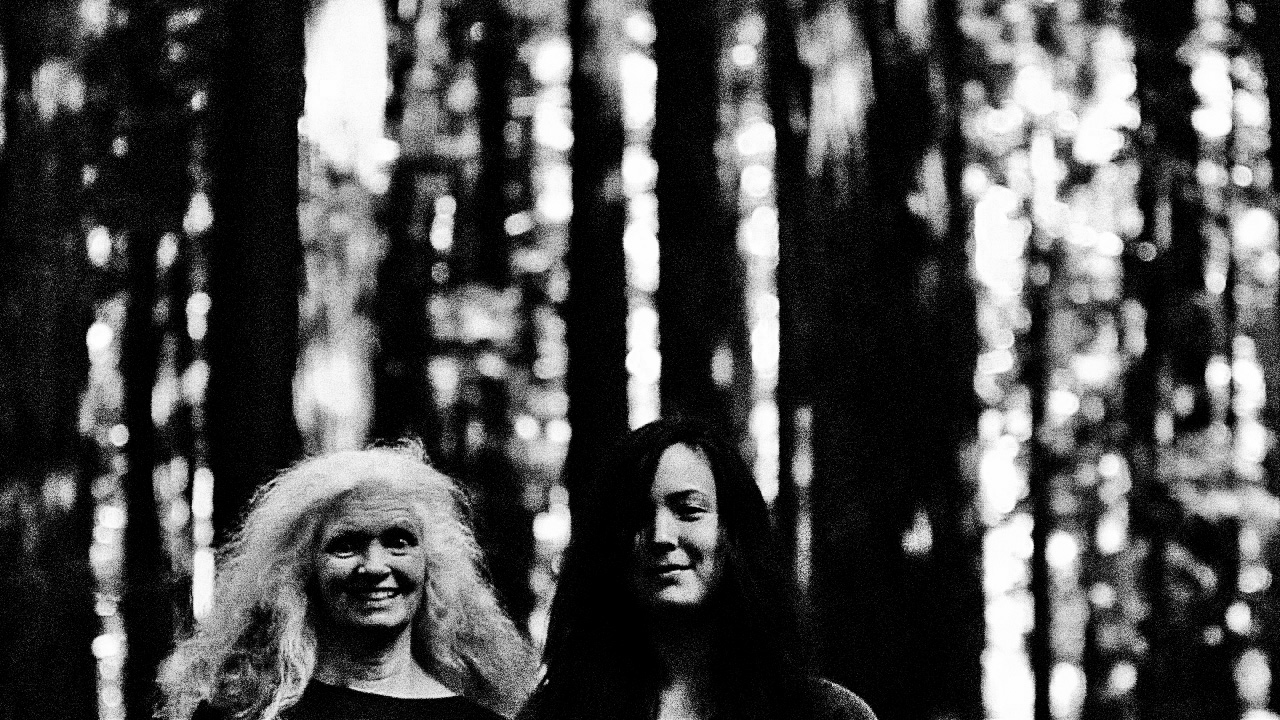 The hand-held documentary feel is complimented or should that be fractured by surreal flashes of staring faces in the woods and other intriguing, hypnotic, yet terribly unsettling images and sounds, often with a more overtly folk horror/horror aspect; such split second moments, even if you pause or try to watch the film frame by frame are hard to quite fathom, explain or take in. To again quote Sight & Sound magazine:
"Decker creates a weave of woozy camera movements and abrupt cuts that at once trouble and open up the viewer's perception."
Online images to accompany Chapter 16 of the A Year In The Country: Wandering Through Spectral Fields book, alongside some text extracts from the chapter:
Details of the A Year In The Country: Wandering Through Spectral Fields book and the collection of its accompanying online images can be found at the Book's Page, which will be added to throughout the year.