"There is a mini film sub-genre of pastoral fantasy, with at times elements of folk horror, wherein late 1960s and turn of the decade high fashion mixes with grown up fairytale high jinx, wayward behaviour and sometimes a step or two or more towards the dark side, all carried out in dreamlike isolation in the woods and pastoral settings.
The three main films aligned with such things are Queens of Evil aka Le Regine or Il Delitto del Diavolo (1970), Tam Lin aka The Devil's Widow (1970) and in a more loosely connected manner The Touchables (1968).
All three of these films draw from, to varying degrees, some of the often defining themes of folk horror: being set in rural places and buildings where activities and rituals can develop or take place without easy escape to or influence from the outside world, normality and societal norms."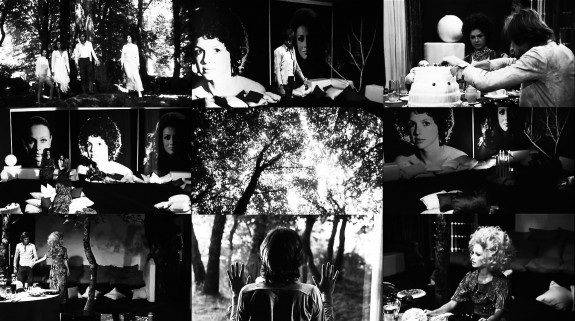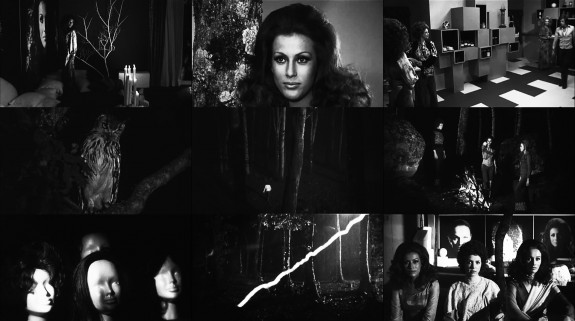 "Queens of Evil's plot follows a handsome young freewheeling hippie idealist who comes across a house in the woods after he has been involved in a road accident where a materially wealthy gent was killed.
Living in this house are three young women who take him in, charm, nurture, seduce and confuse him. Everything is rosy for a while but there is something off-kilter about the setup and he cannot quite seem to leave."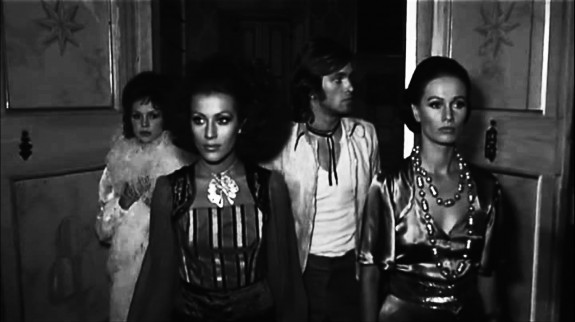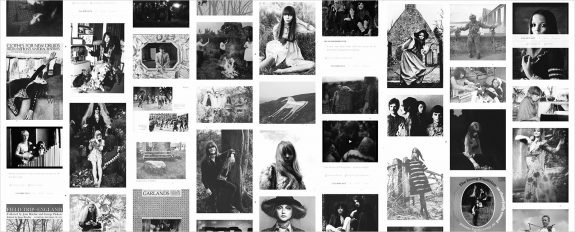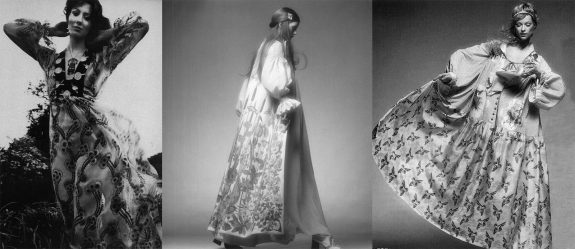 "It is an at points chimeric fantasy which is largely set in sharply stylish but indolent, tree-inhabited period interiors and is full of late 1960s ethereal high-fashion along the lines of Ossie Clark and Celia Birtwell's work from then and also incorporating the period folkloric-meets-psychedelia imagery collecting of website Psychedelic Folkloristic and its reflection of a relatively brief point in time around the later 1960s to early 1970s when fashionability turned towards folk and pastoral concerns."
"(In terms of) reference points it creates a sense of a gently decadent grown ups version of a tea-party in the woods, a dash of Snow White (at one point somebody says "It's just like Snow White's house" about the cabin in the woods), a bit more of a dash of Hansel and Gretel and its tales of leading astray, more than a touch of the earlier mentioned and loosely interconnected kidnapping and pop-art pastoral playground film The Touchables, alongside the social critique and/or dreamlike qualities of some of Czech New Wave films such as Daisies (1966) and Valerie and her Week of Wonders (1970)."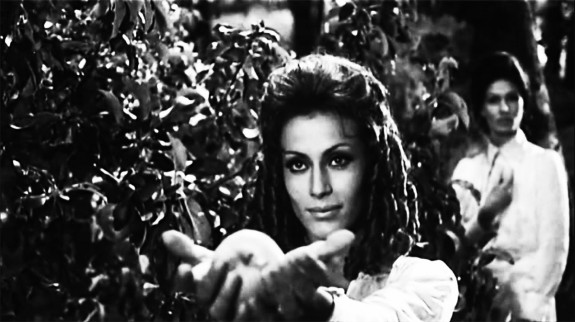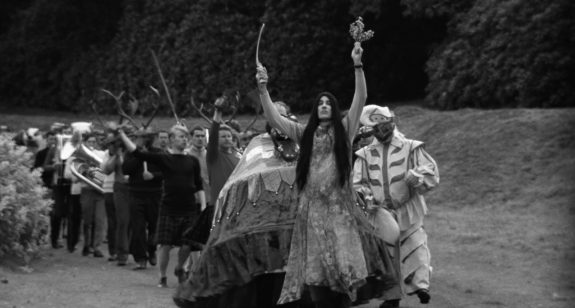 It could well also be appropriate to include The Wicker Man (1973) as another reference point.
"In both films there is a similar sense of game playing, of leading a worldly innocent through a set of rituals and of differing levels of power and control in a rural setting.
Also, in common with that towering relatively modern folklore tale, apples and symbols of temptation play a part in this game.
And as with The Wicker Man, this is a tale full of its own and borrowed mythology, which seems to exist and be told in a world of its own imagining, where the outside rarely intrudes."
"In many ways it is a story of a culture tottering right on the edge of when the utopian, carefree, sundrenched dream of the 1960s was about to fall into the darkness of its own dissolution in the following decade (Liege & Lief becomes Comus, to draw parallels with folk music's progression at the time)."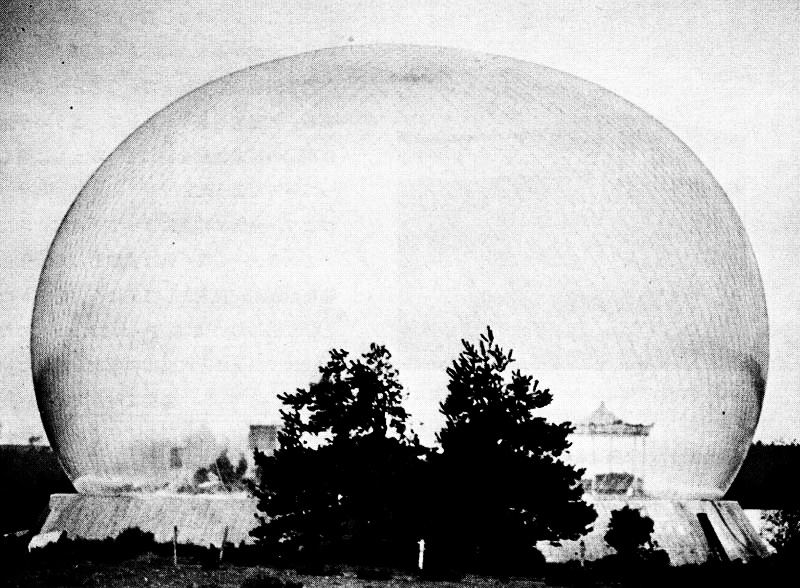 "In terms of this loose mini sub-genre of pastoral fantasy, The Touchables is more rooted in the later part rather than the tipping point of that 1960s dream, although it does represent a world and culture which seems to have become untethered and possibly one which lacks a moral centre.
It is a very modish tale of a group of stylish sixties women who live in a huge see-through plastic bubble in the middle of the countryside who kidnap a pop star as "a temporary solution to the leisure problem" and in order make him their plaything.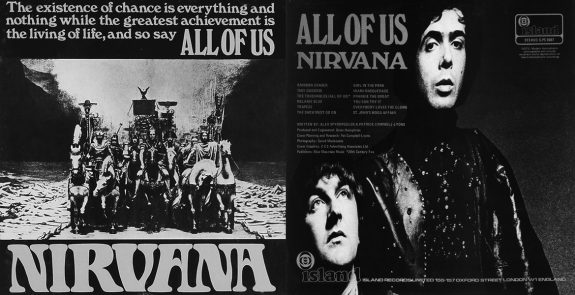 "Mixed in with this are the stealing of a Michael Caine dummy, gangsters, wrestlers with rather refined aristocratic tastes, a fair bit of high-fashion styling and a fine pop-psych title song by Nirvana (the 1960s band rather than the later Seattle based grunge group).
Essentially, at heart it is a caper romp but one that is more than one remove from the mainstream and quite surreal in its setting and the mixture of elements it contains."
"It was not a surprise to discover that The Touchables was based on a script by Donald Cammell (with a screenplay by Ian La Frenais), as in part it represents a proto, more pop-art, possibly light hearted take on Performance (1970), which he wrote and co-directed.
As with The Touchables, Performance also incorporates a theme of a popstar living in an enclosed bubble world, although its setting is in some ways more prosaic as it involves a former popstar who lives a reclusive, isolated life in a London flat rather than in a rurally set large-scale see-through plastic dome as is the case with The Touchables."

"One intriguing aspect of The Touchables is that there is not even an attempt to explain how the stylish group of female kidnappers' bubble or lifestyle are afforded, nor why there seems to be no outside comment or interference by mainstream society, authority etc. about their quite frankly rather unusual giant blow-up see-through home that is sitting in the middle of the countryside, complete with jukebox, canopied merry-go-round etc."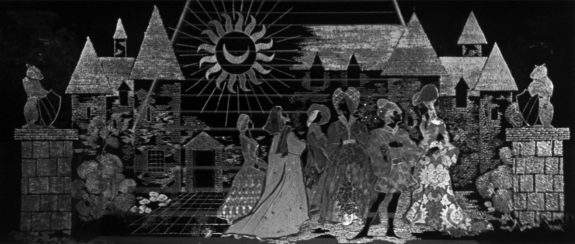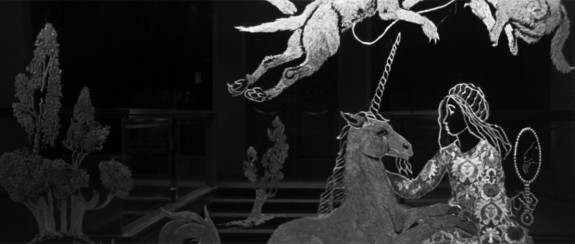 "Tam Lin is a curious film which as with Queens of Evil and The Touchables does not easily fit into any particular mainstream genre; it is a loose modern adaptation of the traditional folkloric tale and song "The Ballad of Tam Lin", relocated to the country home of an almost mythologically wealthy older woman which is peopled by various late 60s hipsters, hunks and prepossessing actresses of the time (including Madeline Smith, Joanna Lumley and Jenny Hanley) and soundtracked by British jazz-folk band Pentangle."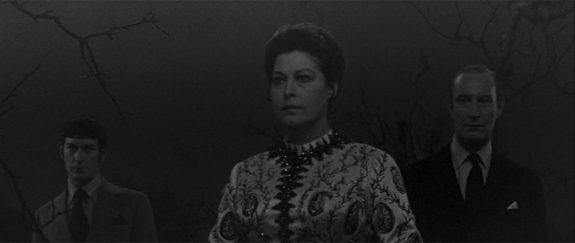 "Hollywood legend Ava Gardner stars as that wealthy, older woman, alongside a dapper Ian McShane who plays a young man that catches her eye and Stephanie Beacham as the innocent from the world outside."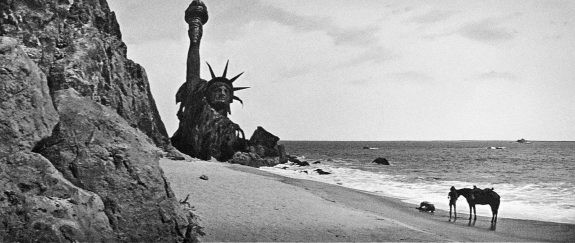 "It was directed by Roddy McDowell, who is possibly most famous for playing the lead simian character in the Planet of the Apes films that were released from 1968 to 1973.
This was the only time he directed which is a pity as this film shows that he had considerable promise in that area."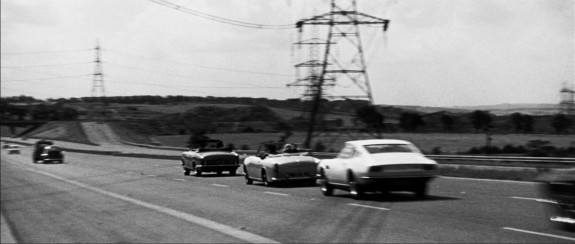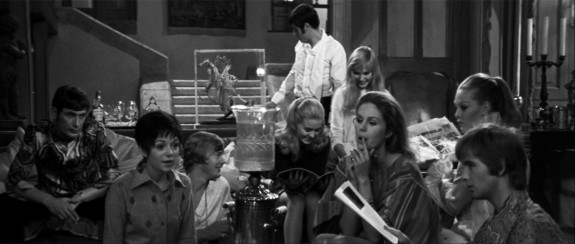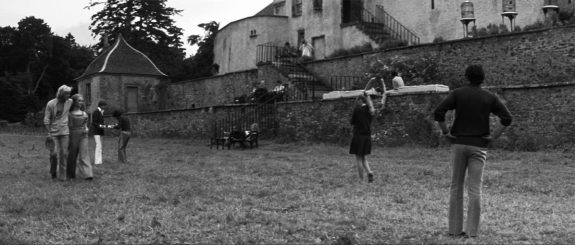 "The plot involves an immensely rich older lady Michaela Cazaret, gathering up hip young things to come and live, play with and amuse in her country mansion; her actions seems like a scooping up or pied piper-esque leading as she heads a convoy of cars through roads walled by pylons into her country lair.
Cue childlike games (how can a game of frisbee seem so very odd?), partying, pleasing of the senses, imbibing and so forth."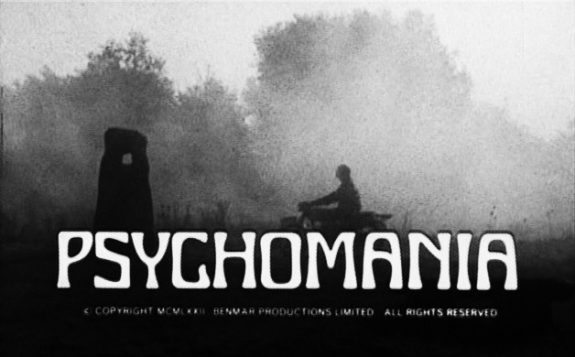 "In Tam Lin there is a sense of playful opulence and a mod/post-mod sharpness to the style which could be compared and contrasted with say the murk, grime and tattiness of the also sub/counter-culture orientated folk horror related film Psychomania which was released in 1973.
They are separated by but a few years but are worlds apart in terms of the aesthetic style, societal/economic conditions, atmosphere and possibly optimism that they represent or portray."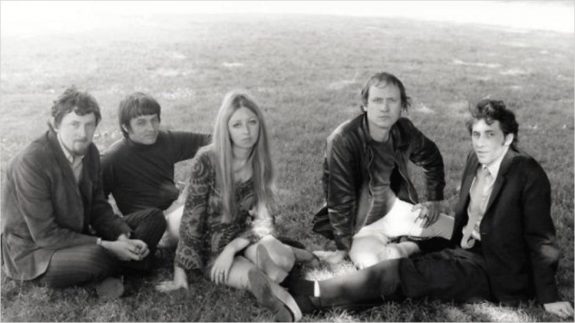 "Tam Lin was also made at a high water mark of folk rock and the returning music refrain throughout the film is traditional folk song "The Ballad of Tam Lin" from which the film takes its inspiration, performed in the film by Pentangle and which infuses and intermingles with the more conventional music score.
The film's story follows that of its folk music forebear which with its fantastical tales underpins and layers the sense of this being an adult fairytale." 
Online images to accompany Chapter 23 of the A Year In The Country: Wandering Through Spectral Fields book, alongside some text extracts from the chapter:
Details of the A Year In The Country: Wandering Through Spectral Fields book and the collection of its accompanying online images can be found at the Book's Page, which will be added to throughout the year.