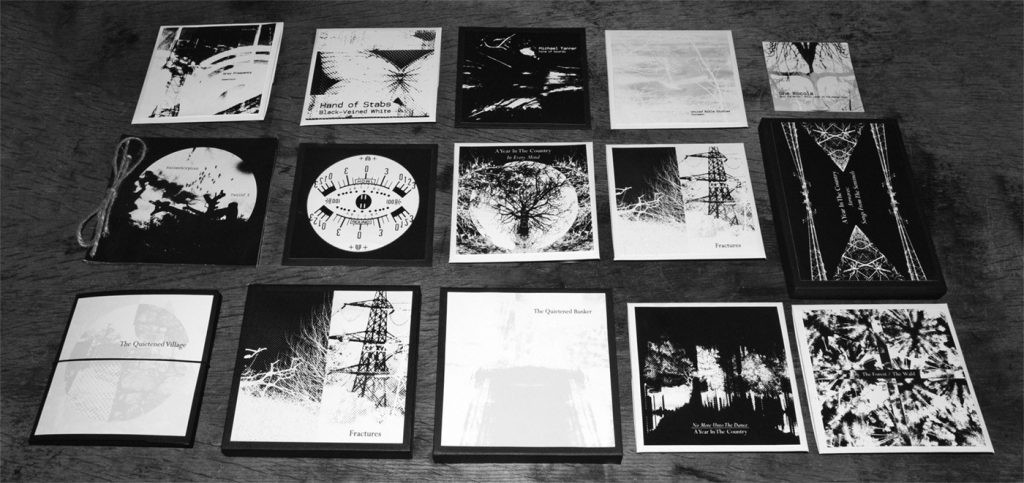 Journeys in Otherly Pastoralism, The Further Reaches of Folk and the Parallel Worlds of Hauntology
A Year In The Country is a set of year-long journeys through spectral fields; cyclical explorations of an otherly pastoralism, the outer reaches of folk culture and where they meet and intertwine with the spectres of hauntology.  It is a wandering amongst work that takes inspiration from the hidden and underlying tales of the land.
As a project it has included the website featuring writing, artwork and music which stems from that otherly pastoral/hauntological intertwining, alongside a growing catalogue of album releases.
The writing from the first three years of A Year In The Country has been collected, revised and revisited, alongside new work, in the book A Year In The Country: Wandering Through Spectral Fields, which draws together and connects layered, at times semi-hidden cultural pathways and signposts; journeying from acid folk to edgelands via electronic music innovators and pioneers, folkloric film and photography, dreams of lost futures and misremembered televisual tales and transmissions.
The posts on the website and the book are appreciations and investigations of the above themes and work, while also being intended as a trail of cultural breadcrumbs, starting points for their readers' own wanderings and pathways through related fields.
A Year In The Country's music releases have included themed albums that have focused on amongst other areas abandoned villages, soundtracks to imaginary lost films, derelict Cold War infrastructure, deserted industry, the faded dreams of the space race and echoes of tales from woodland folklore.
They have included work by Keith Seatman, Vic Mars, Listening Center, The Hare And The Moon, Polypores, Time Attendant, The Soulless Party, Sproatly Smith, Magpahi, The Rowan Amber Mill, The Séance, Lutine, Spaceship, The Straw Bear Band, David Colohan, Sharron Kraus, Howlround, The Heartwood Institute, Field Lines Cartographer, Depatterning, Pulselovers and A Year In The Country itself, alongside other contributors.
The A Year In The Country and its Artifacts Shop opened at the start of January 2014. In the shop you will find the various "artifacts" – books, albums, prints etc  – which have been released since then.
More details on the project can be found at our main site: www.ayearinthecountry.co.uk
"This incredibly well-researched book, which is obviously written by a man with an enormous passion for this subject, is probably as comprehensive as it is possible to be… Stephen Prince's densely packed tome covers everything from folkloric film and literature to electronic music to acid folk to folk horror to the dystopian fiction of John Wyndham and the classic unearthings of Nigel Kneale to the formation of under-the-furrows record labels like Trunk, Ghost Box and Finders Keepers… If you're already interested in folk culture and want to be astonished by how deeply its roots run, you'll treasure A  Year In The Country enormously… Books this culturally valuable don't grow on hedgerows, so make sure you harvest it immediately."
Ian White, writing about the A Year In The Country: Wandering Through Spectral Fields book in Starburst 
"A Year In The Country quietly go about their business releasing beautifully packaged music that is influenced by folk, electronica, drone as well as by landscape, time and place. Each have themes running through them, tying the music together and seemingly telling a story as they unfold."  Terrascope

Please note shop opening hours: Early Morning Hush until A Midnight Sun, Monday – Sunday, 365 days a year.


A Year In The Country elsewhere in the electronic ether:
You can change and view details of the site's use of cookies and our related Privacy Policy here: www.ayearinthecountry.co.uk/cookie-policy