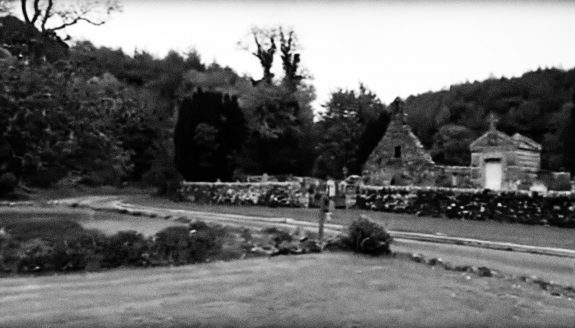 During this year of A Year In The Country I've visited the fictional world of Summerisle / The Wicker Man a number of times…
…and now that the year is drawing to a close, I thought I would visit it once more.
A while ago I came across a bevy of Wicker Man documentaries that I didn't know about.
I had watched various ones previously, the ones included on the DVD releases etc but then one day I stumbled on more online (the magic of the ever-archiving internet and all that).
Now, I would've thought that I would be a bit overloaded with all things Wicker Man-esque but I actually thoroughly enjoyed watching the documentaries or sections of documentaries I found in various ways – it seems that this is the isle that just keeps giving it seems.

The ones in question were:
One titled online as The Wicker Man BBC Scotland On Screen 2009, in which actor Alan Cumming (with a somewhat artfully arranged fringe) wanders around the locations of The Wicker Man, with how they are today segueing into scenes from the film.
It features him meeting with the likes of the film's director Robin Hardy, Britt Ekland's body double, one of the public house musicians who played in the film and the woman who runs the gallery where the sweet shop scene was filmed (who says something along the lines of some visiting tourists thinking that those who live in the area actually are pagans).
Alongside which Allan Brown, author of Inside The Wicker Man, film critic/broadcaster Andrew Collins, novelist Christopher Brookmyre and Edward Woodward all appear and comment on the film and its surrounding myths and intrigues.

Then I watched The Wicker Man episode of the BBC 4 series Cast and Crew from 2005, which hosts a round table discussion of the film, featuring Christopher Lee, Ingrid Pitt being her delightfully eccentric and expressive self (slightly embarrassing/awkward for more reserved British sensibilities to know how to cope with that it has always seemed when I have watched such appearances), director Robin Hardy again, art director Seamus Flannery, associate music director Gary Carpenter and again Edward Woodward (who was filmed separately from the other participants).

One of the pieces of information that stuck in my mind from this documentary was Seamus Flannery saying how the actual Wicker Man sculpture in the film was built from pre-woven panels that were designed to be used as wind baffles in fields for sheep to shelter behind and which they bought very cheaply wholesale for just a few pounds each.
Robin Hardy also briefly mentions the successor to The Wicker Man that he was planning at the time called May Day (which Christopher Lee was set to appear in and is at baritone, strident pains to make clear that it was not a sequel) and which I assume eventually became The Wicker Tree which was released in 2011.
The one that really caught my eye and mind though was Sing Cuckoo: The Story and Influence of The Wicker Man Soundtrack, which is available to watch on the BFI Player (which I have mentioned a few times previously around these parts) and was recorded around the time of the BFI season Gothic: The Dark Heart of Film in 2014.
This does what it says on the can and again features Robin Hardy and Gary Carpenter, alongside the musicians Stephen Cracknell of The Memory Band and Mike Lindsay of Tuung (who have both created/released Wicker Man related work), all discussing the soundtrack of the film, its influences, inspirations etc.
There is something very evocative and moving about this particular documentary and it has a certain classiness to it, a sense of a deep respect for the film both by those shown in it and from behind the camera.
Part of that is the way it is divided into titled chapters that connect with the themes of the film and its influence; Creation, Isolation, Resurrection, Inspiration and Resolution.
I don't know if it was a deliberate but those directly involved in the film – Robin Hardy and Gary Carpenter – are filmed  against a featureless black background, whereas Jonny Trunk, Stephen Cracknell and Mike Lindsay are filmed set against tools of their trades (shelves of vinyl records and banks of modular synthesisers).
There is a touching moment when Jonny Trunk talks about how it is a shame that the soundtrack's author Paul Giovanni passed away before he could see how it had gone on to gain such an extensive following and possibly even played it live.
Connected to that, there is a poignancy to all these documentaries; as the years have passed few of the principal participants featured are still alive, with Christopher Lee, Ingrid Pitt, Robin Hardy and Edward Woodward all since having passed away.
In terms of some of the reasons for the ongoing and expanding appeal of the film and its soundtrack, Stephen Cracknell makes some interesting points about how the songs have become like folk standards for young indie-folk musicians and says:
"I think it will go on influencing people by giving them this idea of "Wow, you can be playful and sexy and daring and scary, not just reverential with old music and make it new and vibrant". It stands like a beacon for that really."
(File Post Under: Cathode Ray & Cinematic Explorations, Radiowave Resonations & Audiological Investigations)
Audio Visual Transmission Guide #1:
Sing Cuckoo: The Story and Influence of The Wicker Man Soundtrack at the BFIPlayer
More samizdat transmissions:
The Wicker Man BBC Scotland On Screen 2009
Cast And Crew – The Wicker Man
Local Broadcasts:
Well, that would be a fair few but here's a starter or two – The Wicker Man Around These Parts