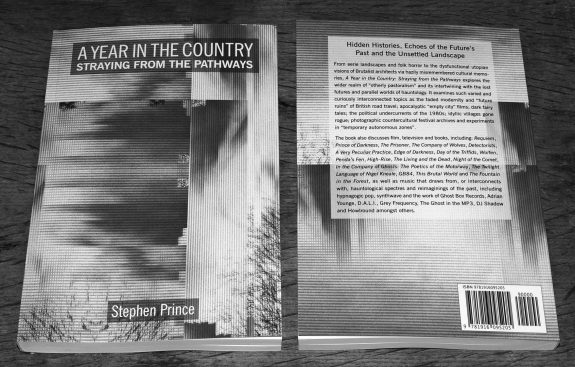 Hidden Histories, Echoes of the Future's Past and the Unsettled Landscape

The book is available at:
Amazon UK, US, France, Germany and their various other international sites.

The A Year In The Country Artifacts Shop and our Bandcamp site.
Lulu.com

In keeping with the number of months in a year, A Year In The Country: Straying from the Pathways is split into 12 chapters, which travel from eerie landscapes and folk horror to the dysfunctional utopian visions of Brutalist architects via hazily misremembered cultural memories.
The book explores the wider realm of "otherly pastoralism" and its intertwining with the lost futures and parallel worlds of hauntology. It examines such varied and curiously interconnected topics as the faded modernity and "future ruins" of British road travel; apocalyptic "empty city" films; dark fairy tales; the political undercurrents of the 1980s; idyllic villages gone rogue; photographic countercultural festival archives and experiments in "temporary autonomous zones".
The book also discusses film, television and books, including: Requiem, Prince of Darkness, The Prisoner, The Company of Wolves, Detectorists, A Very Peculiar Practice, Edge of Darkness, Day of the Triffids, Penda's Fen, High-Rise, The Living and the Dead, Night of the Comet, In the Company of Ghosts: The Poetics of the Motorway, The Twilight Language of Nigel Kneale, GB84, This Brutal World and The Fountain in the Forest, as well as music that draws from, or interconnects with, hauntological spectres and reimaginings of the past, including hypnagogic pop, synthwave and the work of Ghost Box Records, Adrian Younge, D.A.L.I., Grey Frequency, The Ghost in the MP3, DJ Shadow and Howlround amongst others.

Author: Stephen Prince. 238 pages. Paperback and Ebook. Published by A Year In The Country.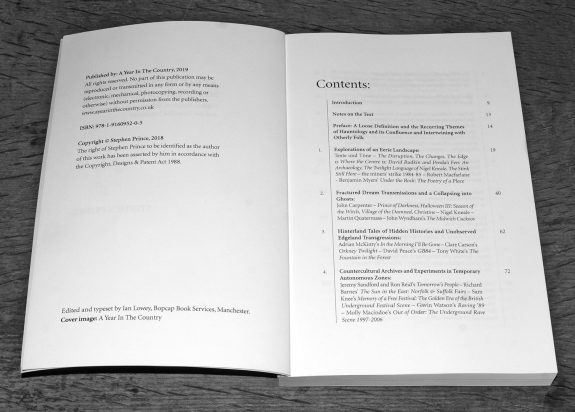 Chapter list:
1. Explorations of an Eerie Landscape: Texte und Töne – The Disruption, The Changes, The Edge is Where the Centre is: David Rudkin and Penda's Fen: An Archaeology, The Twilight Language of Nigel Kneale, The Stink Still Here – the miners' strike 1984-85 – Robert Macfarlane – Benjamin Myers' Under the Rock: The Poetry of a Place
2. Fractured Dream Transmissions and a Collapsing into Ghosts: John Carpenter – Prince of Darkness, Halloween III: Season of the Witch, Village of the Damned, Christine – Nigel Kneale – Martin Quatermass – John Wyndham's The Midwich Cuckoos
3. Hinterland Tales of Hidden Histories and Unobserved Edgeland Transgressions: Adrian McKinty's In the Morning I'll Be Gone – Clare Carson's Orkney Twilight – David Peace's GB84 – Tony White's The Fountain in the Forest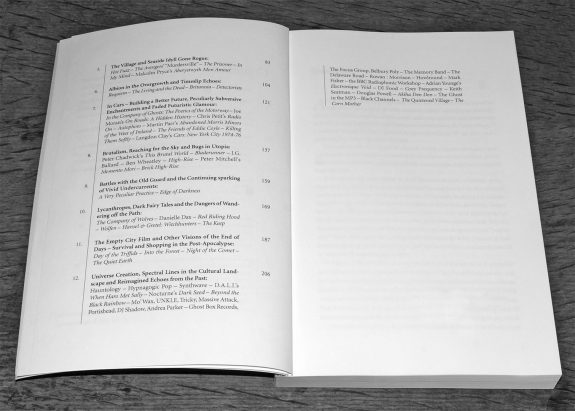 4. Countercultural Archives and Experiments in Temporary Autonomous Zones: Jeremy Sandford and Ron Reid's Tomorrow's People – Richard Barnes' The Sun in the East: Norfolk & Suffolk Fairs – Sam Knee's Memory of a Free Festival: The Golden Era of the British Underground Festival Scene – Gavin Watson's Raving '89 – Molly Macindoe's Out of Order: The Underground Rave Scene 1997-2006
5. The Village and Seaside Idyll Gone Rogue: Hot Fuzz – The Avengers' "Murdersville" – The Prisoner – In 
My Mind – Malcolm Pryce's Aberystwyth Mon Amour
6. Albion in the Overgrowth and Timeslip Echoes: Requiem – The Living and the Dead – Britannia – Detectorists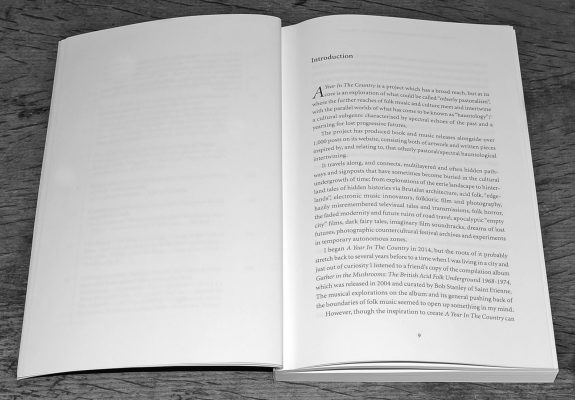 7. In Cars – Building a Better Future, Peculiarly Subversive Enchantments and Faded Futuristic Glamour:
 In the Company of Ghosts: The Poetics of the Motorway – Joe
 Moran's On Roads: A Hidden History – Chris Petit's Radio 
On – Autophoto – Martin Parr's Abandoned Morris Minors of the West of Ireland – The Friends of Eddie Coyle – Killing Them Softly – Langdon Clay's Cars: New York City 1974-76
8. Brutalism, Reaching for the Sky and Bugs in Utopia: Peter Chadwick's This Brutal World – Bladerunner – J.G.
Ballard – Ben Wheatley – High-Rise – Peter Mitchell's
 Memento Mori – Brick High-Rise
9. Battles with the Old Guard and the Continuing sparking of Vivid Undercurrents: 
A Very Peculiar Practice – Edge of Darkness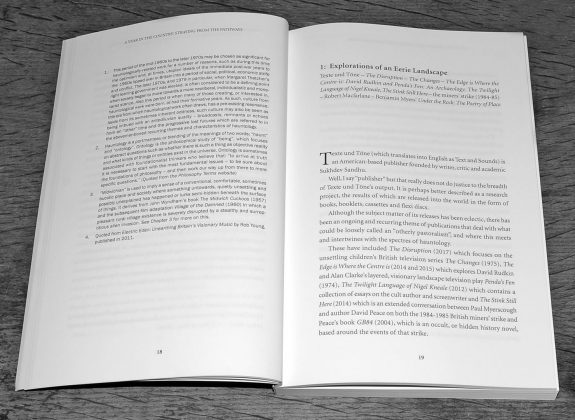 10. Lycanthropes, Dark Fairy Tales and the Dangers of Wandering off the Path: 
The Company of Wolves – Danielle Dax – Red Riding Hood – Wolfen – Hansel & Gretel: Witchhunters – The Keep
11. The Empty City Film and Other Visions of the End of Days – Survival and Shopping in the Post-Apocalypse:
 Day of the Triffids – Into the Forest – Night of the Comet –
The Quiet Earth
12. Universe Creation, Spectral Lines in the Cultural Landscape and Reimagined Echoes from the Past:
 Hauntology – Hypnagogic Pop – Synthwave – D.A.L.I.'s
 When Haro Met Sally – Nocturne's Dark Seed – Beyond the 
Black Rainbow – Mo' Wax, UNKLE, Tricky, Massive Attack, Portishead, DJ Shadow, Andrea Parker – Ghost Box Records, 
 The Focus Group, Belbury Poly – The Memory Band – The Delaware Road – Rowan : Morrison – Howlround – Mark Fisher – the BBC Radiophonic Workshop – Adrian Younge's Electronique Void – DJ Food – Grey Frequency – Keith Seatman – Douglas Powell – Akiha Den Den – The Ghost in the MP3 – Black Channels – The Quietened Village – The Corn Mother