File under: Trails and Influences.
Other Pathways. Case #28/52.
Now, on the occasional time when I wander down a high street and into a newsagent in recent years, I don't tend to expect to find a magazine that takes as its subject matter hauntological and interconnected culture and/or a touch of otherly folk music.
But this issue of Shindig magazine would have been one case where I might have discovered such a publication as sometimes it can be found nestled alongside other more generally culturally appealing periodical tomes…
Shindig is an independently published magazine that focuses on psychedelic, garage, beat, powerpop, soul and folk music, often from or influenced by previous eras. Although it does tend to explore experimental electronic work, you're probably more likely to discover the likes of The 13th Floor Elevators, The West Coast Pop Art Experimental Band, The Pretty Things, The Flamin' Groovies and The Chocolate Watch Band on the cover than, well, contemporary electronic experimentalists, avant-garde cinema inspired, psychedelic modernist band from around and about The Black Country, such as Broadcast…
…but there is one issue that's something of a cuckoo in the Shindig nest.
That's issue 32 (which I have mentioned in passing before, see Day #59/365). Shindig is generally a fine publication but this particular issue is particularly fine in terms of the interests and pathways of A Year In The Country.
Why is that?
Well, let's do a list of the contents:
1) Broadcast are on the cover: well, that's a good start around these ways.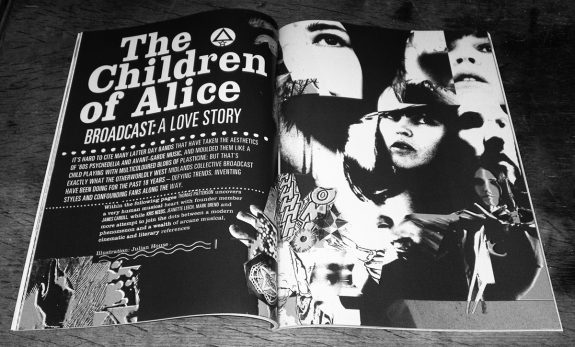 2) The Children Of Alice: Inside there's a ten page (yes, ten pages indeed) article on the band/interview with James Cargill by Thomas Patterson. It covers Broadcasts history and influences, their work and geographic relocation, some rather classic photographs, James' future plans and well… the subject of the sad passing of Trish Keenan, which is dealt with in a respectful manner. Oh and the article has a two page illustration by longstanding Broadcast collaborator Julian House.
2) The Noise Made By Trish: in which Seasons They Change author Jeanette Leech celebrates Trish Keenan and her work.
3) Your Hidden Dreams: a wander through some of the electronic pioneers who could be considered to have led the way towards Broadcast, including Silver Apples, Suicide and United States Of America.
4) An Electric Storm: a consideration of the arrival of Delia Derbyshire, fellow BBC Radiophonic Workshop companion Brian Hodgson and David Vorhaus' White Noise album, subtitled "Mark Brend Chronicles the birth of "hauntological"".
5) Sounds From The Living Room: In which Dan Abbott chooses what he considers Broadcast's 10 best releases…
Okay, pause for breath… and then there's…
6) The Equestrian Vortex: an investigation of Berberian Sound Studio and its accompanying soundtrack by Broadcast.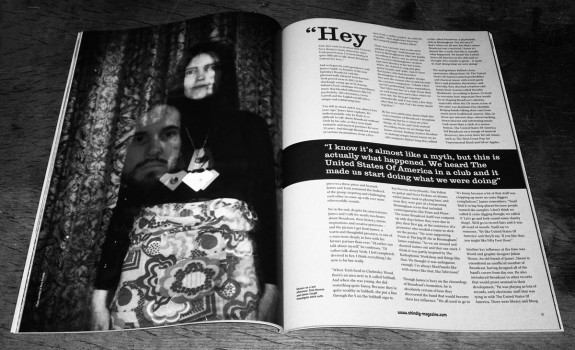 (Above Trish Keenan and James Cargill partake in tiffin accompanied by neighbours from the semi next door, Alex and Maxine Sanders, who've popped round for a little afternoon channelling of witch cults of the radio age.)
7) But then there's an 8-page consideration of the stylish sleaze and cinematic transgressions of Italian Giallo cinema by Jame Blackford (BFI) and Lee Dorrian (Rise Above Records), which considers the genres connections and influence on Peter Strickland's Berberian film…  oh and there's a 2-page illustration by Mr Julian House again.
Wandering away from such things and more towards folkloric culture…
8) Ring Out The Solstice Bells: A brief consideration of the co-tour by The Trembling Bells with former Incredible String Band chap Mike Heron… oh and that's accompanied by a quick mention of Witches Hats & Painted Chariots, the Shindig associated book on The ISB and psychedelic fok, plus a smidgeon about The Green Man festival.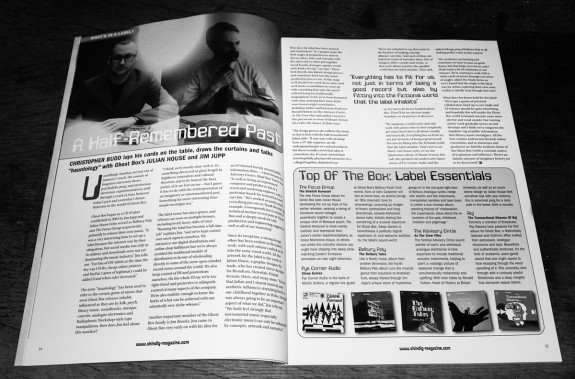 9) A Half-Remembered Past: wandering back towards hauntological shores, there's an interview with the aforementioned Julian House and Jim Jupp of Ghost Box Records… accompanied by a label primer featuring The Focus Group, Pye Corner Audio, Belbury Poly, The Advisory Circle and former Broadcast-er/current Children Of Alice-r Roj.
10) At The Dragon's Gate: An interview with Kat Epple of psych-folk-becoming-cosmic-electronica-became-released-on Finders Keepers Records duo Emerald Web (well worth taking flight with the ravens here).
11) Long Live The Children's Film Foundation: Vic Pratt (also of the BFI… they get around you know) looks at the decades of celluloid adventures, japes and scrapes of well, The Children's Film Foundation.
12) Glowing Reputation: wandering back to the fields of psych folk, there's a four page consideration of two of Mike Heron's solo albums by Alex Nielson.
13) Reviews of albums by wanderers through the otherly fields including Spriguns of Tolgus, The Memory Band, The Incredible String Band… oh and Mark Goodall's (he of the Timecode: Hauntology 20 Years On conference) book Gathering Of The Tribe, which is a consideration of occult/secret knowledge creation and undercurrents in music.
Well, what can I say? To be honest, I think just the Broadcast/James Cargill article alone would have been enough to have me smashing the old digital piggy bank, counting out the coppers and passing them through the ether.
Although of course there are acres and acres of writing to be read in the ether along similar subjects, there's still something precious about when that package drops through the letterbox and there is also something to be said for being able to sit down with a cup of cha and a bite of toast to peruse and soak up a more finite, edited, consideration of culture (mind the sticky fingers on the pages though).
Consider a purchase of the magazine here.