Part 2 of a post that takes as somes of its starting points Little Red Riding Hood, The Company of Wolves and  "The dangers of straying from the path and tales of lycanthropy" (visit Part 1 here).
As mentioned in Part 1 of this post, the 1984 film The Company of Wolves included a number of notable cameos, one of which is the experimental musician, artist, alternative almost popstar, interior designer and gardener Danielle Dax. She appears briefly as a she-wolf from the world beneath the village and whom, despite meaning no harm, is shot at by villagers and ultimately returns to her subterranean home as she feels she is not fit to stay. In The Company of Wolves Danielle Dax's performance and the stylised way in which she moves recall the performance art meets contemporary dance aspects of Kate Bush's live and promotional video work earlier in her career, with whom her work in the 1980s shares some similarities.
Viewed today her work in the 1980s appears at times to be not all that far removed from the performance art-like aspects of Kate Bush's earlier work, with which it also shares in part a certain pop-hook sensibility. At one point in the late 1980s Danielle Dax was signed to a major label and was promoted via mainstream media, as Kate Bush has been for much of her career. Her live performances during this period also shared a multi-faceted and non-conventional aspect with Kate Bush's in the later 1970s and featured dancers/performers, body paint, handpainted sets, costumes and the films of Holly Warburton, whose layered dream like collages also appeared on a number of her record covers.
(As an aside Kate Bush's work could also be connected to The Company of Wolves and some of its themes/aesthetics as, particularly in the earlier part of her career, her songs and other work at times drew inspiration from and explored a mixture of mythology, pastoral unsettledness and even outright horror and often creates a world unto itself. Her song "Hammer Horror" utilises a gothic aesthetic and lyrics which talk of "The first time in my life, I leave the lights on to ease my soul", "Hounds of Love" borrows the line "It's in the trees! It's coming…" from the 1957 British horror film Night of the Demon and "Waking the Witch" starts as a gentle rousing from sleep and then becomes a jarring nightmare of sorcery accusations and persecution, intertwining lyrics from the traditional shanty song "Blood Red Roses".)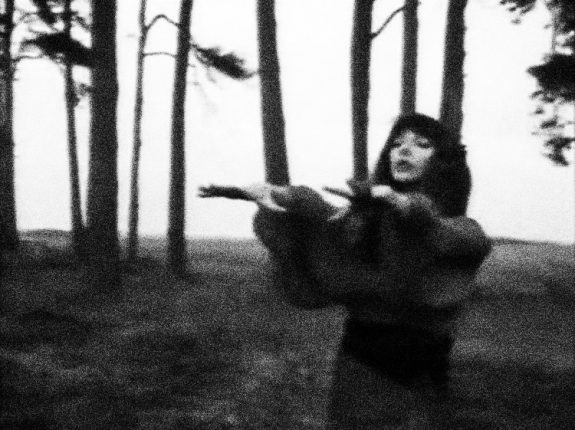 Describing Danielle Dax as an "alternative almost popstar" is a reference to the nature and journey of her work in music and performance during the 1980s; in an alternative time-line she may have gone on to more mainstream success but this was not to be, something which is reflected in the title of her 1995 compilation's title Comatose Non-Reaction: The Thwarted Pop Career of Danielle Dax.
Danielle Dax's background and music orientated output from the 1980s is more rooted in and explores the cultural underground (and to a degree psychedelic and gothic culture) than Kate Bush's but the likes of her 1988 single "Cat House" seems to exist in similar territory as for example Kate Bush's 1977 and 1978 singles "Wuthering Heights" and "Wow". All three of these singles have a strident performance, a pop accessibility and accompanying promotional video's which focus solely on the one dancer/performer against a blank background and make use of period ghosting/video trail effects. With the backing of a major label and higher profile release it is not difficult to envisage "Cat House" achieving chart success (something which its provocative subject matter may have both helped and hindered).
While visually striking in its own terms Danielle Dax's appearance in The Company of Wolves is intriguing due to her own background as an at times experimental performer and therefore the manner in which her presence appears to possibly unexpectedly bridge the cultural worlds of mainstream film and underground culture.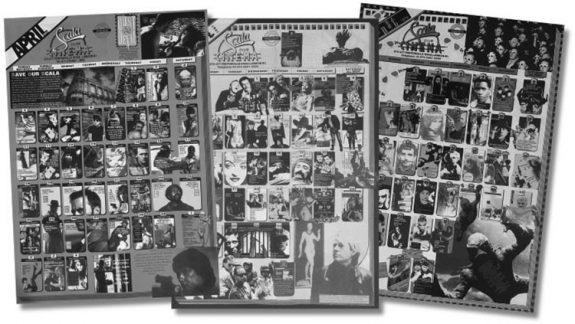 However this "bridging" of different cultural worlds is not as surprising as it may initially appear; the film's producer was Stephen Wooley who was one of the founders of the London-based Scala cinema in the late 1970s, a cinema renowned for its screening of a then unique mixture of exploitation, horror, high art and transgressive film:
"The Company Of Wolves pays homage to… and subconsciously draws from Woolley's eclectic programming of London's Scala repertory cinema, with shades of An American Werewolf in London (1981), Czech fantasy Valerie and Her Week of Wonders (1970) and The Draughtsman's Contract (1982)… Too arty for mainstream horror fans but much gorier and more muscular than the art house expected, The Company Of Wolves remains an endless delight for film enthusiasts and lovers of the Gothic tradition." (Jane Giles, former chief programmer of The Scala, writing at the Picture House website).
Perhaps ultimately the manner in which The Company of Wolves seems to exist and even fall between a number of different stools, aesthetics and cultural areas is a fundamental and intrinsic aspect of its character and also part of what makes it such an intriguing, possibly flawed but still often mesmerising viewing experience.
Elsewhere: 
Elsewhere at A Year In The Country:
The Dangers of Straying from the Path and Tales of Lycanthropy Part 1 – The Cautionary Warnings of Little Red Riding Hood and The Company of Wolves: Wanderings 38/52