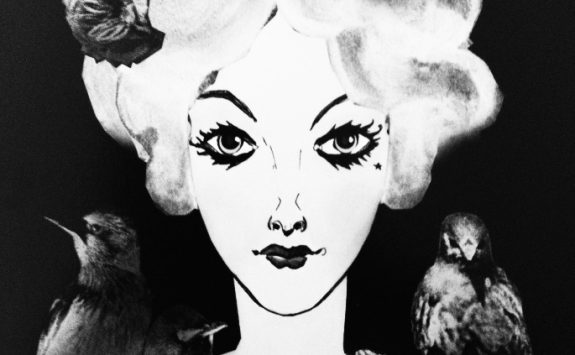 Trails and Influences: Electronic Ether. Case #26/52.
Being a chap of a certain age, when listening to some of what has been labelled hauntological music I've thought to myself… "Hmmm, this isn't a million miles away from the (largely) English instrumental abstractions of hip-hop from the nineties, along the lines of Mo'Wax" (or probably I actually think "This reminds me of Mo'Wax a bit").
Boards Of Canada would be a starting point for such things. Their work sounds like the audio foundations for hauntology before it discovered its philosophical bent. And it wasn't a surprise to see former Mo'Wax gents reappear/the connection with such things via the wanderings of the likes of The Memory Band vs Ghost Box Further Navigations release.
I suppose the borrowing, sampling, re-imagining and reinterpreting of previously existing records and sounds in a collage form in some such music is not dissimilar to hip-hops collage/cut'n'paste style which lead to the hazy beats and borrowings of Mo'Wax.
One of the more overt of those times when I think of the connection to such things as Mo'Wax is Mr Ian Hodgson's Moon Wiring Club work. It makes me think of chaps in big trainers curiously transmuted to share in teacake time…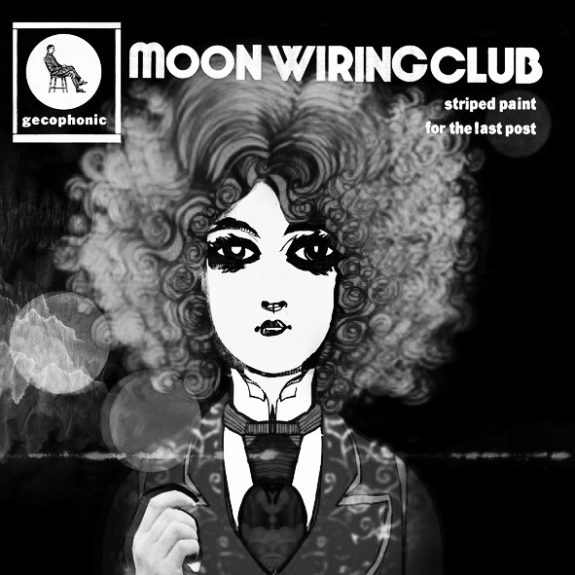 …this is music which I tend to think of as being more playful than spectral. It's a world of whimsy, wrapped in painted psychedelic wrappings (rather swinging Carnaby Street-esque I tend to think; the associated illustrations remind me of the dandy-isms of such things, in particular Malcolm English and I suppose you could draw a line from such things and a Kinks-esque Village Green Preservation Society pleasant but slightly fantastical fair isle-ness to Moon Wiring Club. Hmmm…).
And returning again to the Mo'Wax connection, the distinctive presentation and packaging of the aesthetics of this world is part and parcel of the experience (something shared by both Moon Wiring Club and Ghost Box Records; the design work is part of the transportation mechanism, as it were).
Although, entering into Mr Hodgson's Blank Workshop is more to step into a world of chocolate crispie cakes, bunking off school to watch vaguely science-fiction escapist TV (Streethawk?, Automan?), maybe eat a bag of chips if you had the money than, well, unsettled otherlyness and it has a delve about amongst a cultural 10p mix that wanders a little further along to nearer our own time…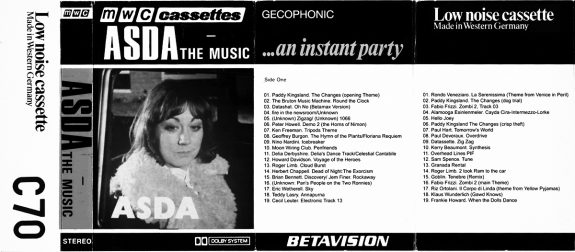 I was particularly taken by the Asda Mix. As I listened to it, the phrase that kept popping into mind was "This is like a hauntological primer"… but it's not. It's very fun rather than serious. Yes, it may open with the theme to a mid-1970s post-societal collapse television series but you're just as likely to journey through the Two Ronnies as such things.
Lovely packaging for it to. Listen to it here.
(Oh and C70s? Did they make C70s? For when you need just a bit more than an hour but not quite two albums worth of ferrous recordings).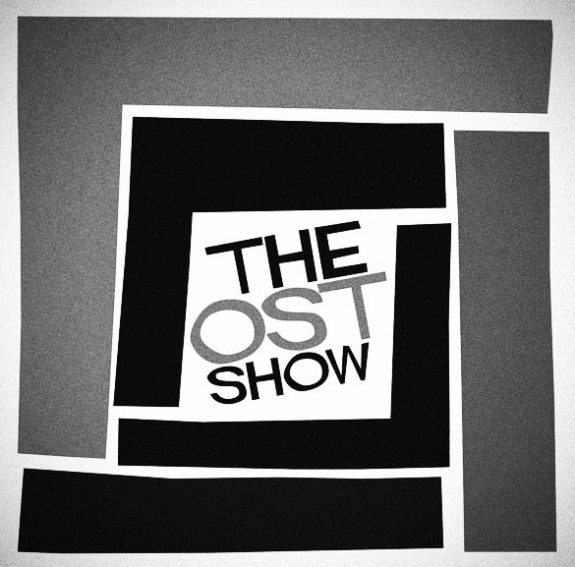 And while we're on the subject of things you can find in the ether… I still find myself chuckling when I think of the meeting of Jonny Trunk, Ian Hodgson and friend on the OST show. Let the battle of knowing exactly which catalogue number and colour label a particularly piece of library music has commence. Well worth a wander along and listen if you should enjoy the above instant party tape. Stand outs? The recording of a set of supermarket pricings comes to mind…
(During the show Mr Hodgson discusses his love of sweet wrappers, which doesn't surprise me as I found myself wanting to write painted psychedelic sweetie wrappings in the above paragraph…).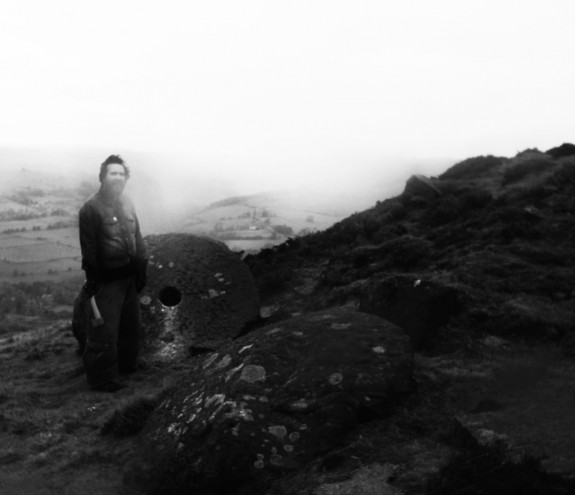 I'm also somewhat entertained (worried?) by the photograph from an interview with the gent in question by a chap from The Outer Church… if you should want to read more about the connections between hip-hop and such things you can do that… well you might have to break open the piggy bank… more about that in the following paragraph…
While we're wandering amongst the fields of zeros and ones, if you don't have as much shelf space as you might like, for some of your good English pounds you could read a different copy of The Wire magazine every day for the next year (at the time of writing) here and still have a few issues left in spare change. Or hop along more precisely to Gecophonic transmissions here.
Mind you, also at the time of writing what a rotation around the suns worth of such things would pay for could buy you approximately 160 teacakes according to the smorgasboard of information in amongst the zeros and ones. I'm not just being obscure there (not just). There is a link and reason for mentioning teacakes again. If you visit the Phantom Circuit here you may well see the connection.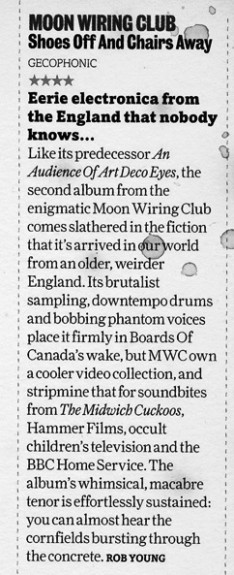 PS Indirectly Mr Hodgson is responsible for one of the phrases that has stuck in my head the most leading up to and during this year in the country: "slathered in the fiction that it comes from an older, weirder England".
Although in my head I tend to think it says "slathered in the fiction that it comes from an older, more brutal England", which I think probably says something about my own approach to all such things and makes me think of the behind-the-net-curtains noir of Black Box Recorder (see Day #10/365).
Wander along to the Gecophonic Audio System here.