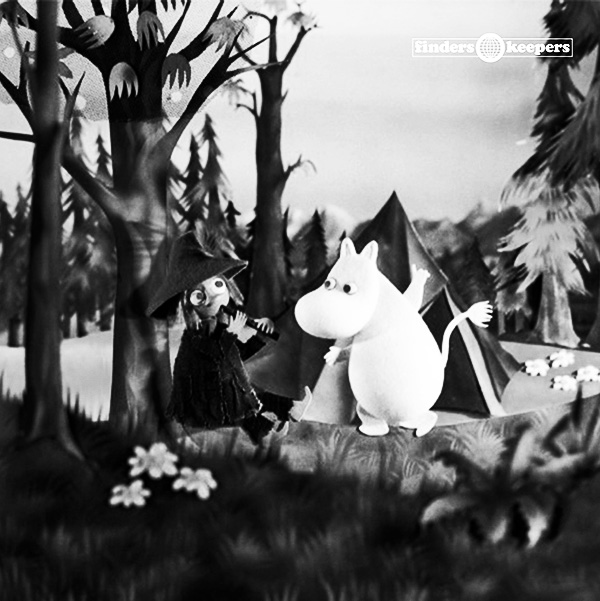 I
I suppose that one day much of the semi-lost or unreleased music/cultural treasures will have been fully mined and there won't be any more for archivists such as Jonny Trunk and Finders Keepers Records to seek out and send out into the world…
…but that moment doesn't seem to have quite arrived yet and things still seem to keep turning up.
Along which lines, there are some rather lovely editions of the Moomins soundtrack released by the just mentioned folk at Finders Keepers Records.
I guess you could file The Moomins alongside other gently bucolic, quietly left-of-centre work such as Ivor The Engine, Bagpuss and possibly gently edgeland, quietly left-of-centre work such as The Flumps and The Wombles…
…although when watching clips/episodes of the series, wheat they put me in mind of were the left-of-centre fantasies and fairy tales of some of the Czech New Wave (something I recently also said about Isabell Garrett's animated film Bye Bye Dandelion).
Which may not be all that surprising, considering Finders Keepers/Finders Keepers history of releasing Czech New Wave related soundtracks such as Valerie and Her Week of Wonders and Daisies (and I could also possibly wanders towards the woodcut-esque tales-from-the-forest covers of the Folk Is Not A Four Letter Word left-of-centre folk compilation albums, which were compiled by Finders Keeper-er Andy Votel).
File under: Trails and Influences / Year 3 Wanderings
Intertwined wanderings around these parts:
Day #164/365: A saggy old cloth cat and curious cultural connections…
Day #247/365: Folk Is Not A Four Letter Word and voyages through other playful fancies from behind the once ferrous drapes…
Audio Visual Transmission Guide #38/52a: Bye Bye Dandelion
Elsewhere in the ether:
Findings at Finders Keepers Records. Delvings at Trunk Records.