Preorder today 12th February 2019. Released 8th March 2019.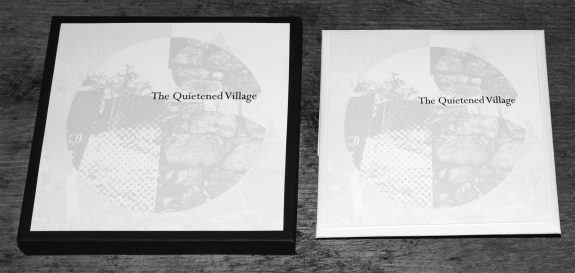 The Quietened Village is a study of and reflection on lost, disappeared and once were villages and hamlets that have wandered off the maps or that have become shells of their former lives and times.
It is inspired in part by images of sections of abandoned, submerged villages and the spires of their places of worship reappearing from the surfaces of reservoirs and lakes, alongside explorations of places that have succumbed to the natural erosion of the coastline and have slowly tumbled into the sea or been buried by encroaching sands.
Some of the lost places which inspired The Quietened Village still exist but only as stripped down shadowlike settlements; their inhabitants have long since left as those who lived there were evicted at short notice so that their homes and hearths could be used as training grounds to prepare for operations during times of large scale conflict.
These points of reference have been intertwined with the spectres of fictional tales; thoughts of Midwich Cuckoo-esque fictions or dystopic tales told and transmitted in times gone by and reimagined in amongst the strands of The Quietened Village.

Features music and accompanying text on the tracks by The Straw Bear Band, Field Lines Cartographer, The Heartwood Institute, Howlround, The Rowan Amber Mill, Polypores, Pulselovers, The Soulless Party, Time Attendant, A Year In The Country, Sproatly Smith and Cosmic Neighbourhood.

Available in two CD editions: Dawn Light edition £11.95. Nightfall edition £22.95.
CDs available via our Artifacts Shop and at Bandcamp.
Both editions are hand-finished and custom printed using archival giclée pigment ink by A Year In The Country.
Downloads will be available at Bandcamp,  iTunes, Amazon etc.


Reissue of the 2016 album with new accompanying notes by the contributors, a revised tracklisting, three previously unreleased tracks and a selection of new badge, sticker and print designs.

Dawn Light Edition. Limited to 104 copies. £11.95.
Hand-finished white/black CD album in textured recycled fold out sleeve with fold-out insert and badge.
Further packaging details:
1) Custom printed using archival giclée pigment ink.
2) Includes 2.5 cm badge, secured with removable glue on string bound tag.
3) 1 x folded sheet of accompanying notes, hand numbered on back.

Nightfall Edition. Limited to 104 copies. £22.95
Hand-finished box-set contains: album on all black CD, 2 x sheets of accompanying notes, 2 x prints, 3 x stickers and 3 x badges.
Further packaging details:
1) Cover, notes and print custom printed using archival giclée pigment ink.
2) Contained in a matchbox style sliding two-part rigid matt card box with cover print.
3) Fully black CD (black on top, black on playable side).
4) 2 x folded sheets of accompanying notes, printed on textured laid paper – one sheet hand numbered on back.
5) 2 x prints on textured fine art cotton rag paper.
5) 2 x 2.5 cm badge, 1 x 4.5 cm badge.
6) 1 x 5.6 cm sticker, 1 x 3.5 cm sticker, 1 x 12cm sticker.


Tracklisting:
1) The Drowning Of Mardale Green – The Straw Bear Band
2) Drowned In Sand – Field Lines Cartographer
3) Armboth & Wythburn – The Heartwood Institute
4) Flying Over A Glassed Wedge – Howlround
5) Separations – The Rowan Amber Mill
6) Playground Ritual – Polypores
7) The Coast In Flux – Pulselovers
8) Damnatorum – The Soulless Party
9) Day Blink – Time Attendant
10) 47 Days And Fathoms Deep – A Year In The Country
11) Lost Villages Of Holderness – Sproatly Smith
12) Bunk Beds – Cosmic Neighbourhood


On the original 2016 release of The Quietened Village:
"This evocative album offers a score for crumbled communities, abandoned villages and sunken spires, honouring history with quiet grace befitting its title. The Quietened Village joins recent releases on Folklore Tapes and Wist Records as loving, tasteful tributes to a nearly-forgotten past." A Closer Listen
"Ghostly, beautifully conveying a sense of loneliness and the passing of time." Terrascope
"A really impressive album, packed full of original and exciting experimental music with a strong underground spirit." Bliss Aquamarine
"The music contained within here perfectly conveys the sense that a place once inhabited can never be truly empty again. Echoes of long finished conversations and the thoughts and feelings of past inhabitants haunt these carefully curated pieces. There's plenty more to love here too but the beauty of this release is that even though the constituent parts are all very strong indeed and all worthy of mention, it's as a whole that The Quietened Village impresses most, and it's not just down to the music. AYITC's releases are all meticulously packaged, with The Quietened Village proving to be no exception, its two editions boasting all sorts of goodies, not to mention carefully orchestrated visuals that perfectly accompany the music contained within." The Active Listener
"The album evokes a beautifully atmospheric pastoral reverie, and a ghostly sense of loss." Jim Jupp, Ghost Box Records
"I hear a headlong collision between haunted summer days and the decay of man-made things. It seems to be all over this album from the cyclopean Radiophonics of Howlround to the mournful folk of The Straw Bear Band to the haunting work of Sproatly Smith." Was Ist Das?
"For lovers of the sounds of nature, both violent and serene." Joe Banks, Shindig!
"A delicate and entrancing, at times disconcerting, weave of absorbing instrumentation, electronica and tape manipulation, velvety vocals and half-recalled echoes. The music conjures roofless walls holding spirits not populations, skeletal spires pointing accusative fingers skywards, submerged shadows reflecting in water, crumbled remains wreathing a cliff's base." Folk Words