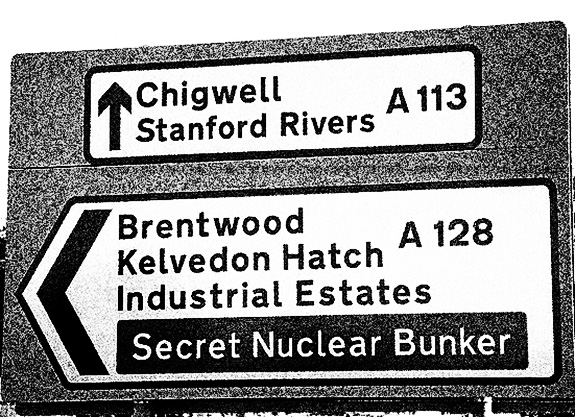 File Under: Trails And Influences / Year 2 wanderings
Talking of decommissioned bunkers that "…are as likely to be signposted tourist attractions as operative defences" (see here)…
Sometimes you see something and your mind literally stops in its tracks trying to process it.
The first time I saw a photograph of a road sign for a decommissioned "secret" bunker was just one of those.
(It was actually in B*llocks To Alton Towers – Uncommonly British Days Out.)
I know that these signposts are for tourist attractions that are trading on the once confidential nature of these installations but still…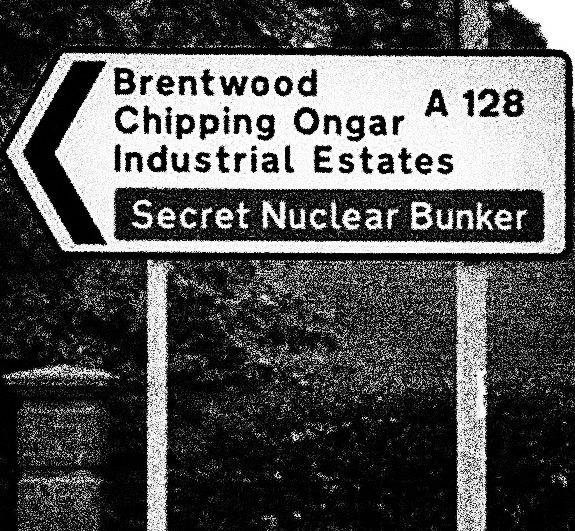 …I just find that I have some kind of disconnect when I see them – a sort of mixture of disbelief, humour, relief that we are nolonger living in a political situation where they are considered necessary and maybe a touch of sadness/anger/grief for us having once done so.
In part I think that disconnect is due to the terribly, terribly Britishness of names like Chipping Ongar and Chigwell, their often positioning in amongst day-to-day normal housing or the gentle grey-green of the land but juxtaposed with these signposts to once-end-of-days refuges.
Should I laugh or shake a fist? I'm not quite sure.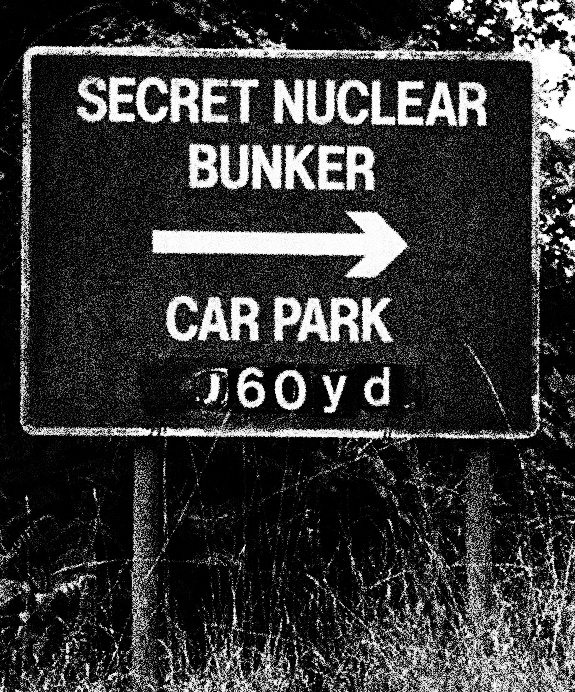 (As an aside, for some reason the signpost above is one of my favourites – if that is an appropriate word to use at this point. I don't think that it's an official roadside sign, more probably one that's been privately errected but there's something about its quiet neglect, the hand done repair / change.
In one photograph I have seen of it, nature is encroaching and the sign is covered with a layering of green algae and somehow there's some kind of poignancy, beauty and a touch of melancholy to it.)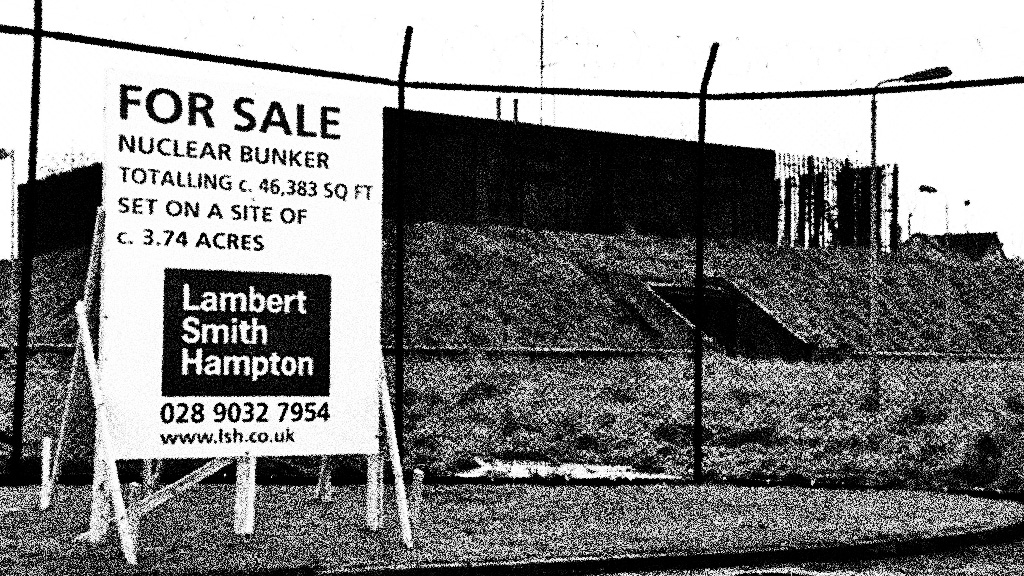 Accompanying and interconnected with such road signs are the estate agent signs for when one such place is up for sale.
Now I first heard of such a thing on the radio a while ago but it never occurred to me that there would be literal, actual hoardings advertising them.
I find it hard to not stop at this point and start making up sketches for a sitcom called Whoops Apocalypse – except that's already been done.
When I saw this particular sign, once my mind had stopped being stopped in its tracks, I kind of jokily but seriously started to wander about the practicalities of such things.
Is it a buyer or a sellers market? There is scarcity value to the property but I expect only a very limited number of potential buyers and allowable uses (data storage seems to be one such usage that is mentioned on these boards – so no A3 planning permission for a spacious and yet still bijou and intimate diner then?).
Are such things listed on general property / commercial property sites, so that your search results would bring up say a warehouse for rent, listed as having plenty of onsite parking and then a former secret bunker listed as razor wire and  catastrophic occurrence / emergency air filtration system included?
My already more than slightly confused and bemused mind boggles.
Well, I feel I should end this post on a further note of I don't know whether to laugh or cry.