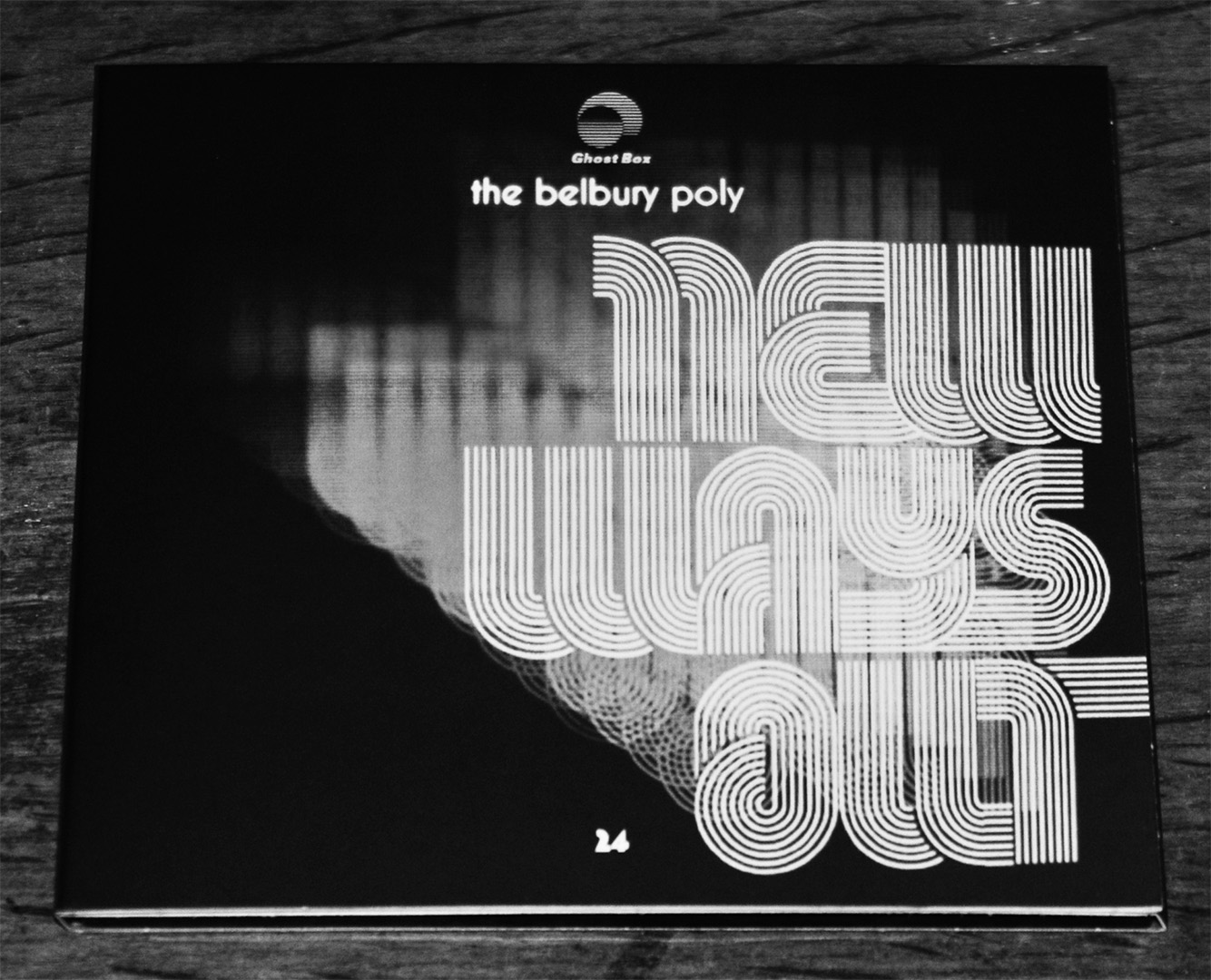 File Under: Trails And Influences / Year 2 wanderings
I think the first thing I read about The Belbury Poly's New Ways Out album was this quote from Electronic Sound:
"…transporting you to those especially daft places only BP can – Tizer-fuelled 70s youth club discos with side-rooms for Ouija boards…"
Well, that caught the old attention somewhat and made me chuckle indeed.
One of the aspects of that quote that caught my eye was that it made me anticipate a sense of fun or playfulness from the album.
And indeed The New Ways Out has that via a set of rather catchy pop hooks, with that playfulness being quietly filtered through a Belbury Poly / Ghost Box view.
In another cultural landscape, maybe one where (to semi-quote Mr Mark Fisher) "…the circuit between the avant-garde and the mainstream isn't broken…", on a Thursday evening I would expect to hear the words "And now, on Top Of The Pops, The Belbury Poly with The New Harmony…"
…and 7″s of Playground Gateway would be piled up in Woolworths.
(I find myself thinking The New Harmony should be on its own 12″ single release, in a time before such things became rarities and pretty much as expensive to buy as an LP. The songs length and epic-ness would seem to lend itself to such a format).
In part, for me, the album seems to conjure up / refer to an imagined, indefinable golden age of synthesized exploration, one where such things were intertwined with the pop / mainstream music world and charts.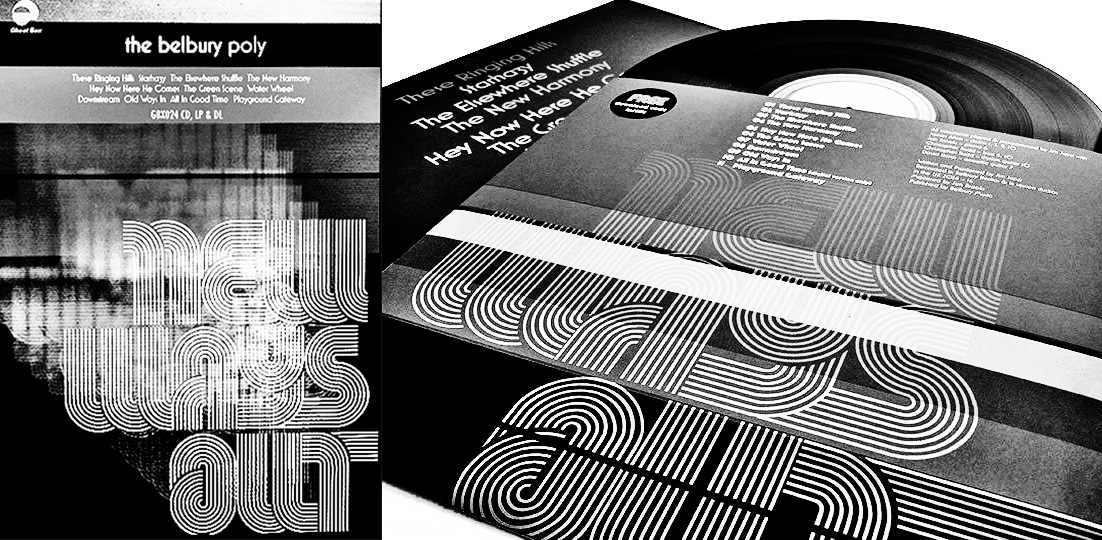 This is experimental / explorative music but it's such things not as a moody teenager in its bedroom with the curtains drawn, more one that has got itself down that Panda Pops disco and is having "a bit of a boogie".
(As an aside, I tend to think of youth club discos from back when as being more Panda Pops rather Tizer fuelled – perhaps different geographic fizzy pop distribution areas in the days before universal brand ubiquity and organisation of such things.)
In my minds eye, on that just mentioned episode of Top Of The Pops, The New Harmony would have shared a set of stages on a show that featured Kraftwerk, Donna Summer at her Moroder peak, Lieutenant Pigeon, a band playing a Chin and Chapman classic, The Wombles (said without any irony, I like The Wombles) and possibly a folk band having their pop moment in the charts inbetween moonlighting for The Bagpuss soundtrack…
…or maybe, if it was a particularly good week and just to show that the avant-garde / mainstream circuit was alive and functioning well, some early-ish work by Ms Kate Bush.
Ah, we can but dream.
A particular highlight of the album is The New Harmony – which seems to channel the aforementioned Kraftwerk, Donna Summers at her Moroder Peak and… well, who knows quite what?
Which is one of the things with this album – often it reminds you of something but you don't know quite what that something is, it's just on the edge of memory. There is a sense of reference points and lines drawn from the past but without it being overly or overtly retro – it is more that it exists in a separate slipstream of its own.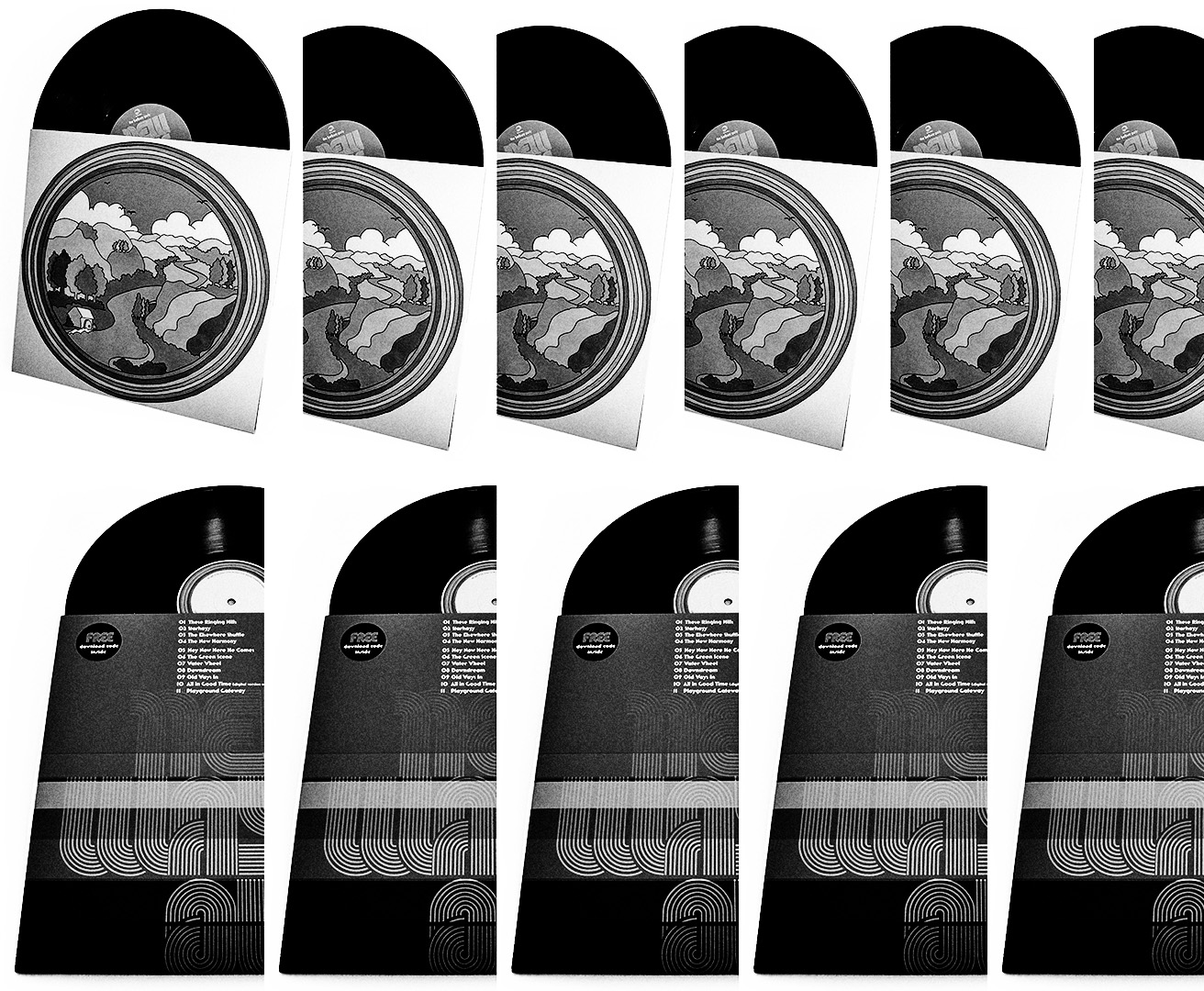 Anyway, back to The New Harmony.
When I first heard this particular song, after a while I felt like I needed to look up to check that somehow it wasn't playing on a seamless loop. It has a sort of endless, almost Kafka-esque quality (well, in a warm, synthesized Ghost Box manner), a sense of never leaving and it seems to make time lose traction.
Playground Gateway ends the album and in that other slipstream world it begins as though it would be the second single off the album, starting with a knockabout schoolyard glam chant air before it wanders off to soundtrack science fiction explorations featuring gleaming golden crystal, floating cities that our hero approaches via a winged white horse.
Yes indeed.
Meanwhile, Starhazy is the slightly more challenging third single that was played on late night radio, the devoted fans loved it (I can see the headlines now "Police called to break up pitched battle between Polyites and Numanoids") and the audience on Top Of The Tops did their "not quite sure if I like this / if I should dance to this" that they often did for such things.
It wouldn't necessarily have been quite as big in the charts but would still have had gents at EMI etc popping champagne corks to a backdrop of one those upward travelling sticky taped sales charts.
This particular vocal led song made me think of the likes of post-industrial bands such as Coil but without the sometimes portentous gloom and manner that can sometimes be found around those cultural parts.
Hey Now Here He Comes is the album's other glam-stomp (with a mild pastoral air) that the record company wanted as an A-side in the UK, but which due to scheduling and contractual problems only came out as a small quantity of 7″s in Belgium and many years later was rediscovered and featured on the second volume of the Velvet Tinmine.
As always with the releases sent forth into the world from Ghost Box, the packaging and design adds an extra layer of  complimentary, constellatory elements to consider and peruse.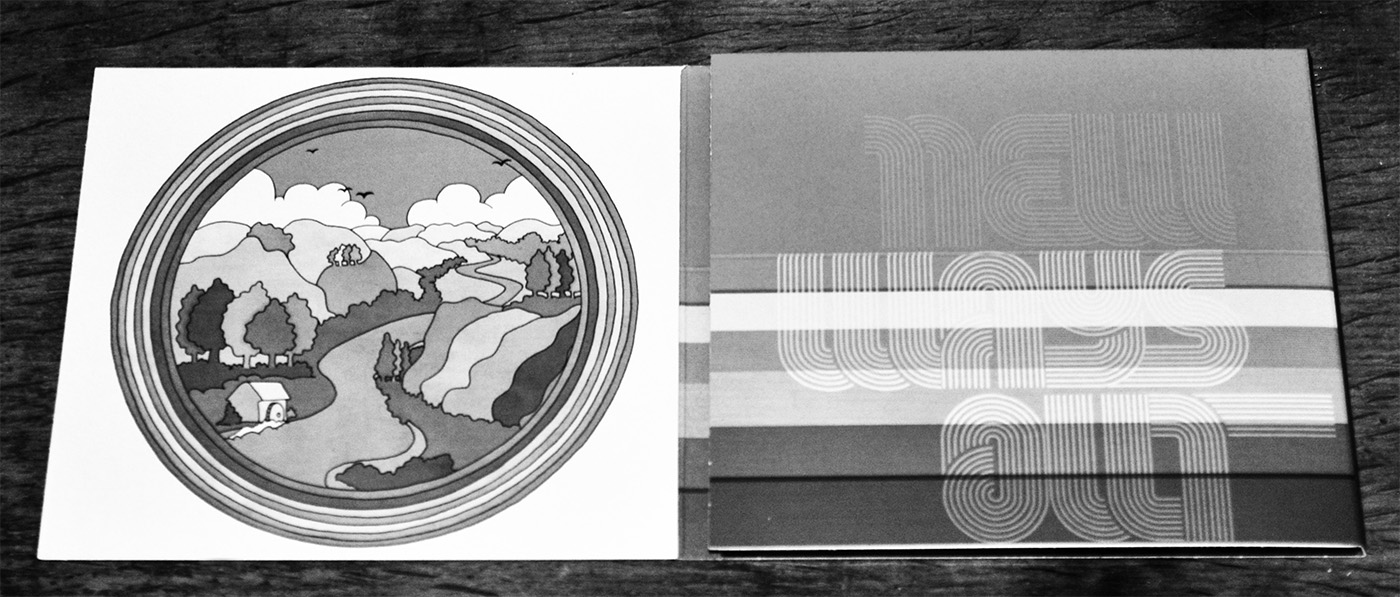 In this instance, the cover design of a cathode-ray trailed title / logo is lovingly crafted by Mr Julian House, as is often the traditional way with their releases but also inside is a fine piece of pen-smithery / illustration by Jim Jupp, the chap behind all things Belbury Poly.
This has a gentle bucolic air while also somehow managing to convey just a slight atmosphere of off-centre-ness, for some reason that I can't quite put my finger on and it seems to be both contemporary but also to have tumbled from a never-was but is out-there-somewhere children's television show from back when.
To begin to sum things up and coming back to that air of playfulness and the earlier moody teenager analogies, this is experimental, avant-garde, layered and culturally underpinned music that's had a Babycham or two, learnt to kick it's feet up, had a birrova laugh and maybe even scuffed a knee or elbow or two at morning break.
Something of a breath of fresh air. Thankyou to Mr Jim Jupp and all concerned.
Listen to and peruse New Ways Out here, in slightly newer, more fangled manner at one of Ghost Box's ether victrolas here and amongst the notifications of The Belbury Parish Magazine here.
A few other related pathways and wanderings around these parts:
Day #52/365: The Advisory Circle and ornithological intrigueries…
Day #59/365: Signals and signposts from and via Mr Julian House
Day #64/365: Belbury Polys Geography Of Peace
Day #65/365: Mr Jim Jupp's parish circular
Day #205/365: The interfaces between the old ways/cathode rays; twelve spinnings from an (Electric Edenic) Invisible Ghost (Juke)Box
Day #297/365: The Department of Psychological Navigation and fragments of fragments of a conversation…
Week #8/52: The Untold Story Of The British Space Programme and explorations by / courtesy of Misters Jupp, Hollings, Seatman and Mrs Oram…
(Which would be more than a few it seems…)