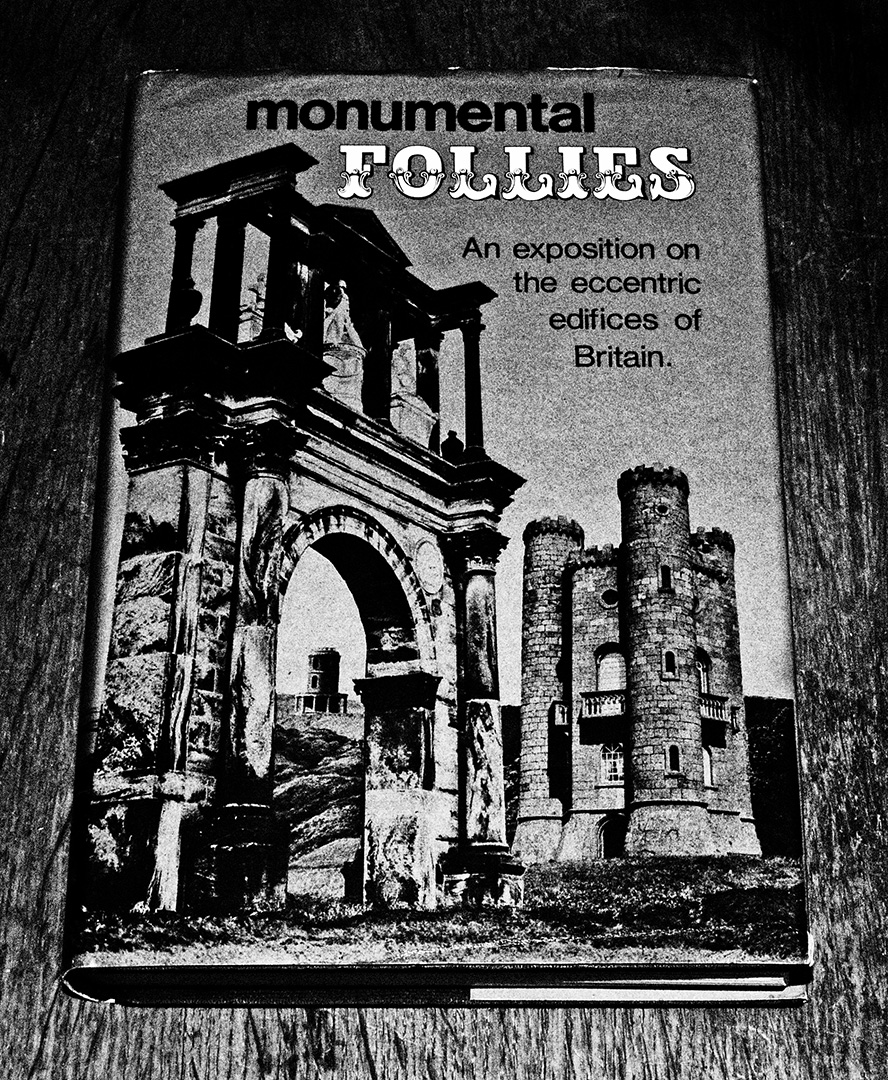 File Under: Trails And Influences / Year 2 Wanderings
There are a fair number of books out in the world that focus on ancient monuments, follies, crumbling castles and so forth.
And while many of them are perfectly pleasant, they're not necessarily things I feel the need to own; there's a certain atmosphere or other-ness that is hard to fully define which I look for, that can creep in around the edges of often fairly mainstream books.
Monumental Folies is one of those books.
Written by Stuart Barton and published in 1972 it is a photographic/text appreciation of follies throughout Britain but seems to capture a very different atmosphere of such things than the more chocolate box heritage take on them; its a quiet, subtley off-centre difference but there nonetheless.
This isn't a book that makes you conjure up sun filled images of tourist friendly picnics (although it does still make me want to wander off and visit some of them).
As far as I can tell, the photographs weren't taken by Mr Barton – or if he did, he had a very busy year or few – but they have a consistent tone that seems far removed from those more twee views of its subject matter.

(As an aside, some of the photographs seem almost to have tumbled from a grown-ups re-edit of Children Of The Stones – ancient monuments imbued with an unsettling air and sense of dread.)
It seems to have within its pages a certain grey, desolate grittiness that may well reflect the times in which it was published, an era when, to quote myself:
"…there appeared to be a schism in the fabric of things, a period of political, social, economic and industrial turmoil, when 1960s utopian ideals seemed to corrupt and turn inwards…"
The book isn't all doom and gloom and Mr Barton seems to have a particular appreciation for these brick and stone fripperies but…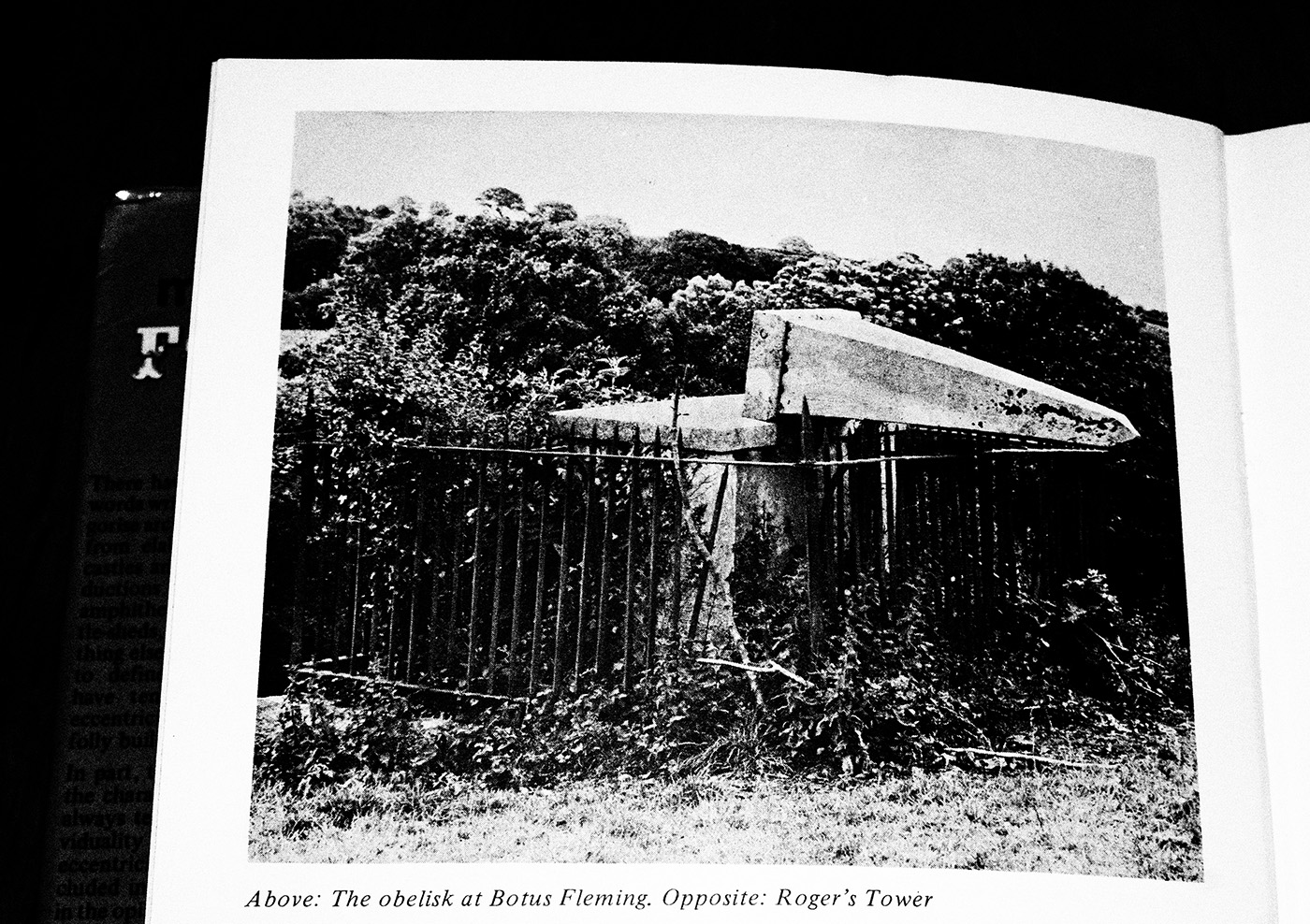 …well, it probably didn't help that the first page I opened showed the above neglected/tumbled obelisk, which if you did an online image search for something like "worrying 1970s Public Information Films and municipal neglect around a similar time" I suspect it might well show up.
Here's the book on the subject:
"Unfortunately, the obelisk has been toppled over and it is only to be hoped that the satisfaction of seeing it fall was worth the considerable effort which must have been expended by the vandals responsible."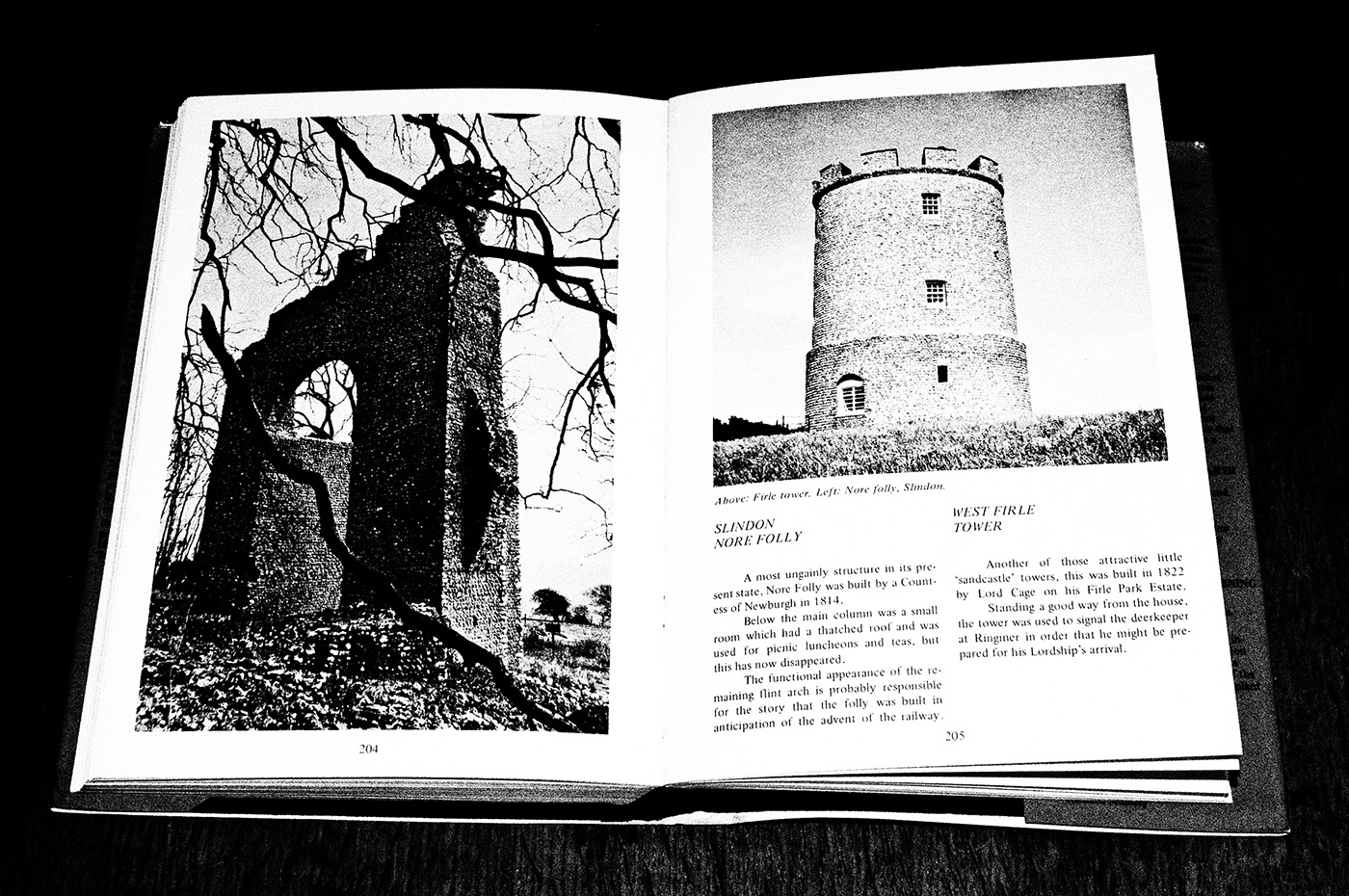 Which I think reflects two strands within the book; there is a sense of it belonging to a gentler, pre-1970s time and also to the unrest of the period it was published.
I was pointed in the direction of Monumental Follies by Mr Jason Hazeley, one of the authors of B******s To Alton Towers: Uncommonly British Days Outs, which (along with its companion book) could also be considered a quiet, subtley off-centre take on what is often presented in a more chocolate box manner.
Visit those around these parts via The Following Of Ghosts and elsewhere in the ether here and here.
Monumental Follies itself can generally be found for but a few pence(ish) here.