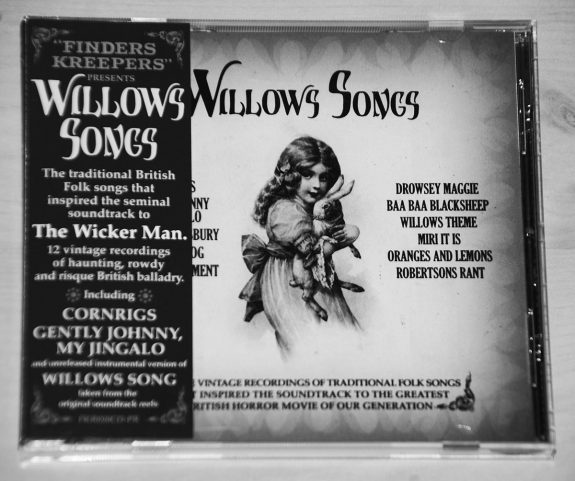 Willow's Songs is a compilation released in 2009 by Finders Keepers Records which gathers together "12 vintage recordings of haunting, rowdy and risque British balladry" which are said to have influenced the soundtrack to The Wicker Man.
The album was released after the first official release of The Wicker Man's soundtrack in 1998 by Trunk Records. It is part of a not-so-small industry of all things Summer Isle related, that takes in multiple releases of the film on DVD and Blu-ray, the soundtrack and novel, alongside collectors cards, documentaries, academic conferences, a book of sheet music, zines, t-shirts, posters, several non-fiction books, near endless seeming posts online and so on.
Six of the tracks don't have recording artists listed, which as I said in the first year of A Year In The Country, is quite nice in these days of instant digital knowledge about almost everything. It helps to create a slight sense of mystery to the songs, which suits both The Wicker Man itself and the many myths that surround its production, and also the sense of mystery and ancient semi-known tales which sometimes surrounds traditional folk music and culture, particularly in its more "wyrd" aspects, interpretations and explorations
As I also say in the first year of A Year In The Country it is Highland Lament, the first track on the album, which is a particular standout for me. I'm listening to it as I type and it has a timeless quality and is indeed haunting, both musically and in its heartbreaking tale of dispossession due to the "unrelenting cruelties" of those in power.
On the 2002 Silva Screen release of The Wicker Man soundtrack the song is known as "Opening Music" and is used as Sergeant Howie flies towards Summer Isle. The song is shortened so that the lyrics only tell of rural hardship and poverty but not actual dispossession; its use ties in with the imagery and themes of the film, being heard as Howie flies over more arid landscape but then once he arrives over the fertile greenery of Summer Isle it ends and "Corn Rigs" sung by Paul Giovanni begins and tells of "bonnie" crops and late night trysting amongst them.
The original post published during the first year of A Year In The Country: