Journeys in Otherly Pastoralism, the Further Reaches of Folk and the Parallel Worlds of Hauntology

Print book preorder today 1st March 2018. Released 10th April 2018. Price: £15.95.
Preorder available at our Artifacts Shop and Bandcamp page.
Ebook released today 1st March 2018. Price: £6.95.
Available now at Amazon UK
, Amazon US
, Amazon Australia etc.
The print book will also be available via Amazon's worldwide sites from 10th April 2018.


338 pages. Author: Stephen Prince

Download two sample chapters at this web page: Contents list and sample chapters

A Year In The Country is a set of year-long journeys through spectral fields; cyclical explorations of an otherly pastoralism, the outer reaches of folk culture and the spectres of hauntology. It is a wandering amongst subculture that draws from the undergrowth of the land.
As a project, it has included a website featuring writing, artwork and music which stems from that otherly pastoral/spectral hauntological intertwining, alongside a growing catalogue of album releases.
In keeping with the number of weeks in a year, the book is split into 52 chapters which draw together revised writings from the project alongside new journeyings. Connecting layered and, at times, semi-hidden cultural pathways and signposts, it journeys from acid folk to edgelands via electronic music innovators, folkloric film and photography, dreams of lost futures and misremembered televisual tales and transmissions.
It includes considerations of the work of writers including Rob Young, John Wyndham, Richard Mabey and Mark Fisher, musicians and groups The Owl Service, Jane Weaver, Shirley Collins, Broadcast, the BBC Radiophonic Workshop, Virginia Astley and Kate Bush, the artists Edward Chell, Jeremy Deller and Barbara Jones and the record labels Trunk, Folk Police, Ghost Box and Finders Keepers.
The book also explores television and film including Quatermass, The Moon and the Sledgehammer, Phase IV, Beyond the Black Rainbow, The Spirit of Dark and Lonely Water, Bagpuss, Travelling for a Living, The Duke of Burgundy, Sapphire & Steel, General Orders No. 9, Gone to Earth, The Changes, Children of the Stones, Sleep Furiously and The Wicker Man.
The book has been designed/typeset by Ian Lowey of Bopcap Book Services and edited by Suzy Prince, who are the co-authors of The Graphic Art of The Underground – A Counter-Cultural History.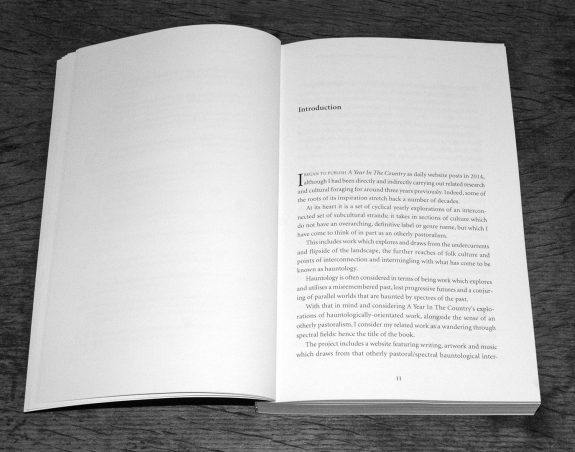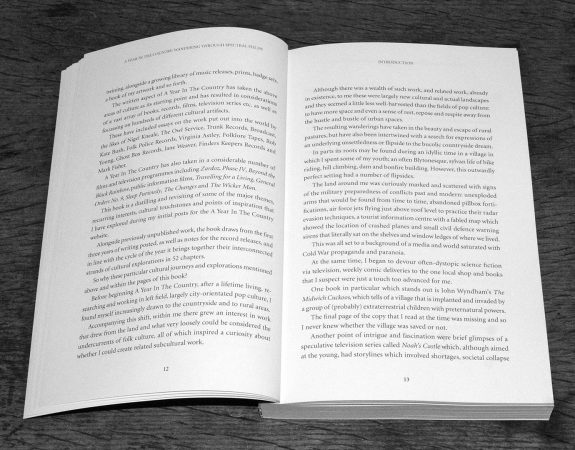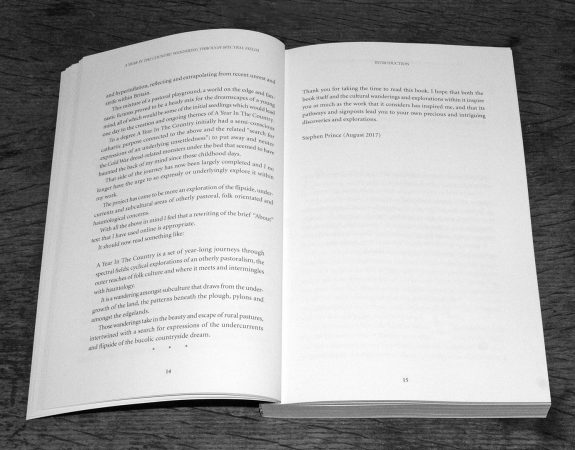 An online "cut out and keep" set of visual accompaniments to the chapters of the book can be visited here and text extracts from the book can be visited here, both of which will build throughout 2018 to include all 52 chapters.
Book Chapter List:
1. Electric Eden: Unearthing Britain's Visionary Music: Folk Vs Pop, Less Harvested Cultural Landscapes and Acts of 
Enclosure, Old and New
2. Gather in the Mushrooms: Early Signposts and Underground Acid Folk Explorations
3. Hauntology: Places Where Society Goes to Dream, the Defining and Deletion of Spectres and the Making of an Ungenre
4. Cuckoos in the Same Nest: Hauntological and Otherly Folk Confluences and Intertwinings
5. Ghost Box Records: Parallel Worlds, Conjuring Spectral Memories, Magic Old and New and Slipstream Trips to the
 Panda Pops Disco
6. Folk Horror Roots: From But a Few Seedlings Did a Great Forest Grow
7. 1973: A Time of Schism and a Dybbuk's Dozen of Fractures
8. Broadcast: Recalibration, Constellation and Exploratory Pop
9. Tales From The Black Meadow, The Book of the Lost and The Equestrian Vortex: The Imagined Spaces of Imaginary Soundtracks
10. The Wicker Man: Notes on a Cultural Behemoth
11. Robin Redbreast, The Ash Tree, Sky, The Changes, Penda's Fen Red Shift and The Owl Service: Wanderings Through Spectral Television Landscapes
12. A Bear's Ghosts: Soviet Dreams and Lost Futures
13. From "Two Tribes" to War Games: The Ascendancy of Apocalyptic Popular Culture
14. Christopher Priest's A Dream of Wessex: Twentieth Century Slipstream Echoes
15. Sapphire & Steel and Ghosts in the Machine: Nowhere, Forever and Lost Spaces within Cultural Circuitry
16. Kill List, Puffball, In the Dark Half and Butter on the Latch: Folk Horror Descendants by Way of the Kitchen Sink
17. The Quietened Bunker, Waiting For The End of the World, Subterranea Britannica, Bunker Archaeology and The Delaware Road: Ghosts, Havens and Curious Repurposings Beneath Our Feet
18. From The Unofficial Countryside to Soft Estate: Edgeland Documents, Memories and Explorations
19. The Ballad of Shirley Collins and Pastoral Noir: Tales and Intertwinings from Hidden Furrows
20. "Savage Party" and Randall & Hopkirk (Deceased): Glimpses of Albion in the Overgrowth
21. Uncommonly British Days Out and the Following of Ghosts: File under Psychogeographic/Hauntological Stocking Fillers
22. Gone to Earth: Earlier Traces of an Otherly Albion
23. Queens of Evil, Tam Lin and The Touchables: High Fashion Transitional Psych Folk Horror, Pastoral Fantasy and Dreamlike Isolation
24. Luke Haines: Our Most Non-Hauntological Hauntologist
25. Tim Hart, Maddy Prior and "The Dalesman's Litany": A Yearning for Imaginative Idylls and a Counterpart to Tales of Hellish Mills
26. Katalina Varga, Berberian Sound Studio and The Duke of Burgundy : Arthouse Evolution and Crossing the Thresholds of the Hinterland Worlds of Peter Strickland
27. General Orders No. 9 and By Our Selves: Cinematic Pastoral Experimentalism
28. No Blade of Grass and Z.P.G.: A Curious Dystopian Mini-Genre
29. The Midwich Cuckoos and The Day of the Triffids: John Wyndham, Dystopian Tales, Celluloid Cuckoos and the Village as Anything But Idyll
30. Folk Archive and Unsophisticated Arts: Documenting the Overlooked and Unregulated
31. Folkloric Photography: A Lineage of Wanderings, Documentings and Imaginings
32. Poles and Pylons and The Telegraph Appreciation Society: A Continuum of Accidental Art
33. Symptoms and Images: Hauntological Begetters, the Uneasy Landscape and Gothic Bucolia
34. The Spirit of Dark and Lonely Water: Public Information Films and Lost Municipal Paternalisms
35. Magpahi, Paper Dollhouse and The Eccentronic Research Council: Finders Keepers/Bird Records Nestings and Considerations of Modern Day Magic
36. Vashti Bunyan: From Here to Before: Whispering Fairy Stories until They are Real
37. The Owl Service, Anne Briggs, The Watersons, Lutine and Audrey Copard: Folk Revisiters, Revivalists and Reinterpreters
38. The Seasons, Jonny Trunk, the BBC Radiophonic Workshop and Howlround: A Yearning for Library Music, Experiments in Educational Music and Tape Loop Tributes
39. An Old Soul Returns: The Worlds and Interweavings of Kate Bush
40. The Stone Tape, Quatermass, The Road and The Twilight Language of Nigel Kneale: Unearthing Tales from Buried Ancient Pasts
41 Folklore Tapes and the Wyrd Britannia Festival: Journeying to Hidden Corners of the Land/the Ferrous Reels and Explorations of an Arcane Research Project
42. Skeletons: Pastoral Preternatural Fiction and a World, Time and Place of its Own Imagining
43. Field Trip-England: Jean Ritchie, George Pickow and Recordings from the End of an Era
44. Noah's Castle: A Slightly Overlooked Artifact and Teatime Dystopias
45. Jane Weaver Septième Soeur and The Fallen by Watch Bird: Non-Populist Pop and Cosmic Aquatic Folklore
46. Detectorists, Bagpuss, The Wombles and The Good Life: Views from a Gentler Landscape
47. Weirdlore, Folk Police Recordings, Sproatly Smith and Seasons They Change: Notes From the Folk Underground, Legendary Lost Focal Points and Privately Pressed Folk
48. The Moon and The Sledgehammer and Sleep Furiously: Visions of Parallel and Fading Lives
49. From Gardens Where We Feel Secure, Wintersongs, Pilgrim Chants & Pastoral Trails: Lullabies for the Land and Gently Darkened Undercurrents
50. Strawberry Fields and Wreckers: The Countryside and Coastal Hinterland as Emotional Edgeland
51. Zardoz, Phase IV and Beyond the Black Rainbow: Seeking the Future in Secret Rooms from the Past and Psychedelic Cinematic Corners
52. Winstanley, A Field in England and The English Civil War Part II: Reflections on Turning Points and Moments When Anything Could Happen