"There have been a number of books and photography projects which could be seen to document a form of former Soviet Union hauntology; work that often focuses on monuments and remnants of Cold War era striving, dreams and far reaching projects…
Jan Kempemaers' Spomenik from 2010, contains his photographs of structures that were created in Yugoslavia in the 1960s and 1970s as memorials to the Second World War but which now apparently are largely abandoned.
These take a largely abstract, geometric, concrete modernist form and there is a brutalist beauty and fascination to them, while they also seem to have tumbled from both the future and the past; despite the all too real history which inspired them, they now seem almost like impossible fictions or props from the fantasies of a cinematic story."
"The structures photographed in (Christopher Herwig's Soviet Bus Stops) could also be considered in the eyes of some beholders to have gained elements of being utilitarian or pragmatic accidental art.
As with the Spomenik photographs, in Soviet Bus Stops some of the more architecturally brutalist designs appear to be artifacts from lost futures, of a time when an empire reached for grand horizons and even the stars."
"…Danila Tkachenko's Restricted Areas book from 2016, the photographs in which focus on abandoned hardware, secret cities and installations from the Soviet Union during the Cold War period…
Danila Tkachenko says of the places, structures, equipment, vehicles and mechanisms he has photographed:
'Those places lost their significance together with the utopian ideology which is now obsolete. The perfect technocratic future that never came.'
And as with Spomenik and Soviet Bus Stops the spirit of these photographs seem like a different time and place's hauntology: a differing but also partly parallel strand to that which has come about in the UK and the West and its sense of reflections on, mourning and yearning for a more utopian future which did not occur."
"Today there is a considerable amount of photography out in the world and particularly online that focuses on derelict buildings, machinery and so on and which is sometimes referred to as urban exploration or urbex photography.
However, in amongst the masses of such photography, Ralph Mireb's images of abandoned and incomplete Soviet era space shuttles (which are a curious simulacra of the American space shuttle in terms of design and can be found at the website Bored Panda) stand out.
This is in part due to the sheer scale of the infrastructure and buildings that surround them which they document – the space shuttle hangar is many storeys high and dwarves the other structures nearby."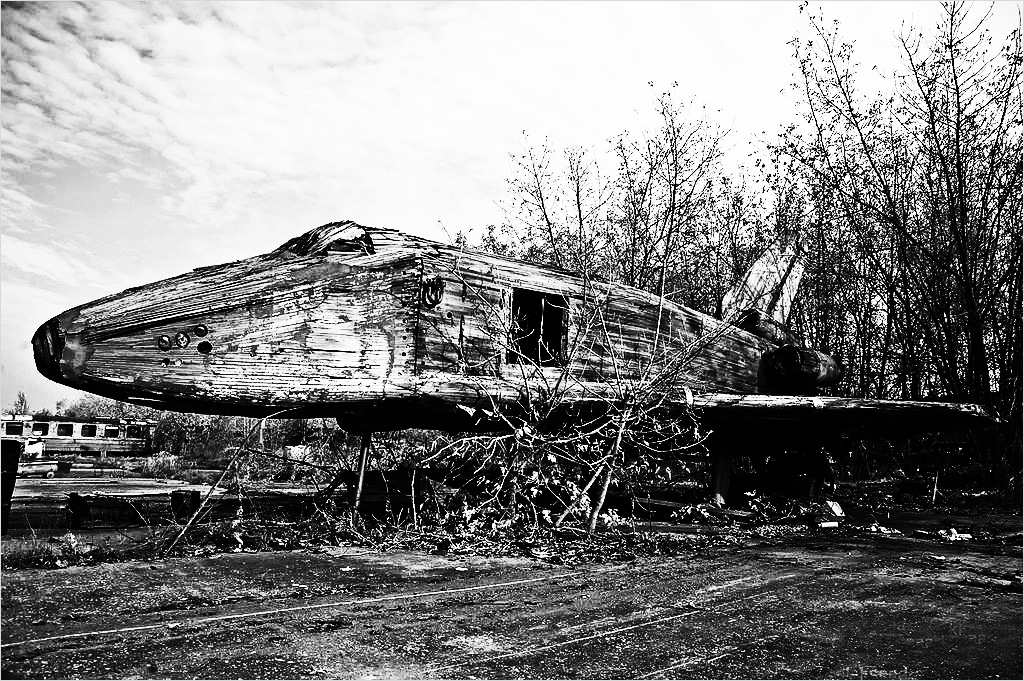 "In photographs that act as an accompaniment to Ralph Mireb's, Alexander Marksin has documented the discarded wooden wind-tunnel models of these space shuttles.2
Due to the materials used, these bring to mind thoughts of a folk art project rather than an institutionally and nationally funded attempt at space exploration, which is heightened as they have been left outside to age, weather, crumble and be slowly reclaimed and covered by nature."
"In terms of vehicle design, in the Soviet Union there is a cul-de-sac that could well be called "The Shape of the Future's Past" which takes in abandoned Soviet era hydrofoils and which were known as river rockets.
These were made from the mid-1950s to mid-1970s and viewed now with their sleek, finned, almost space vehicle like designs appear as prototypes for a mid-century modern, atomic age take on how the future was to be.
There is a bravery, an optimism, a genuine progressive modernism and venturing onwards and outwards to designs like these that seems to have been lost somewhere along the way, surrendered to a more day-to-day practicality in design."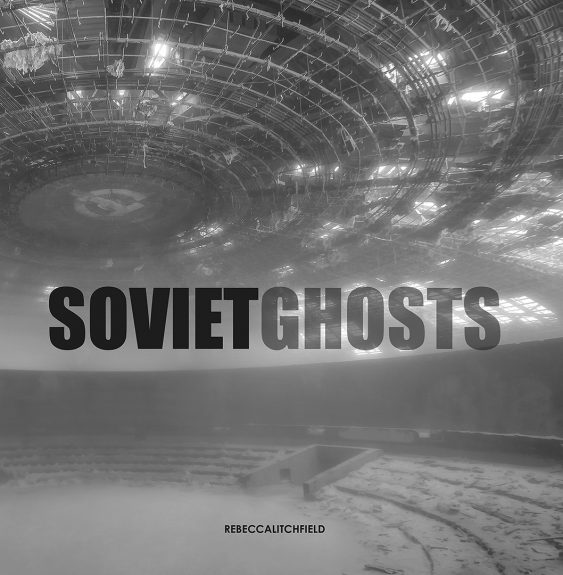 "Throughout this chapter a number of times (I refer) to a sense of the science fiction-esque or fantastical, often accompanied by a grand sense of an empire and its once ambitions, which many of these photographs imply.
This is particularly captured by the cover of Rebecca Litchfield's Soviet Ghosts, a book released in 2014 which focuses on the extent of abandonment in the former Soviet Union and its satellite states in the Eastern Bloc.
In the book's cover image an abandoned and derelict circular stadium has been photographed, capturing the enormous scale and futurist grandeur of this structure…
To the Western eye, as is similar to varying degrees with much of the above photography and structures, it conjures more a vision of a Flash Gordon-esque empire and future than something grounded in 
Details of the A Year In The Country: Wandering Through Spectral Fields book and the collection of its accompanying online images can be found at the Book's Page, which will be added to throughout the year.