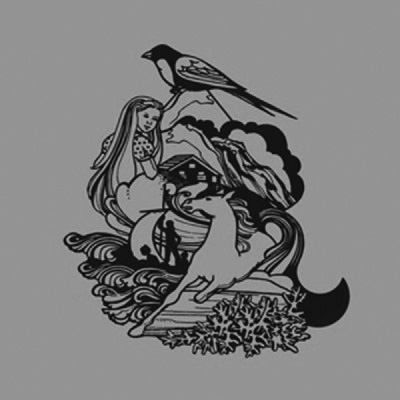 File under:
Trails and Influences: Recent Explorations. Case #13/52.
The work of Alison Cooper has appeared in various forms in A Year In The Country before (see Folklore Tapes at Day #7/365, Wyrd Britannia at Day #32/365 and Day #9/365) but I've had it in mind for a while to return to her various nestings…
Her recorded work travels from her take on traditional folk on the Magpahi EP/the Bird Songs compilation, which feels like it exists in and has tumbled from a fairytale world all of its own, gathering poems from previous centuries under its wings as it fell: a set of songs that wander into the mind and well, nest there…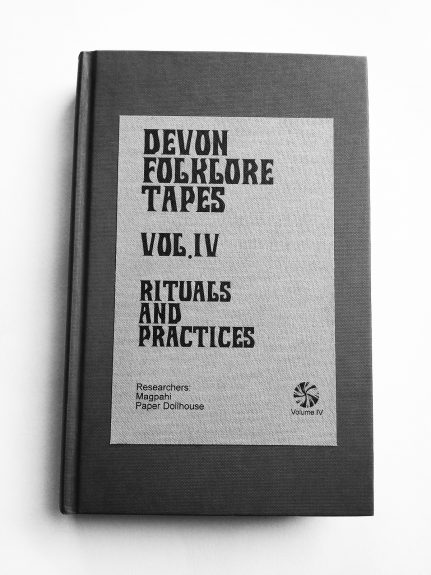 …via the leftfield glacial otherly folk pop and dusty, lost recording mechanisms instrumentals on Devon Folklore Tapes Vol.IV-Rituals and Practises and through to…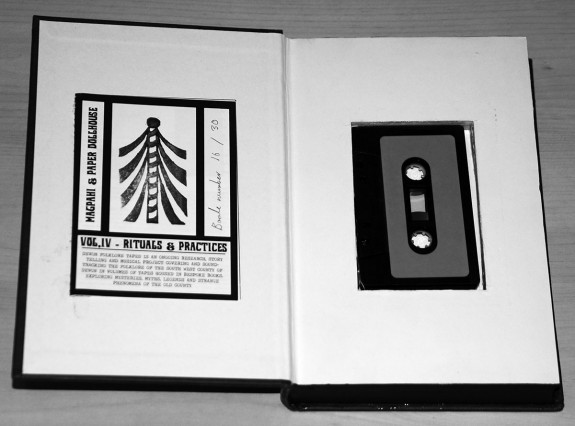 …well, through to the folkloric soundscapes of Natural/Supernatural Lancashire/Supernatural Lancashire Volume Two, where she worked with Sam McLoughlin (Samandtheplants/Echo Of Light).
These are largely instrumental works (though just occasionally Ms Cooper's voice will fleetingly appear) which feel like a soundtrack or an audiological tribute to the northern landscape and it's stories, whether pleasantly bucolic or of the friends and fiends found in the furrows and fables around those parts.
Although the first recording is split into Natural/Supernatural Lancashire and draws from folk music/folklore, neither part is a straightforward pastoral view and listening to it you can be immersed in the wheezing almost carny past world of Stream Power one second and then transported to the meadows via Edder the next. As I type I've realised that this juxtaposition seems to highlight a certain duality with regards to the landscape and nature that they consider (hey, I'm being quite academic for relatively early in the day here); it is something both pleasantly dreamlike and bucolic but also just around the edges – sometimes much nearer in – there is something unsettling amongst the trees, beneath the meadows, at the edgelands of towns, cities and along the canalways…
…not a million yards away from some of the intentions of A Year In The Country I suspect…
People talk sometimes of music being a soundtrack to an imaginary film. In parts Supernatural Lancashire Part Two seems like a soundtrack to an imaginary TV series, one which was probably made deep in the deepest 1970s, aimed at children but which had arrived as a curiously unsettling thing. The first time I listened to it, some of the tracks I could swear I'd heard before and my mind seemed to try and conjure the slightly smeared, grimy colours of faded spectral transmissions from another era, particularly on Hexagons Above Dovestones. Each time I listen to it I want to find and watch the series it belongs to…
This links to the previous record as by the end of Supernatural Lancashire there is a suite of Supernatural Lancashire pieces (#8, #9, #10, #11) which seem to segue into what is to come. #10 is the start of the soundtrack to that semi-forgotten television series from my youth and #11 quietly, disconcertingly wanders off into the edges of things…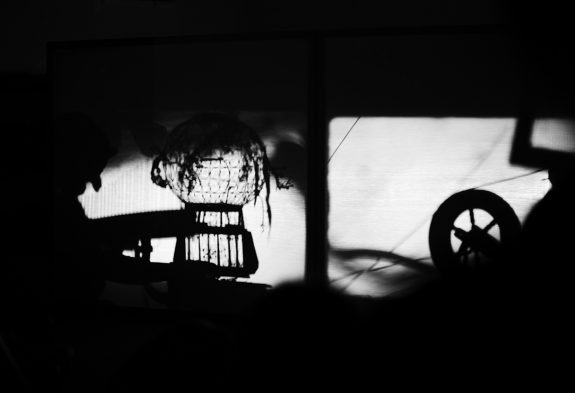 In the Echo Of Light live performance (featuring Alison Cooper, Sam McLoughlin and Folklore Tapes co-ordinator David Chatton Barker, see image above) the music is possibly often improvised and utilises self-created instruments; listening to the three installments of Natural/Supernatural Lancashire made me revisit that event, with many of the sounds sharing the sense of being made via arcane and lost music boxes (sometimes when listening I found myself holding my breath, not knowing if I wanted to see what popped out of the top of these jack-in-a-boxes when they were fully wound).
Natural/Supernatural Lancashire/Supernatural Lancashire Part Two are decidedly experimental pieces of music but with a melodic understanding and listenability, which is something that's much appreciated around these parts. Music that you can drift off with and into. Lovely stuff.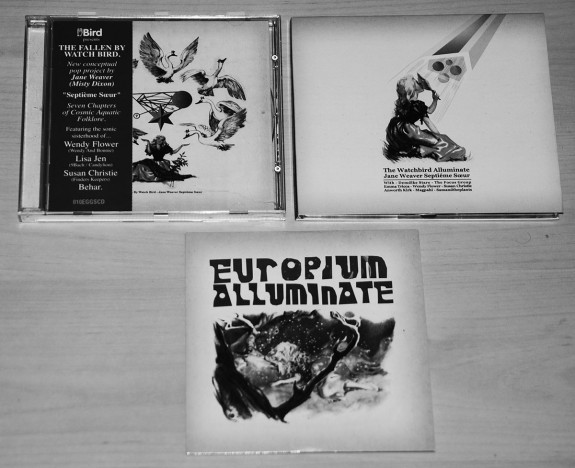 And to return to the folkways of Magpahi, a particular highlight for me of Alison Cooper's work is on the Watchbird Alluminate, whereon songs from Jane Weaver's Fallen By Watchbird are reimagined… her take on My Soul Was Lost, My Soul Was Lost And No-One Saved me is a piece of music which never fails to transport me… to where? I'm not quite sure but it's a magical place.
Much of the music mentioned above was released by Bird Records, who you can find here, in conjunction with Finders Keepers Records. Visit Magpahi there here, here, here, here and here.
Magpahi can also be found on the Bearded Ladies Bird Records compilation which can be visited here and the Twisted Nerve A Kind of Awe and Reverence and Wonder compilation which can be perused here (and see the tumbling cottage below).
Rather nice writeups on Devon Folklore Tapes Vol.IV and Natural/Supernatural Lancashire at Boomkat here and here.
Magpahi at Folklore tapes here (but best hurry as who knows for how long).
Samandtheplants (and some Echo Of Light) in audio form here, in visual form here.
Jane Weaver and Fallen By Watchbird can be found here and at Day #6/365 of A Year In The Country.