So, with the year and this year of A Year In The Country almost at an end, (almost) all that remains is to gather together the audio work and releases from the year…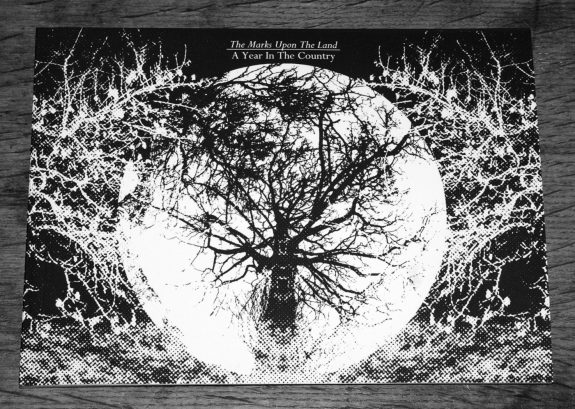 Artifact #1a: The Marks Upon The Land and The Dark Chamber EP
A 60 page book that collected the artwork from the first year of A Year In The Country, accompanied The Dark Chamber EP by A Year In The Country…
Oh and a free cassette copy of Airwaves: Songs From The Sentinels by A Year In The Country.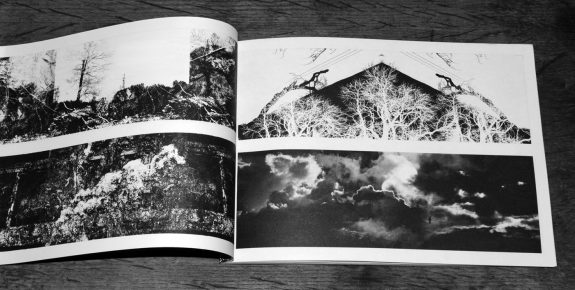 The images in the book are part of A Year In The Country's explorations of an otherly pastoralism, a wandering amongst subculture that draws from the undergrowth of the land – the patterns beneath the plough, pylons and amongst the edgelands…
"The Marks Upon The Land… converts the bucolically familiar into something more eerie or even sinister, a series of widescreen mutations that create pareidolia spectres through symmetry and layering. Seen in isolation, these images are arresting enough but they gain power by being collected together, fashioning a statement of intent."
John Coulthart at his Feuilleton site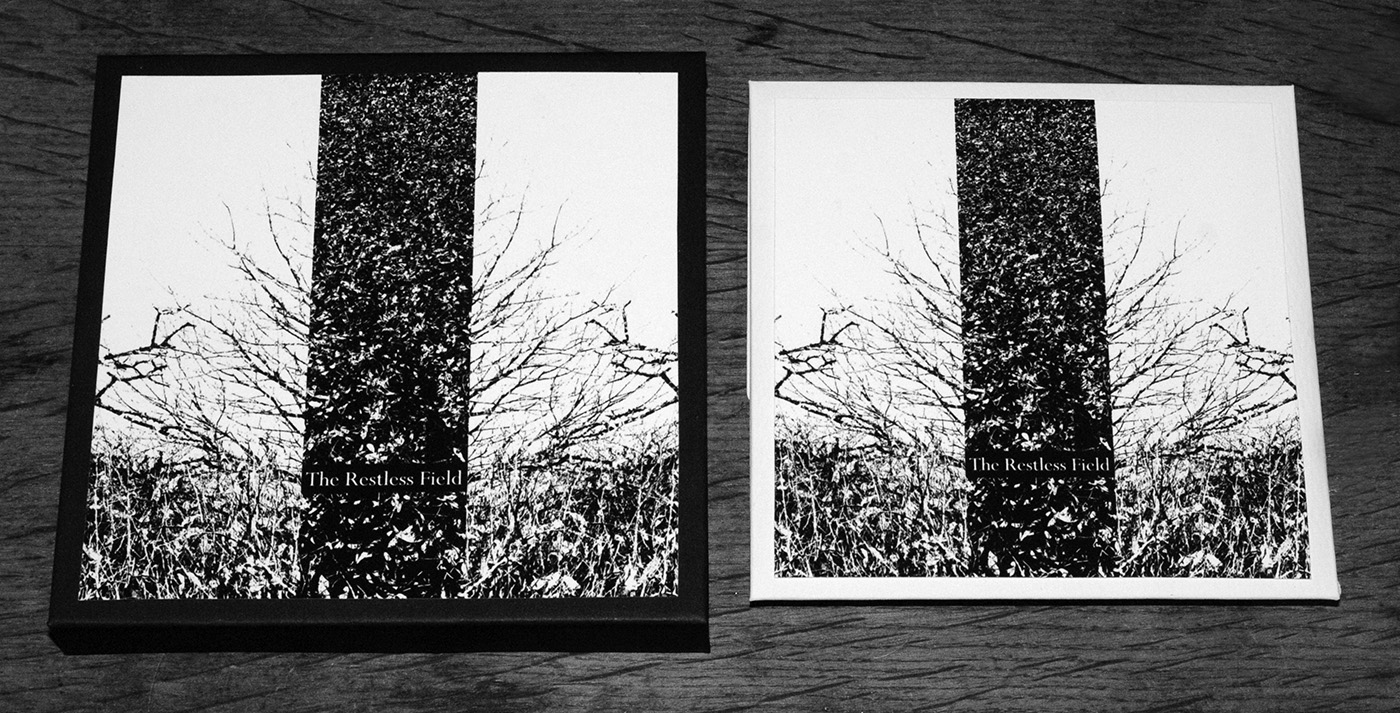 Artifact #2a: The Restless Field
The Restless Field is a study of the land as a place of conflict and protest as well as beauty and escape; an exploration and acknowledgment of the history and possibility of protest, resistance and struggle in the landscape/rural areas, in contrast with sometimes more often referred to urban events.
It takes inspiration from flashpoints in history while also interweaving personal and societal myth, memory, the lost and hidden tales of the land.

Featuring Field Lines Cartographer, Vic Mars, Bare Bones, Assembled Minds, Grey Frequency, Endurance, Listening Center, Pulselovers, Sproatly Smith, Polypores, Depatterning, Time Attendant, A Year In The Country and David Colohan.

"…murky and ominous as befits the guiding thematic: places that are spectrally imprinted with past conflicts and struggles…"
Simon Reynolds Hauntology Parish Newsletter at Blissblog
Artifact #3a: From The Furthest Signals
From The Furthest Signals takes as its initial reference points films, television and radio programs that have been in part or completely lost or wiped during a period in history before archiving and replication of such work had gained today's technological and practical ease… soundtracks imagined and filtered through the white noise of space and time…
Featuring Circle/Temple, David Colohan, Sharron Kraus, A Year In The Country, Time Attendant, Depatterning, Field Lines Cartographer, Grey Frequency, Keith Seatman, Polypores, The Hare And The Moon, Pulselovers and Listening Center.
"This music creates a world of its own which could be viewed either as defiantly anachronistic or as an example of cutting edge experimentalism… Either way, any attempt to quantify it in terms of modernity or tradition seems redundant or to miss the point. Better to think of as chronologically challenged and revel in its strangeness."
Whisperinandhollerin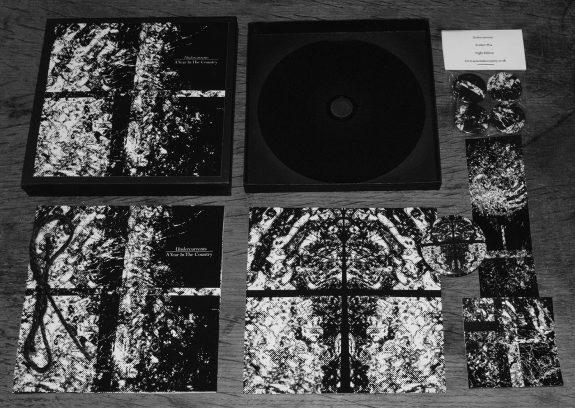 Artifact #4a: Undercurrents
By A Year In The Country… a wandering amongst nature, electronic soundscapes, field recordings, the flow of water through and across the land and the flipside of bucolic dreams.

"…the chimes of a music box, the creak of a gate, the rush of the wind, the crackle of static, the turning of pages.  Cathode hiss and transistor hum from the bottom of the lake."
Dave Thompson at Spin Cycle / Goldmine magazine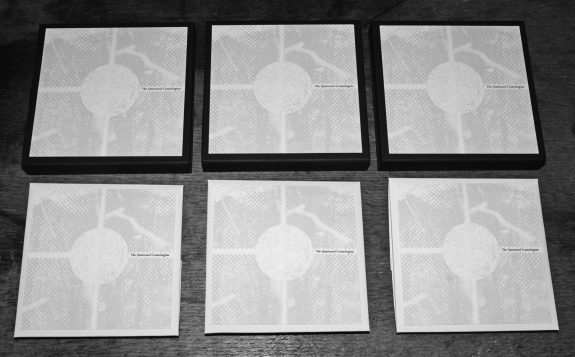 Artifact #5a: The Quietened Cosmologists
…a reflection on space exploration projects that have been abandoned and/or that were never realised, of connected lost or imagined futures and dreams, the intrigue and sometimes melancholia of related derelict sites and technological remnants that lie scattered and forgotten.

Featuring Field Lines Cartographer, Pulselovers, Magpahi, Howlround, Vic Mars, Unit One, A Year In The Country, Keith Seatman, Grey Frequency, Time Attendant, Listening Center, Polypores and David Colohan.
"(Pulselovers' Lonely Puck)… a wonderfully serene and affectionate love note mailed out from across the outer edges of the cosmos, a transmission from a long lost and forgotten outpost if you like, twinkle toned and radiantly awash in what sounds like shimmering cosmic church bell celebrations…"
Mark Barton at The Sunday Experience (here and here)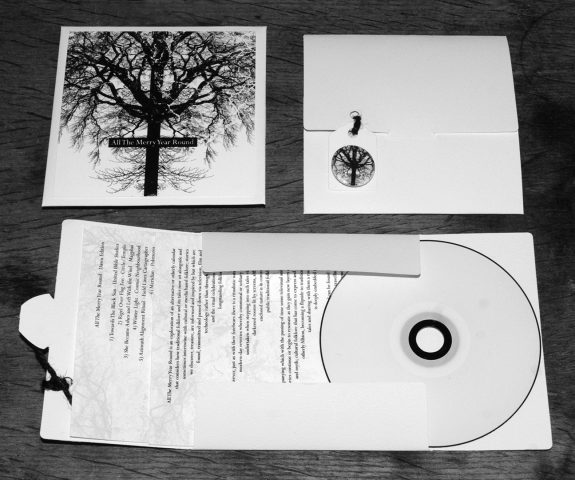 Artifact #6a: All The Merry Year Round
…an exploration of an alternative or otherly calendar that considers how traditional folklore and its tales now sit alongside and sometimes intertwine with cultural or media based folklore… travelling alongside straw bear and cathode ray summonings alike.

Featuring United Bible Studies, Circle/Temple, Magpahi, Cosmic Neighbourhood, Field Lines Cartographer, Polypores, A Year In The Country, Sproatly Smith, Pulselovers, The Hare And The Moon & Jo Lepine, Time Attendant and The Séance.
"A Year In The Country… operating like some sinister rustic arts and crafts movement manifesting online via a Wi-Fi connected scrying mirror… an almanac of unearthly sonics to tide you through the winter nights."
Ben Graham at Shindig! magazine
Which leaves me to make just one (almost) final tip of the hat to all concerned… those who created the music, those who listened to and bought the work, those who wrote about and broadcasted it and all at Norman Records.
Thanks and cheers!