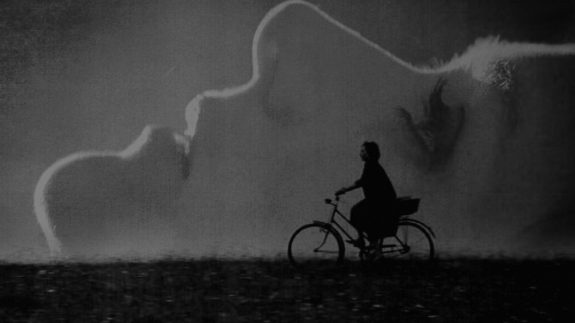 "The three full length films which Peter Strickland has made so far: Katalin Varga (2009), Berberian Sound Studio (2012) and The Duke of Burgundy (2014), all create their own immersive worlds, often self contained and separate from wider reality and its markers."
"Berberian Sound Studio is set in the enclosed world of a recording studio in 1976 and could be considered an homage to and a possible comment on that period's "giallo" and Italian horror film genres and their sometimes-questionable excesses…
Berberian Sound Studio involves a garden shed-based British sound effects expert, played by Toby Jones, who travels to Italy to work on a film which turns out unbeknownst to him to be a disturbing giallo horror.
As time passes at the recording studio life and art implode and fall into one another and apart from going to his bedroom he does not seem to leave the studio complex.
His sanity crumbles and he becomes increasingly both part of and complicit in a culture and celluloid of misogyny, one which is masked and masquerading as art and the barriers between reality and unreality become increasingly blurred."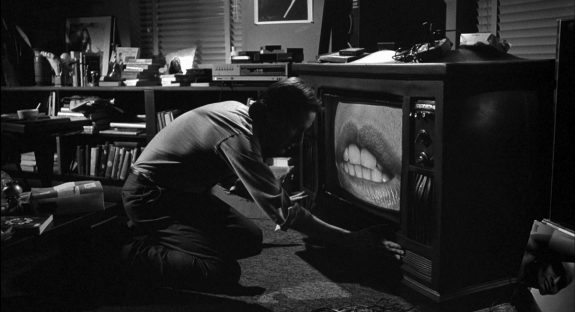 "Alongside the link to giallo it shares a number of similar themes with David Cronenberg's Videodrome (1983); the stepping into an altered reality via recorded media and the degradation of its listeners, watchers and participants.
Although whereas that film has a certain ragged, driving, visceral, hallucinatory and at times street-like energy, Berberian Sound Studio has and creates a more subtle, phantasmagoric dreamlike atmosphere.
This is not a film which intrigues and draws you in through a plot arc, rather it is the imagery, experimentation, atmosphere and its cultural connections."
"With Berberian Sound Studio the cultural connections include a soundtrack by Broadcast and design/film work by Julian House (variously of Ghost Box Records, Intro design agency, The Focus Group musical venture and sometimes Broadcast collaborator), with striking elements of its visual character being created by him.
These include the tape packaging, edit sheets etc. for the studio setting and as a film it is deeply steeped within such pre-digital recording technology, with its physical form and noises becoming an intrinsic part of the story and its enclosed world."
"Julian House's work also includes an intro sequence for the film within a film called The Equestrian Vortex, which is the one Toby Jones' character is helping to create the sound effects for.
Accompanied by Broadcast's music this uses found illustration imagery and creates an unsettling, intense sequence which draws from the tropes of folk and occult horror."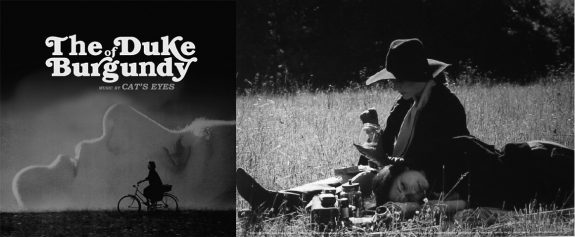 "Following Berberian Sound Studio, Peter Strickland's next feature film was The Duke of Burgundy.
On initial glance and indeed for the first section of the film this appears to be something of a stylistically salacious piece of work, drawing from the more erotically-inclined side of the likes of director Jess Franco's films, which it is said in part to be a homage to.
Jess Franco was a Spanish film director, writer, composer, cinematographer and actor. He is known for having a prolific output of around 160 films released between 1959 and 2013, which often focused on exploitation genres. His work has gained a cult following, in part due to the exploitation elements of the films alongside his own at times distinctive film making style/aesthetics and also because his prolific output was largely made with little or no funding and has come to be considered a form of almost renegade or outsider film production.
However as The Duke of Burgundy progresses its cinematic journey is shown to not be an exercise in purely prurient cinema."
"It focuses almost exclusively on the lives of two female lovers, largely in the setting of one particular romantically and texturally ornate house and whose work involves the research, collecting and study of crickets and lepidoptera (butterflies and moths).
Although not explicitly explained, the wider world they live in seems to be largely concerned or even obsessed by such study, with their own lives revolving around little else (apart from boudoir activities).
Much of the decoration of the main house involves framed mounts of these creatures and the film will periodically focus on these and related images, creating a returning refrain and a near scientific but also reflective, expressive study of the beauty and decorations of nature."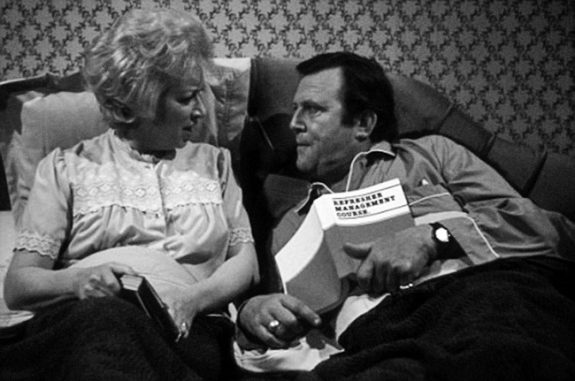 "Connected to the strife of the film's central characters, their conflicts and day-to-day nature of relationships, one of the reference points that Peter Strickland quotes in relation to the film is the 1979-87 British television sitcom Terry and June.
he Duke of Burgundy has much in common with such work in the way that it is an observation of the practicalities and unbalanced wishes and desires that can be present in relationships, of the sometimes petty, sometimes far from petty, annoyances and compromises that can be part of them.
Although in The Duke of Burgundy such things have an exotic setting and involve private, intimate rituals, ultimately some of the issues it considers are very similar to those in Terry and June; the frustrations of two people in their nightwear and pyjamas in bed."
"Josephine Decker's Butter on the Latch film from 2013 is more stylistically experimental but might well be an appropriate reference point for Katalin Varga; pastorally set work that wanders off the beaten paths of conventional cinema or indeed a slasher in the woods and the land without the slashing."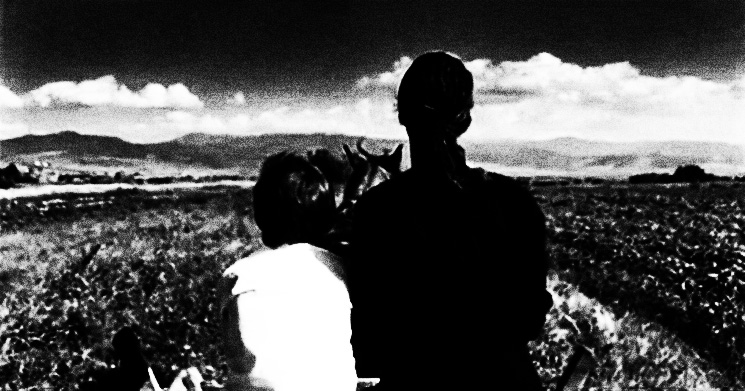 "Katalin Varga could almost be a period film and in part it seems to be set in a generally pastoral world that may not have changed all that much since medieval times.
During the film it is physically jarring when the viewer sees a more built up area and modern buildings, or when a mobile phone ring tone is heard in the film, while a yellow plastic plate that appears at one point seems almost offensive in this setting.
The modern world often seems to only appear in relatively small details: the contemporary rubber car tyres on the cart that is used in the journey, haymaking carried out by hand while in the background is a building with a satellite dish."
"Katalin Varga does not necessarily have the more polished production sheen of the honey toned fantasy land of The Duke of Burgundy or the cloistered, contained and imagined interiors of Berberian Sound Studio but it creates a sense of its own world, time and place nonetheless. It may in part be a side effect of that lack of sheen but it seems as though it could be some semi-lost European film from an unspecified point in time, possibly the 1970s, which although arthouse did not quite belong to the accepted, reputable canon of cinema.
The kind of a film that would have been screened at London's Scala cinema around the early 1980s to the early 1990s, which was something of a home for such things.
Peter Strickland's films bring to mind those kind of arthouse, sometimes transgressive films that have often gone on to find a cult following but have not always become mainstream critically acceptable.
For example films that would have once appeared in the pages of Films and Filming magazine which was published from 1954-1990; often European cult arthouse independent cinema, with leftfield, exploratory and sometimes transgressive or salacious subject matter and presentation."
"(The) sense of homage within Peter Strickland's films can sometimes be quite overt; in The Duke of Burgundy the earlier-mentioned night-time dreamlike sequence which sees the screen and one of the main characters consumed by a rapidly layering collage of lepidoptera seems to quite directly visually reference experimental film maker Stan Brakhage's Mothlight film from 1963, which layered natural elements and insects to create a rapidly moving montage."
Online images to accompany Chapter 26 of the A Year In The Country: Wandering Through Spectral Fields book, alongside text extracts from the chapter:
Details of the A Year In The Country: Wandering Through Spectral Fields book and the collection of its accompanying online images can be found at the Book's Page, which will be added to throughout the year.