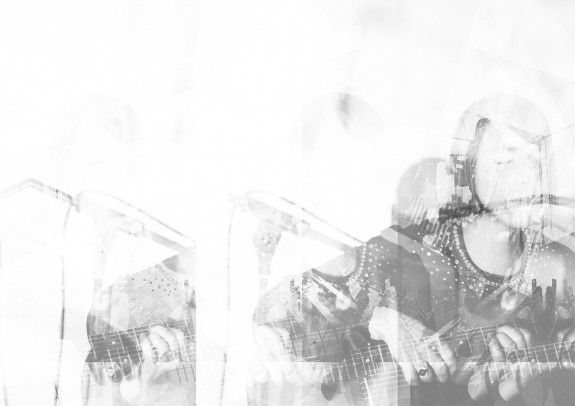 File under: Trails and Influences: Recent Explorations. Case #19/52.
Field Trip Report: Case #2.

I recently wandered along to the Heretics Folk Club, which is a corner of the world that serves as an enclave for "balladeers, hauntologists, audio-archaeologists, field recordists" and the like, to see Sharron Kraus live for the first time.
The performance was upstairs in a rather lovely riverside venue, which felt as though it should be or was only lit by candle light and the flickering projections that acted as a backdrop.
Live as on record Ms Kraus' music casts a certain spell: it is beguiling in that it is both shimmering and full of light while also wandering down some of the darker and not always so easy paths of life and love. Spellbinding is a word that comes to mind and it's interesting how just somebody's voice and an acoustic guitar can cast such a spell over a room.
There is both a fragility and a strength to her music and performance, these are songs that make you want to just close your eyes and to travel with them. Her work connects to traditional folk but this is no simple retreading of well-worn paths; it's a very personal cherishing and re-crafting, layered with a sense of there being considerable thought, journeying and studies which underpin and inform her music, it's inspirations and themes.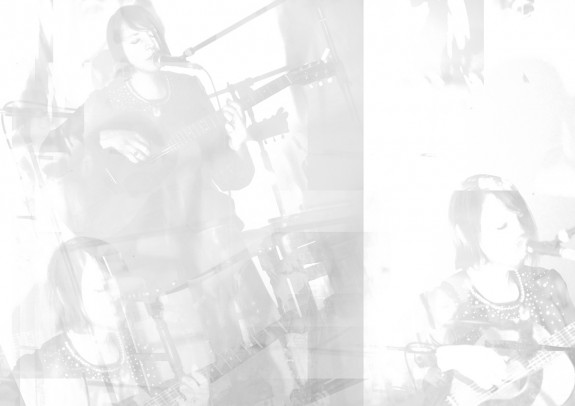 A song which particularly intrigued me, which Ms Kraus played tonight, was Traveller Between The Worlds.
In this there is a consideration of the push, pull and testing of love when you feel you must fly free, when your "sails have unfurled" and you are drawn to set forth and explore the world, leaving your beau behind as you wander and hoping that those you travel and depart from will remember you and be able to welcome you home when the time comes.
It is a tender and at points heartbreaking song:
"In my dreams your hair's grown long
Your beard is streaked with grey
And our tiny children
Run around all day
I hope that they'll know me
When I come home
And I'll not be a stranger
To those I call my own"
Connected to the theme of that song is how a performer such as Sharron Kraus can have an inherent ability to travel. Just a voice and a guitar being all that are needed to take these songs to where they and their creator need and wish to journey. I suppose in a way you could also connect that back to travelling musicians and entertainers from times gone by, those who wandered from village to hamlet to town, plying their trade throughout the land.
Heretics' Folk Club is once a month and I would heartily recommend a wander along. View more about it here, here and here. It was discussed earlier in A Year In The Country, see that at Day #43/365.
Sharron Kraus can be found in the ether here and here. I visited her Pastoral Trails & Pilgrim Chants album on Day #58/365 of A Year In The Country.
Traveller Between The Worlds can be found on The Woody Nightshade album released by Strange Attractors. You can visit it here.
Related to Heretics' Folk Club, Sharron's post Folk Revivals and Haunted Places, written about an earlier event put on by the same people (in a deserted and abandoned department store no less) is well worth reading. It captures the spirit and excitement of an event which explored some of the concepts and concerns of those aforementioned less well worn paths of folk music and folkloric culture (and also makes you kick yourself that you weren't there).