I thought that over the years I had come across most of a particular kind of spectral/hauntological unavailable, semi-lost and lost British television but then I discovered novelist, comic and screenwriter Paul Cornell's post The 12 Blogs of Christmas: Five. Telefantasy for DVD: the BBC (1954-1990) and realised that there are a fair few I had never even heard of.
In that post he lists and discusses BBC television shows of a science fiction and fantasy nature which have never been available on DVD but which aren't completely missing from the BBC archives, so effectively also something of an "actionable" wish list.

In order to provide a "backup" version of the list for posterity, below I list every series etc he mentions (alongside a few notes on some of the programmes that I've written).
A Small Problem (1987).
Aliens in the Family (1987).
Captain Zep – Space Detective (1983-1984).
Come Back Mrs. Noah (1977-1978)
Mrs Noah
Counterstrike (1969).
Debut on Two: Kingdom Come (1990):

Drama Playhouse: The Incredible Robert Baldick: 'Never Come Night' (1972):
Apparently features Robert Hardy as a Victorian supernatural investigator, one who apparently has his own special train (!).
Galloping Galaxies! (1985-1986).
Kenneth Williams.
Ghost in the Water (1982)
Hands Across the Sky (1960).
Late Night Horror: The Corpse Can't Play (1968).

Leap in the Dark (1973-1980).
The first series was a "magazine programme for mystics", series 2-4 were docudramas featuring allegedly real paranormal events. It sounds as though it may have been part of a wider mainstream interest in the supernatural and even the occult in the 1970s.
Some episodes were written by The Owl Service writer Alan Garner and Penda's Fen writer David Rudkin.
Episodes of this were viewable online once upon a time but the last time I looked they had gone.
Man Dog (1972).
The plot involves rebels from the future, whose leaders mind is beamed into the brain of a pet dog. Written by Peter Dickinson, author of The Changes.
1984 (1954).
George Orwell's book adapted by Nigel Kneale and starring Peter Cushing.
Orion (1977).
Outta Space. (1973).
Out of the Trees (1976).

Play For Today: Angels are so Few (1970).
Dennis Potter drama about a man who is possibly an angel who invades a suburban home. Never released on DVD but apparently it was in the online video streaming BBC Store – which only lasted a brief while and is now gone.
Play For Today: London is Drowning (1981).
Play For Today: Stronger Than The Sun (1977).
Directed by former Bond director Michael Apted and written by Stephen Poliakoff. Its plot about the nuclear industry and protest seems to share some similar territory with Edge of Darkness.
Play For Today: Vampires (1979).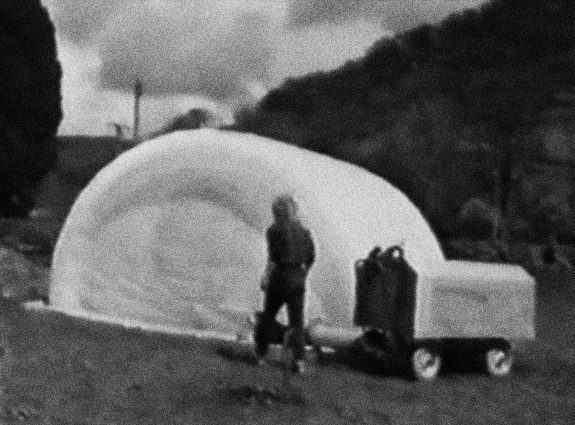 Play For Today: Z for Zachariah (1984).
Which I have written about before at A Year In The Country and which in more recent times has been remade featuring A-list Hollywood stars.
Play For Tomorrow (1982).
Playhouse: The Breakthrough and Mrs. Acland's Ghosts (both 1975).
Playhouse: The Mind Beyond (1976).
Play of the Month: I Have Been Here Before (1982).
Play of the Month: The Devil's Eggshell (1966).

Play of the Week: Stargazy on Zummerdown (1978).
Now this sounds intriguing: peaceful agrarian workers of Albion in the 23rd century hold a festival where they meet with the industrial Toonies:
"…a slice of town and country ritual rivalry set in the 23rd century, in a society where urban and rural communities live uneasily side by side under the benign auspices of a retro-pagan church, and trade relations between the two are agreed at an annual festival wherein village fete meets wrestling smackdown. Oh, and an onion eating contest…"
(From You Can't Do That on T.V. Anymore)
Rentaghost (1976-1984).
Atchoo!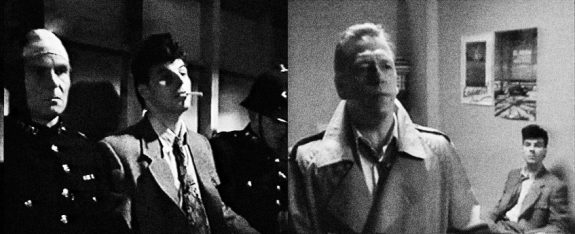 Screenplay: The Black and Blue Lamp (1988).
A time travel black comedy with a police/crime element , which sounds like something of a forebear to Life on Mars.
Screen Two: The Lorelei (1990).
Second City Firsts: Thwum (1975).
Spine Chillers (1980).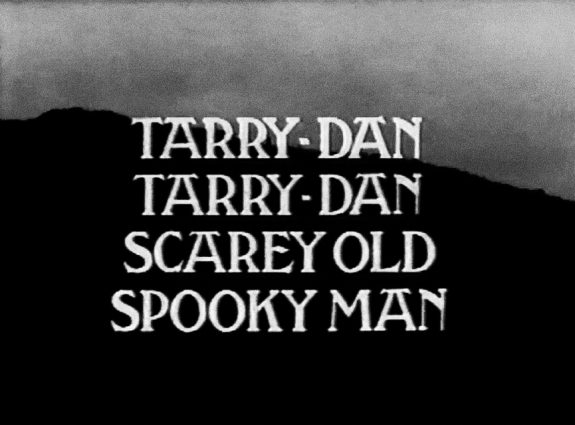 Tarry-Dan, Tarry-Dan, Scary Old Spooky Man (1978).
The Bells of Astercote (1980).
The Enchanted Castle (1979).
The First Picture Show: Dracula is Not Dead (1976).
A showcase in which new director's student films were broadcast. Ian Cassie's contribution was an interview with Dracula, who still lived in his London basement flat.
The Galactic Garden (1985).
The Ghost Downstairs (1982).
The Gift (1990).
A series about a telepathic youngster, which, as with The Changes, was based on a book by Peter Dickinson.

The Moon Stallion (1978).
A drama in which a blind girl meets mystical forces. It was released on DVD in Germany, although last time I looked that was out of print and not so cheap to buy used.
The Old Men at the Zoo (1983).
An adaptation by Troy Kennedy-Martin – who wrote Edge of Darkness – of Angus Wilson's novel, which features a group of zoo managers living in a dystopia and their actions in preparation for the onset of apocalyptic war.
The Phoenix and the Carpet (1977).
The Play on One: Yellowbacks (1990).
The Song and the Story (1981).
In which Isla St Clair, the one time co-host of the Generation Game gameshow, and Steeleye Span collaborated on dramatisations of folk songs.
The Watch House (1988).
Theatre 625: The World of George Orwell: 1984. (1965).
A slightly edited remake of Nigel Kneal's 1954 script.

It's strange really how a lot of period BBC drama is essentially locked away in the Corporation's vaults.
A number of these hidden away and/or semi-lost shows do occasionally appear in the public domain on streaming sites and via websites which offer DVDrs of hard to find series and films but often they are low quality transfers from faded domestically recorded videos, multiple generation copies etc.
(Although to a degree, with the more spectral/hauntological orientated work the aesthetics this lends them can be quite fitting, as can the inclusion of timecodes in some such recordings.)
For a while the BBC had an online store which was not a subscription service but rather one where you could pay to "own" series etc which would then be streamable, including, as mentioned above, some which have never been released on DVD. As a service it apparently did not enjoy a huge amount of success and lasted only for around 18 months.
In these days of potentially there being a wide range of ease of distribution options online, if the BBC's own dedicated purchase and streaming service was not commercially viable and/or popular with the public, then possibly teaming up with an existing streaming and/or download service might be an option? Some programmes already are available digitally on the likes of Netflix and Amazon but largely it seems to be programmes which are already previously available on DVD.
Maybe time to throw open the gates? Not in an everything all at once manner which could overwhelm people and cause things to be overlooked but possibly putting a steady, measured stream of these already publicly paid for hidden away treasures out into the world via some avenue or other?

Elsewhere:
The full post at Paul Cornell's site; which features an extensive amount of writing, images etc. Well worth a visit and peruse
John Coulthart on Alan Garner's To Kill a King and Colin Wilson's In The Mind's Eye from Leap in the Dark.
You Can't Do That on T.V. Anymore: Stargazy on Zummerdown