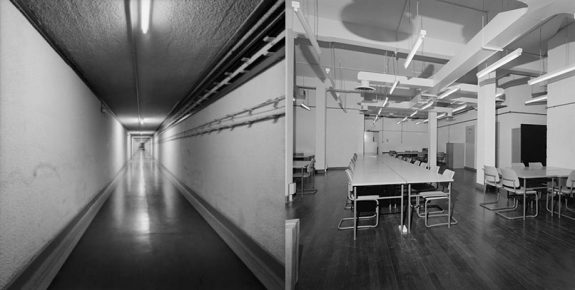 "Abandoned and decommissioned bunkers are a subsection of utilitarian brutalist architecture that has come to gain totemic significance and to have a form of romance attached to them.
This can take a hauntological form where Cold War bunkers in particular have come to represent and be symbols of the spectres of history.
This connects with a central defining tenet of hauntological strands of interest: explorations of and fascinations with lost futures and areas of culture, artifacts, buildings, institutions etc. which are imprinted with spectres of those lost histories.
In this sense such bunkers are physical embodiments of the (thankfully) lost futures of end of days conflicts: the unsettling and disquieting counterpart to social and municipal brutalist buildings from a similar epoch and the yearning for lost progressive utopian futures that they can represent…
(They can be) a somewhat spectral reminder of the Cold War, in both a hauntological and fear-instilling manner.
Or as writer, illustrator and designer John Coulthart has said bunkers are:
"…a source of contemporary horror that doesn't require any supernatural component to chill the blood.""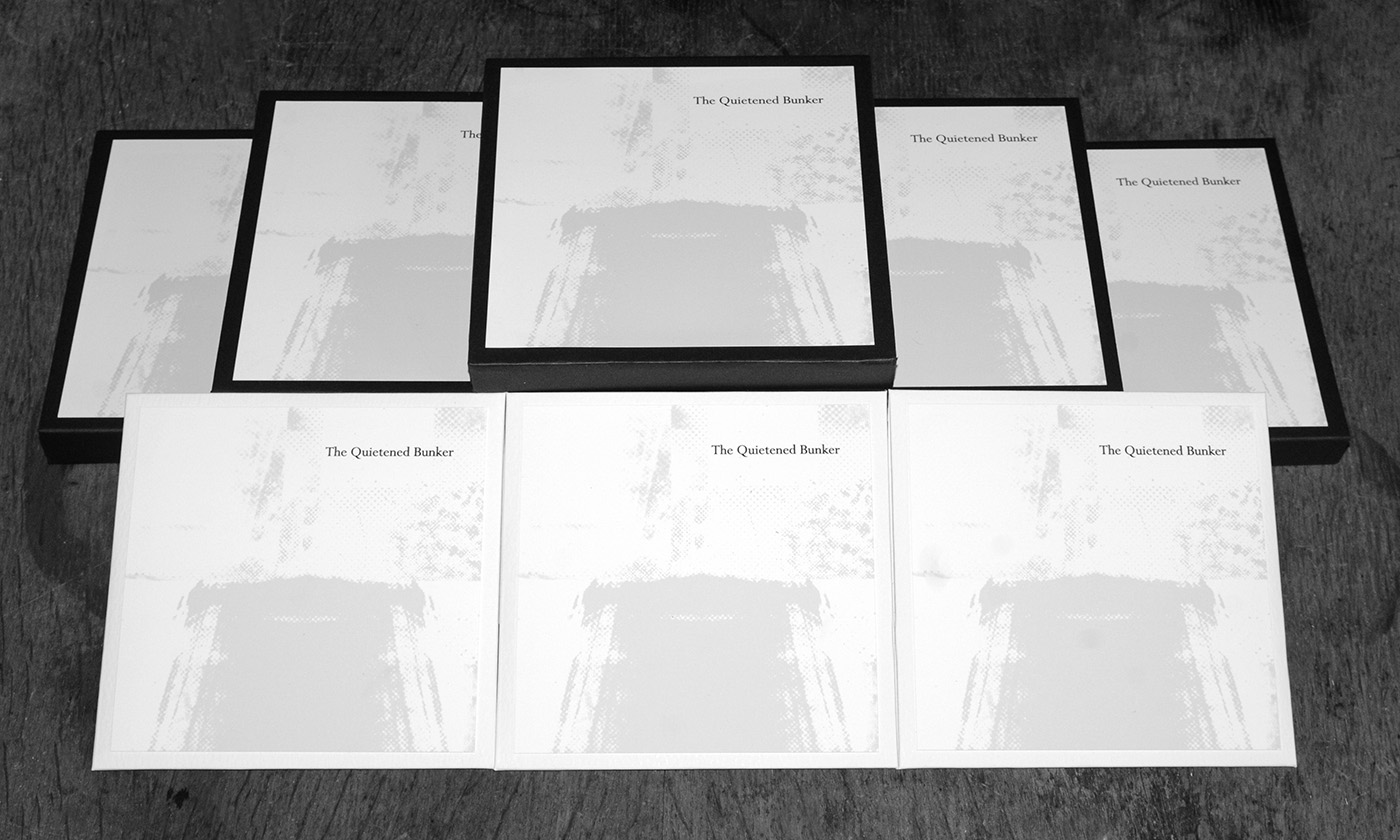 "Connected to (their) sense of futility or delusional projections of their effectiveness, in 2014 as part of A Year In The Country a themed album called The Quietened Bunker was released.
This featured work by Keith Seatman, Grey Frequency, A Year In The Country, Panabrite, Polypores, Listening Center, Time Attendant, Unknown Heretic and David Colohan and interpreted the album's theme via recordings that included field recording subterranean ambience, paranoid industrial distortion, Radiophonic inflected electronica and elegiac end of days sequences.
(The following is an edited selection of the accompanying notes for the album):
"The Quietened Bunker is an exploration of the abandoned and/or decommissioned Cold War installations which lie under the land and that would have acted as selectively populated refuges/control centres if the button was ever pushed.
These bunkers could be seen as once modern fortresses – reinforced concrete and blast doors replacing moats and stone battlements…
Now it can all seem like a dream from another world, one where for a number of decades populations lived under the day-to-day threat of total annihilation and where millions was spent on this network of shelters and defences; preparations to allow fiddling once all had burned, such bunkers possibly being nearer to utilitarian national follies than fortresses – indeed, today they are as likely to be signposted tourist attractions as operative defences…"

"(The Quietened Bunker) is part of a lineage of work that explores, is inspired by and documents bunkers, shelters and related infrastructure.
The book Waiting for the End of the World by Richard Ross published in 2004 is part of this lineage. It contains photographs of active and decommissioned bunkers and shelters around the world, both those built by governmental/military organisations and by private individuals.
One intriguing thing about some of the photographs of domestic shelters are the details of the way they have been made to feel homely and the amount of aesthetic consideration often given to their entrances, in the face of and opposition to what their occupants would be faced with if their intended purpose was ever called upon…
(Richard Ross) found a sense of hope and optimism in their repurposing as clubs in St. Petersburg, Russia and how these have become places where people go to celebrate life rather than anticipate destruction."
"Other photography-based work which explores such buildings and installations is more strictly documentary in nature, in particular that done by the British based Subterranea Britannica society. Subterranea Britannica's members:
"…study and investigate man-made and man-used underground places – from mines to railway tunnels, military defences to nuclear bunkers and everything in between."
They have published a number of comprehensive books featuring bunker-related work, including Nick Catford's Cold War Bunkers (2010) and Mark Dalton's The Royal Observer Corps Underground Monitoring Posts (2011)…
Via its publishing activities, the collecting of archival material and photographs and notes from exploratory expeditions to locations by members which are viewable on its website, the society's work represents a comprehensive mapping of these often once secret or inaccessible to the public places and infrastructure networks."
"A predecessor to the above Cold War bunker related lineage of work is Paul Virilio's book Bunker Archaeology, originally published in a French edition in 1975.
This collects his photography and writing on the abandoned World War II German bunkers and related installations that lie along the coast of France.
Along with their Cold War counterparts, these could also be filed as a form of brutalist architecture as they share a number of similarities in terms of the materials used and their aesthetics."


"Viewed now they seem to almost be a form of accidental utilitarian art: something they share with the likes of similarly appreciated pragmatic constructions such as telegraph poles, pylons, Soviet era bus stops or even library music.
Although they were created with a very practical intent, looking at them now they seem nearer to monuments or tributes, reminsicent of the Cold War era Spomenik memorials that Jan Kempenaers photographed and which are collected in his 2010 book of the same name."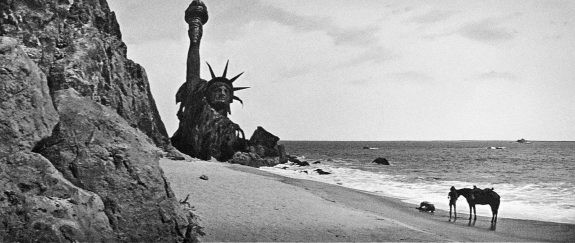 "With the structures in Bunker Archaeology, whatever their original intents, viewing them today they could be artifacts from an almost science fiction-esque future that never was, a form of hauntology possibly but one that steps aside from or precedes many of the more often referred to British cultural history related tropes."
(The original Planet of the Apes film from 1968 swims into view with its mingling of crashed future/past visitors and part-buried monuments to mankind's folly.)"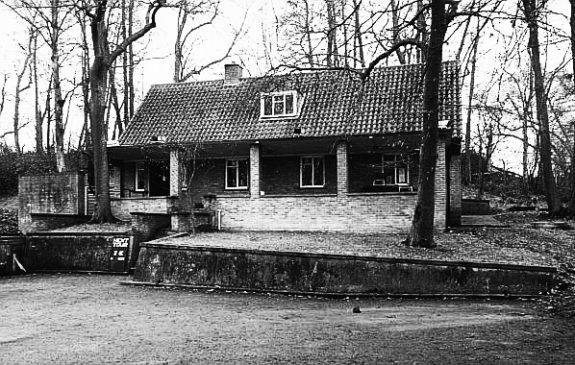 (Decommissioned bunkers are even) available to hire for events: one such of which is The Delaware Road event organised by record label Buried Treasure in 2017 and which accompanies their themed album of the same name.
This event was deeply interconnected with hauntological themes and tropes, featuring a number of performers whose work has been to various degrees linked with such areas of work including Dolly Dolly, Howlround, Radionics Radio, Ian Helliwell and Saunders & Hill.
It was described as an immersive mix of theatre, film and live music and some of the notes that accompany the event are reproduced below:
"The Kelvedon Hatch Secret Nuclear Bunker at Kelvedon Hatch, in the Borough of Brentwood in the English county of Essex, is a large underground bunker maintained during the cold war as a potential regional government headquarters. Since being decommissioned in 1992, the bunker has been open to the public as a tourist attraction, with a museum focusing on its cold war history…"
"This special performance takes place deep underground in a nuclear bunker, hidden in remote Essex woodland. The audience is free to explore the secret, cold war facilities where they will encounter a host of performers, experimental artists & musicians."
As with some of the bunkers in Waiting for the End of the World which have come to be used as clubs, this is a repurposing of such structures for entertainment or cultural purposes, albeit in this case a form of cultural exploration which explicitly refers to and explores the history of them rather than being more strictly hedonistic socialising and abandonment."
"Returning more directly to the heritage and tourist industry repurposing of such installations, on British roads you can find official road signs that direct you towards the tourist destination of a "Secret Nuclear Bunker", often appearing on the same sign as one which also points drivers to an industrial estate and various towns.
Viewing these signs may bring kind of mental disconnect – a mixture of disbelief, humour and relief that we are no longer living in a political situation where these bunkers are considered necessary and possibly a touch of sadness, anger and grief for us having once done so.
In part this disconnect is due to the very Britishness of names like Chipping Ongar and Chigwell that the road signs also point to."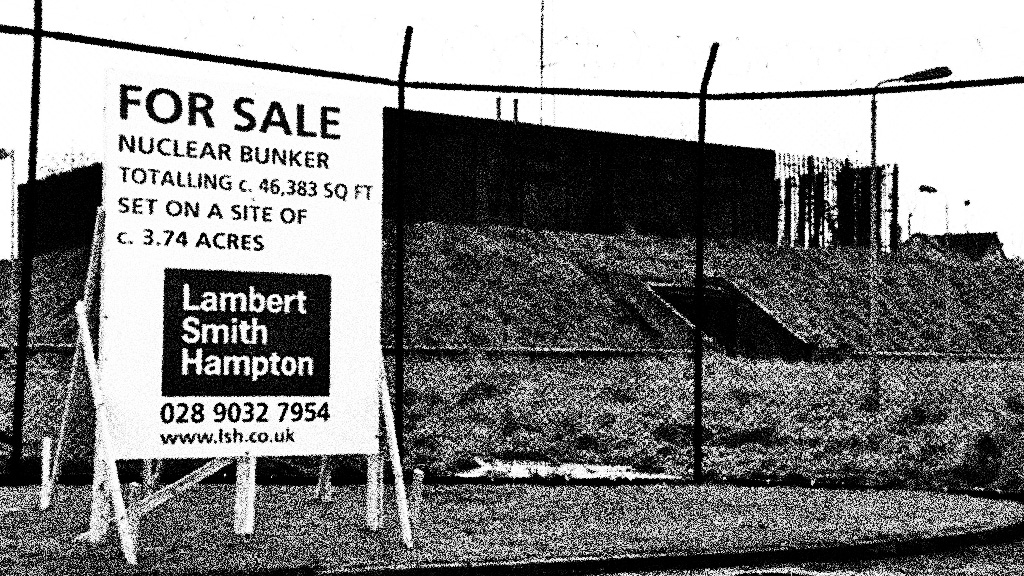 "Accompanying and interconnected with such road signs are the estate agent signs for when a decommissioned bunker has been made available for sale; the hoardings name the property for sale as a nuclear bunker and list its square footage and acreage of land.
Begging the question: is this a buyer's or a seller's market?
There is scarcity value to the property but presumably only a very limited number of potential buyers and allowable uses (data storage seems to be one such usage that is mentioned on these boards).
It would be interesting to see whether these installations are listed on general commercial property websites, so that your search results might bring up a warehouse for rent, listed as having plenty of onsite parking and then a former secret nuclear bunker listed as razor wire and emergency air filtration system included."
Online images to accompany Chapter 17 of the A Year In The Country: Wandering Through Spectral Fields book, alongside some text extracts from the chapter:
Details of the A Year In The Country: Wandering Through Spectral Fields book and the collection of its accompanying online images can be found at the Book's Page, which will be added to throughout the year.