Further reviews of The Quietened Mechanisms album:

First up is Kim Harten's review at Bliss Aquamarine:
"An evocative album that effectively combines dark and strange electronics and field recordings. Held together by a common theme both topically and musically, the album makes for a complete, cohesive listening experience."

Next up is Raffaello Russo's review at Music Won't Save You:
"…la raccolta offre un nuovo spaccato di un immaginario creativo condiviso da un cenacolo di artisti sempre più ampio, inesauribile come gli spunti narrativi, sonori ed emozionali che possono scaturire da ogni singolo miglio quadrato della periferia post-industriale britannica."
You can also visit an online (approximate) translation here.

Thirdly the album was revisited by Terrascope and included at Terrascope's November 2018 Rumbles roundup:
"Listening Center 'Clarion of the Collapsed Complex' is next, full of long dead factory machinery, echoes of once thriving industry, all rendered on analogue synths… Pulselovers give us 'Fuggles' which is the name of a variety of hop, visiting an abandoned brewery in the north of England, where ghostly bottles are delivered via Shire horse and cart to the surrounding alehouses… The record ends with A Year In The Country's 'The Structure/Respite' a song referencing an old decommissioned railway track, slowly being reclaimed by the land, ghostly reminders encountered along the way, left to slowly rust and decay."
Fourthly and finally Finlay Milligan reviewed the album in issue 46 of Electronic Sound magazine.
Links to previous reviews, broadcasts etc of The Quietened Mechanisms by John Coulthart, The Sunday Experience, We Are Cult, an earlier review at Terrascope, Goldmine, Shindig!, Flatland Frequencies, Sunrise Ocean Bender, Pull the Plug, Evening of Light and The Unquiet Meadow can be found here.
Thanks and a tip of the hat to all concerned.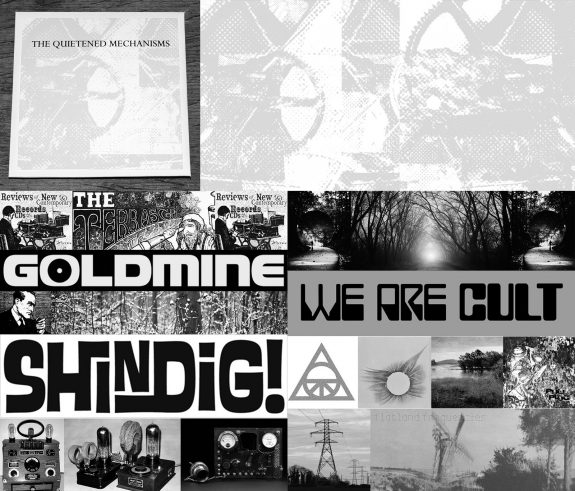 The Quietened Mechanisms is an exploration of abandoned and derelict industry, infrastructure, technology and equipment that once upon a time helped to create, connect and sustain society.
It features music and accompanying text on the tracks by Howlround, Grey Frequency, Listening Center, Sproatly Smith, Embertides, Keith Seatman, Time Attendant, A Year In The Country, Dom Cooper, Field Lines Cartographer, Vic Mars, Depatterning, Pulselovers, Quaker's Stang, The Heartwood Institute and Spaceship.
More details on the album can be viewed here.