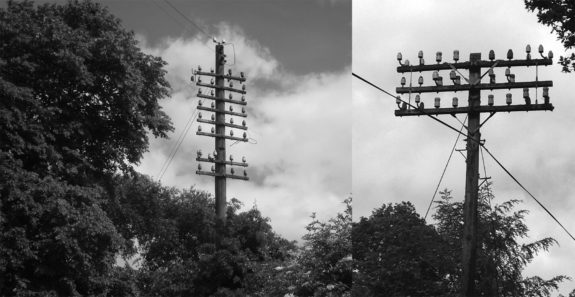 The Telegraph Pole Appreciation Society's website has on its home page the following description:
"This is not the site to visit for technical information pertaining to telegraph poles. You'll find nothing about 10KVa transformers, digital telephone networking or even so much as a single volt. This is a website celebrating the glorious everyday mundanitude of these simple silent sentinels the world over. We don't care what the wires contain either. They all carry electricity in some way be it the sparky stuff which boils your kettle, or the thinner stuff with your voice in it when you're on the phone."
The site is a celebration of the accidental utilitarian art of telegraph poles and there's a friendly passion and mild eccentricity to the site and project.
The images in this post come from the Pole of the Month Archive section on the site, which as the name suggests collects together photographs of telegraph poles that have caught the TPAS's eye, including some fantastically complex multi-wired poles from abroad.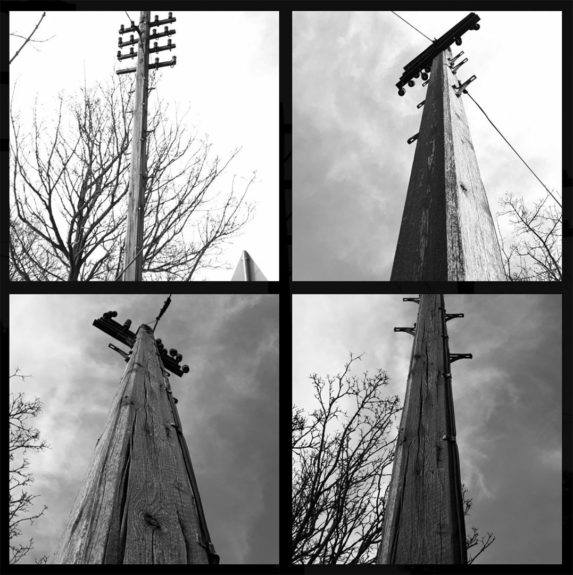 The TPAS is the kind of project that seems like it should have a permanent bricks and mortar home / museum / visitors centre. It would be the ideal kind of place to be featured in a new edition of the Uncommonly British Days Out books which act as guides to Britain's often small, individual or family run museums, visitor centres, follies, neglected or unloved public art, bygone defence of the realm installations and the like, including amongst many others Keith Harding's World Of Mechanical Music and The British Lawnmower Museum.
In the meantime if you should want a memento of your visit to the site the TPAS have a small shop section where you can buy a Telegraph Pole Appreciation Society mug, a Visit The Fabled Lost Pole poster, an 150 page Telegraph Pole Appreciation for Beginners guide-book and a Life Membership of The Telegraph Pole Appreciation Society.
(The Life Membership is something of a bumper and somewhat bargain like package, as along with a certificate of membership it also includes the above guide-book and a TPAS pencil and badge.)
The original post published during the first year of A Year In The Country: