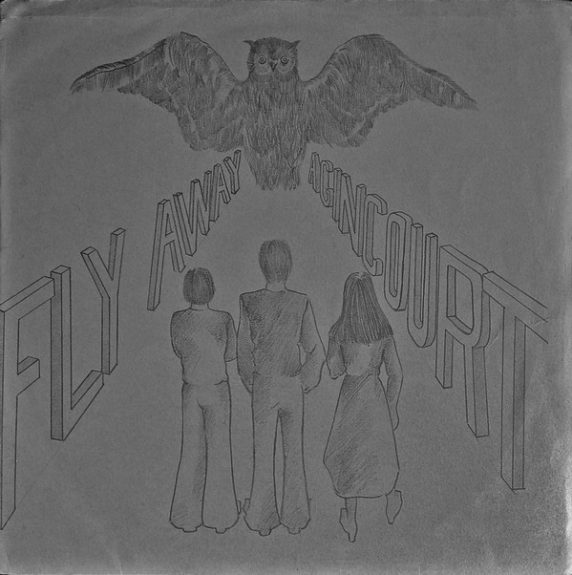 I recently came across Agincourt's Fly Away album from 1970, which was listed as being privately pressed acid folk and for a brief moment I thought I had stumbled upon on a semi-lost musical artifact that existed all on it's own…
…but quite quickly I realised that I had come across two of it's creators' John Ferdinando and Peter Howell's work before, as they had recorded a 1969 album called Alice Through The Looking Glass that I had previously read about/listened to.
Both Alice Through The Looking Glass and Fly Away are sweetly naive, gentle, whimsical, homespun albums. Some might consider them twee at points but I think that aspect is part of their charm.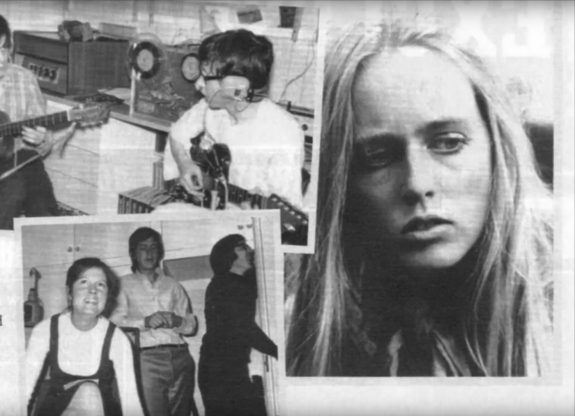 On Agincourt's Fly Away it is the tracks that feature Lee Menelaus' vocals which more catch my eye/ear, in particular the songs When I Awoke, Though I May Be Dreaming, Take Me There, Dawn and Kind Sir.
Although recorded in that actual period, they put me in mind of the recreation and reimagining of past eras that you might find in say Death And Vanilla's work; a sort of gently leftfield late 1960s pop perfection that in Agincourt's case conjures a pastoral atmosphere or an accompanying video of walking through sun-dappled wheat fields at the side of a forest (an exclamation mark may be appropriate about now – !).
They lyrics of Though I May Be Dreaming seem to reflect on the end of 1960s hippie utopian thoughts and ways but without a sense of bitterness and looking back they could also be seen as a harbinger of a related retreat and escape into more rural, pastoral concerns that happened around then:
"Everything changes when winter comes
Gone are the promises made in the summer of love…
Though I may be dreaming
I know that I will always find
Plenty to ease my mind drinking country wine"
Listening to the song again, it would not have surprised me to find out that actually this had been a release on that most whimsical, imaginary realm of English pop record label él, back in the 1980s.
Although Agincourt has a more recorded at home and possibly less polished atmosphere, the pastoral pop-(prog?)-folk of Caedmon's Sea Song from their also privately pressed eponymous 1978 album may also be a reference point.
And talking of homespun etc, Fly Away's album cover is wonderfully lo-fi: it makes me think of the sort of album that musical delver and reissuer Jonny Trunk would post about in a "I've finally found it, been looking for it for years" way.
Interestingly and in a way that connects with A Year In The Country's sometimes wandering amongst work where the flipside of bucolia meets more hauntological concerns, Peter Howell of Agincourt would go on to work as a sound engineer at the BBC. He worked on the soundtrack for Doctor Who, creating an arrangement of the classic Ron Grainer/Delia Derbyshire theme that was used in the show around 1980-1985.
Fly Away was only pressed in very small quantities of vinyl back at the time of its original release. It has had a CD reissue but that is also long since sold out. It can be listened to online still (although I'm not sure the music's creators' are likely to receive any financial recompense from such things).
(File Post Under: Cathode Ray & Cinematic Explorations, Radiowave Resonations & Audiological Investigations)
Audio Visual Transmission Guide:
Fly Away continuous recording including notes
Fly Away playlist at The Psychedelic Garden
Alice Through The Looking Glass playlist
Peter Howell's arrangement of the Doctor Who theme
Background notes on Peter Howell and John Ferdinando