File under:
Trails and Influences: Recent Explorations. Case #12/52.
In the 1970s there seemed to be a curious mini-genre of doom-warning apocalyptic, dystopian science fiction films, which warned of the dangers of ecological collapse, battles for resources, out of control population growth, ways citizens might be controlled and so forth. You could include Z.P.G., Phase IV, Soylent Green, The Omega Man in amongst these, possibly in a more crowd and eye-pleasing way Logan's Run and you could draw a line from them to later British television series along similar lines such as Noah's Ark and Day Of The Triffids.
No Blade Of Grass, based on John Christopher's The Death Of Grass novel, was one such film. This is not really a piece of knockabout period kitsch, it's a surprisingly bleak, brutal film (admittedly with some inappropriate almost sitcom music here and there and longstanding UK sitcom/soap opera actress Wendy Richards as a slightly out-of-place comic dollybird) about what happens when a new strain of virus kills the worlds grass, related plants and crops…
…and what seems to happen is that society and normal morality/rules of law almost immediately break down and life becomes more a Lord Of The Flies/survival of the fittest/the best armed battle for food and control in the cities and amongst the fleeing gatherings of people in the countryside, while governments take to nerve gas bombing their own populations, killing hundreds of millions of people in order to have enough food for those who remain.
Like I say, not all that cheery. I was a little shocked and silenced after the end of it and below is a look at some of what happens in the film when the veneer of civilisation doesn't so much fade but rather is rent asunder.
The title frames show a lone group of figures armed and on the run on a parched, cracked landscape, set against images of pollution and decay, which are soon followed by scenes of abundant food and conventional affluent middle class ways of life…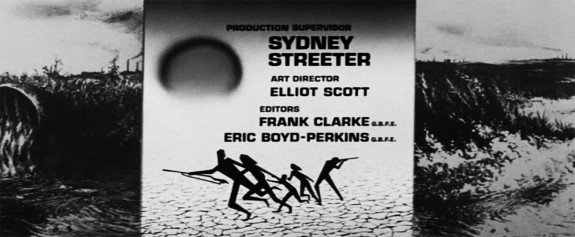 None of which lasts for long as the main protagonists flee the rioting city to try and reach the safety of a family member's remote farm. Which leads them to…
In the 1970s it often seemed to be wild gangs of bikers who were the recurring societal bogeymen who would take over when civilisation collapsed (John Christopher's Pendulum novel takes a similar line, Psychomania sees the bikers become undead countryside hoodlums). In No Blade Of Grass this is shown to once again be the case they're wrong uns and no mistake, en masse attacking refugees (although said refugees are shown to be no angels themselves)…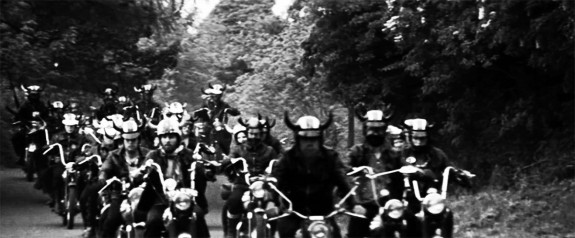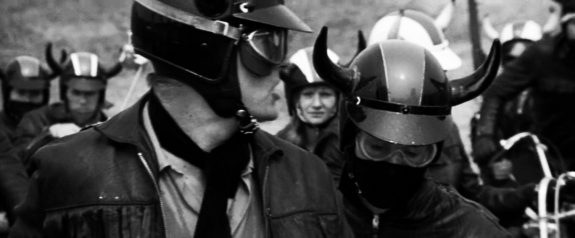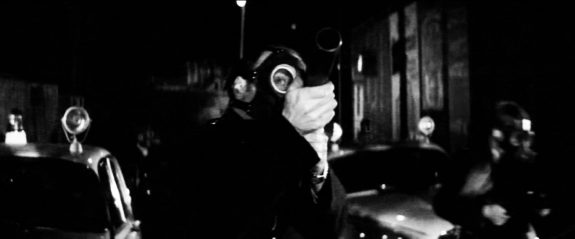 Meanwhile those sometimes symbols of bucolic English pastoralism, the good old tweed clad country farmer and the stone farmhouse become almost Deliverance style hijackers and scenes of troop insurrections (while in the cities the dependable British bobby has become an altogether different gas mask wearing, gun-toting symbol of authority)…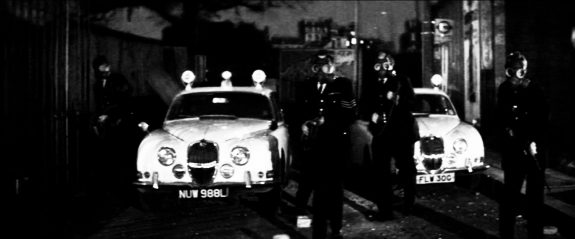 …and the spires of a land forever England now merely act as a backdrop to the chaos…
Although in some ways quite a mainstream, possibly even exploitation piece of cinema, throughout the film there are quite non-mainstream moments/presentation and commentary on what has led the world to this place… the action will stop and be replaced by non-narrative sequences and stills: fields full of carrion, rivers strewn with dead aquatic life, smokestacks framed by leafless nature, rows of discarded cars are pictured on riverbanks,  a luxury car is shown abandoned in the countryside, an advertising voice over saying "You can do anything in a Rolls-Royce" while the almost unnoticeable specs of citizens fleeing the rioting and looting mobs in the cities can be seen on the hill behind it…
…and negative frames and flash forwards show the horrors which have happened and are to come…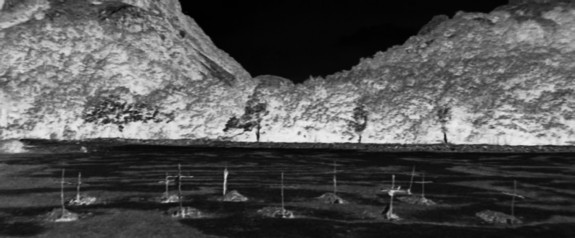 Over the years and different shores the novel The Death Of Grass has been sent out into the world in a fair number of different jacket designs… I think the film tie-in edition shown top left below wins a prize for being one of the book covers that I have come across during my A Year In The Country wanderings which gives me the heebie jeebies the most…
Find the most recent UK publishing of the novel here, the Archive Collection release of the film here, watch the trailer here, a selection of lobby cards and posters here and here.
…and the curiously out of place, upliftingly apocalyptic (two words you don't normally see together) theme tune by Roger Whittaker can be listened to here.