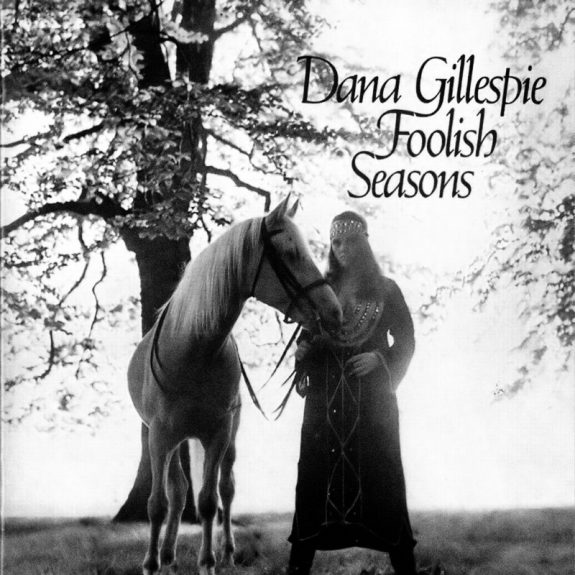 Dana Gillespie's Foolish Seasons is a curious song and album.
The aesthetics of the cover, which has more than a hint of Vashti Bunyan-esque style to it, made me think that the 1968 album was likely to be quite overtly folkish…
…rather, overall it is nearer to a kind of later 1960s mod-psyche-pop, although the title track does have a gentle lilt to it which leans towards folk rock of the time.
Listening to it now it seems like a link or transitional point between swinging London and the coming tastes for and exploring of folk from the late 1960s to early 1970s…
…or possibly folk by way of Nancy Sinatra singing Some Velvet Morning in 1967.
The style of the cover may possibly have been part of a later 1960s high-fashion take on folk that I have mentioned around these parts before (see the website Psychedelic Folkloristic, the 1970 film Queens Of Evil and Ossie Clarke/Celia Birtwell's later 1960s fashion designs for more on such things).
What the cover also put me in mind of was the style of what came to be known as freak folk, artists from the US such as Devendra Banhart and Devendra Banhart.
Curiously, although showing clothes of a particular period style, the cover now seems quite contemporary. I don't know if timeless is the right word but if it had been the cover to an album released in recent times by somebody who wished to reflect and evoke a particular time and culture then I would not have been surprised…
…which I suppose is possibly one of the effects of the borrowing, layering, revisiting, reinterpreting and atemporal nature of some of culture today…
(File Post Under: Cathode Ray & Cinematic Explorations, Radiowave Resonations & Audiological Investigations)
Audio Visual Transmission Guide:
Dana Gillespie's Foolish Seasons