I have written about the Texte und Töne releases before – they are something of a favourite around these parts: limited edition books and booklets, often accompanied by music on cassette or flexi-disc and designed by Rob Carmichael of Seen. They are printed using Risograph duplicators, which produce a tactile, very human and individual print quality that seems to exist somewhere between more conventional print reproduction finishes and screenprinting.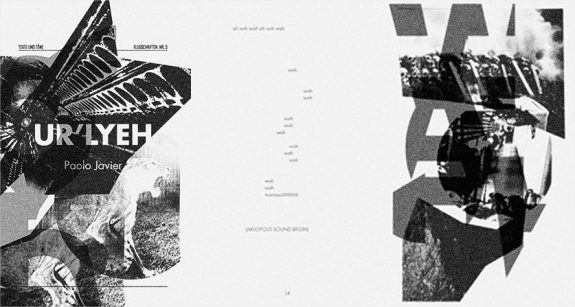 Previous publications have included two editions of The Edge Is Where The Centre Is, which focuses on David Rudkin's television play/film Penda's Fen, a collaboration between Paolo Javier and sometime Ghost Box Records/A Year In The Country fellow traveller Listening Center, Nothing's Too Good For The Common People: The Films of Paul Kelly and The Twilight Language Of Nigel Kneale.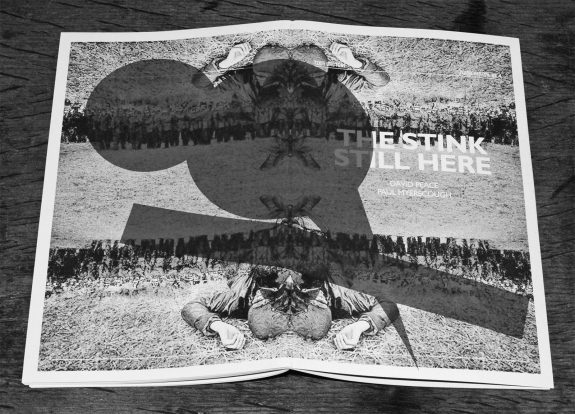 The Stink Still here was published in 2014 by Texte und Töne and is a 28 page booklet which contains a conversation between author David Peace and Paul Myerscough, who is one of the editors of the London Review of Books.
It focuses on the 1984-1985 Miner's Strike in Britain, which David Peace's wrote the novel GB84 about, a book which he has described as being an "occult history" of the 1984-1985 Miner's Strike in Britain, saying that he uses "the word 'occult' to mean hidden – but also as a play on the more grotesque aspects of the word":
"The dead brood under Britain. We whisper. We echo. The emanation of Giant Albion… Awake! Awake! This is England, Your England – and the Year is Zero."
(From GB84 and quoted at the start of The Stink Still Here.)
Within the booklet that conflict is extensively discussed in more political/theoretical terms but also it captures a sense of social and cultural history and the day-to-day effect on peoples' lives, alongside which David Peace discusses his personal recollections from the time of the Strike, his families' history in the mining industry and playing in a band that travelled during it to play gigs (I assume but it's not overtly expressed that those gigs were linked to Miner's benefits etc).

Connected to which, some of David Peace's earlier novels (which could loosely be described as being hidden history northern noirs) and leading up to GB84 used fragments of music lyrics for the titles of their different parts:
"Sex Pistols and Clash songs in Nineteen Seventy Seven; post-punk classics by Throbbing Gristle, the Pop Group, Psychic TV and Siouxsie in Nineteen Eighty and Nineteen Eighty Three… giving way by the end of Nineteen Eighty Three to Bonnie Tyler and then, in GB84, displaced entirely by chartpop earworms, Band Aid and Nena and George Michael and Frankie Goes to Hollywood." (Paul Myerscough in The Stink Still Here)
Something that struck me from the booklet was the discussion within it about the disparity between say the more alternative or cult bands who released records and played live in support of the striking miners and the popular chart music of the time/the music that would have been heard on the jukeboxes of for example pubs where the strike took place.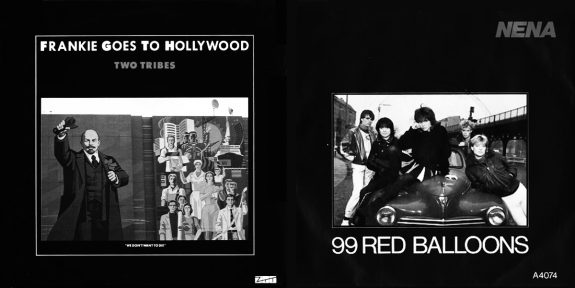 Which made me think that alongside the support of such more fringe, alternative bands, what the Miner's may well have also really needed in terms of wider support – both with regards to financial aid and winning hearts and minds – would have been for one of those commercially successful and widely broadcast "chartpop earworms" to have been overtly about and in support of their cause.
Frankie Goes to Hollywood's Two Tribes and Nena's 99 Red Balloons, singles released at a similar time to the strike in the UK, both had political conflict themes but they focused on the Cold War and potential nuclear conflict rather than what artist Jeremy Deller has described as "The English Civil War Part II".
(Which was the title of a book he curated that contained memorabilia, photographs and personal accounts etc of the Miner's Strike and also images from a re-enactment instituted by him in 2001 of The Battle of Orgreave, an infamous conflict from the Strike, with the re-enactment being carried out by  miners and police who had been involved in the Strike alongside re-enaction enthusiasts.)
To be continued in Part 2…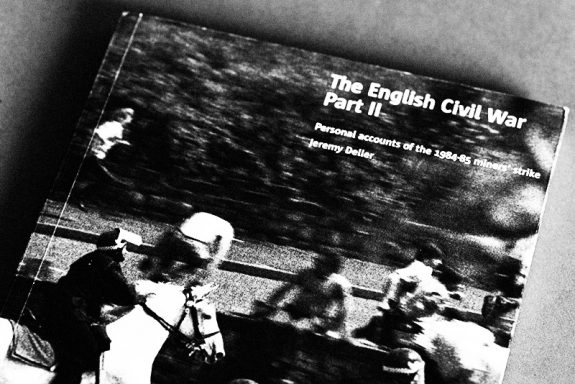 Elsewhere:
Texte und Töne
SEEN graphic design studio/Rob Carmichael
The archived details of The Stink Still Here: The Miner's Strike on Film event
GB84
The English Civil War Part II at Struktur Design
The English Civil War Part II at Cornerhouse Publications
Elsewhere at A Year In The Country:
Day #15/365. The Twilight Language Of Nigel Kneale
Day #78/365: Winstanley – Another Field In England
Week #31/52: The Quietened Bunker Archives #2; Songs For The Bunker – The Once Was Ascendance Of Apocalyptic Pop
Wanderings, Explorations and Signposts 2/52: Penda's Fen and The Edge Is Where The Centre Is – Explorations of the Occult, Otherly and Hidden Landscape
Wanderings, Explorations and Signposts 7/52: In The Morning I'll Be Gone, Orkney Twilight, GB84 and Edge of Darkness – Hinterland Tales Of Myths, Dark Forces and Hidden Histories