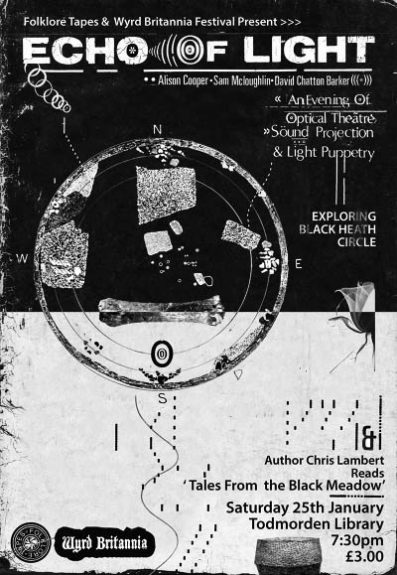 File under:
Trails and Influences: Recent Explorations. Case #4/52.
Field Trip Report: Case #1b, subsection Metropolitan Incursions.
Recently I wandered off from a small English dwelling to a larger English city and then a small English town to have a watch-see-hear-explore of various things. One of which was Tales From The Black Meadow and the collaborative Folklore Tapes Echo Of Light performance (these were part of the Wyrd Britannia Festival which I've mentioned earlier in A Year In The Country, see Day #9/365).
And well, blimey, I'm glad I did indeed wander off to those parts.
After sitting on the train in the dark with Saturday night revellers I stumbled blinking into the night of a strange town, accompanied by other travellers headed for the same location who I'd bumped into on the train…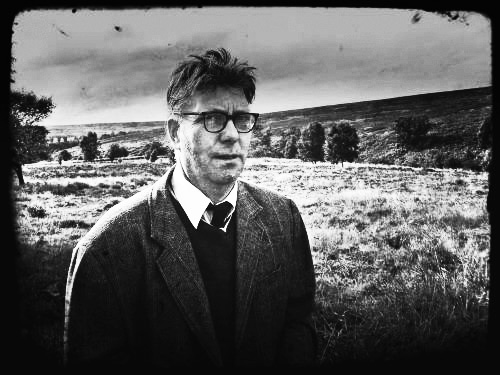 With scarcely a moment to take in the town we were at a lovely old library building where the event was taking place (and my fellow travellers were just able to gain entrance despite the night being sold out).
First up was Mr Chris Lambert, reading from his book Tales From The Black Meadow and informing us about this multi-faceted project which takes as it's starting point the tale of  Professor R Mullins who went missing in The Black Meadow atop the Yorkshire Moors in 1972.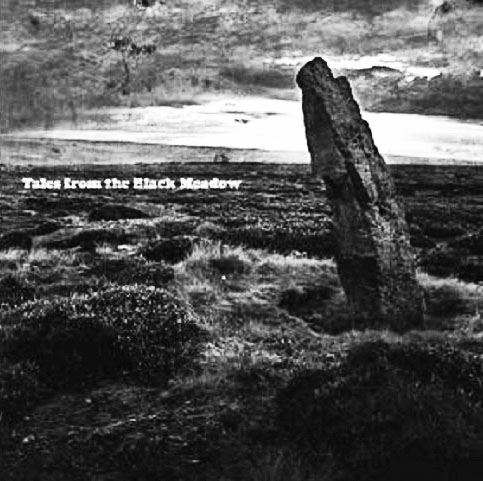 As a project The Black Meadow incorporates elements of folklore, Radiophonic Scores, semi-lost documentaries and the flickering cathode ray transmissions of a previous era; a creaking rural cabinet stuffed full of hidden and rediscovered government unsanctioned reports.
I'm curious to see where it wanders off to next as to date this growing and layered world incorporates a book of folkloric tales, an album, a documentary and archival material etc. Be careful on the moors…
Next in front of this very polite, appreciative and well behaved audience was Echo Of Light, presented by Folklore Tapes and featuring Alison Cooper (Magpahi), Sam McLouglin (Samandtheplants) and David Chatton-Barker (Folklore Tapes)…
And, well, what can I say. I don't know if I've ever seen anything quite like this. It has been described as incorporating the projectionist as pupeteer and having watched it, I think that is an apt description.
To an electronic and acoustic soundtrack of (I think) largely improvised music, two of the collaborators were only present behind a screen from which they essentially live-mixed/live-created a series of projections using a series of physical props, found natural materials and artwork, which in turn were also used to create some of the soundtrack.
Which means what? Well, at one point an old bird-cage was placed upon a wind-up gramophone turntable and then as it span it struck a series of prongs to create music… not dissimilar in its own way to the workings of a traditional music box but on a grander and more arcane scale.
Accompanying this was a traditional spinning wheel which also appeared to be creating music.
Still can't quite get your head around it all? Well, here are some photographs from the performance: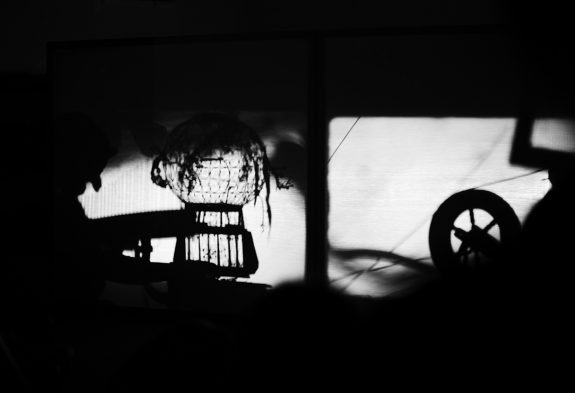 Alongside such things, there were also projections created which borrowed from the tropes and imagery of Folklore Tapes releases/world: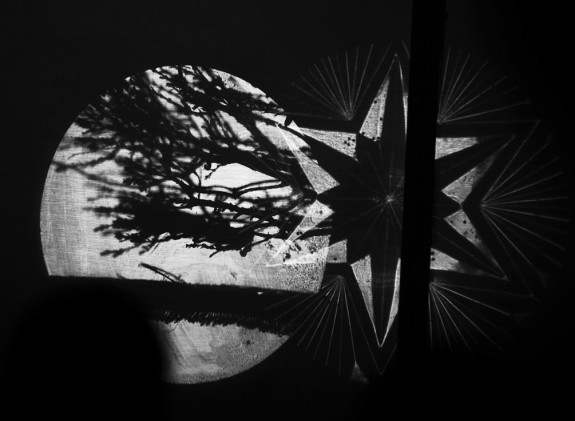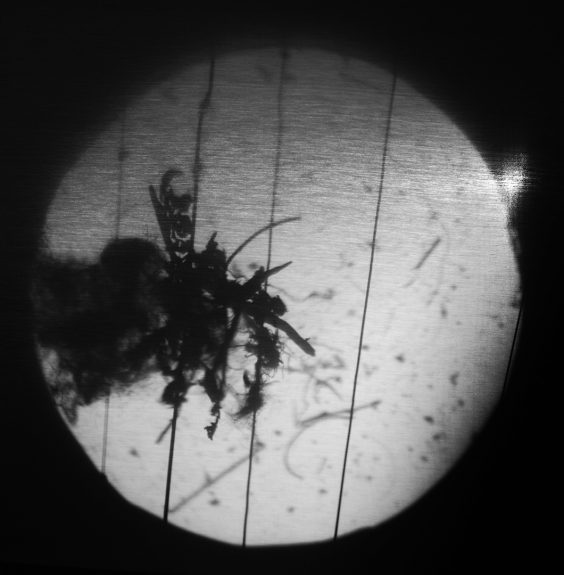 As a set of work it appeared to be an exploration of the hidden in nature and folklore which surrounds it (the pattern under the plough?).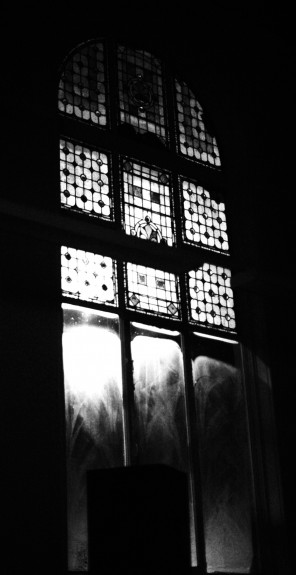 All in all, quite entrancing. I found myself lost in it all… and there was something about the glow from the grand old windows that seemed to fit with the performance.
But wait, that's not all. As I mentioned, this was part of the Wyrd Britannia festival, which took place around a set of libraries in Northern England.
…and as I've also mentioned before in A Year In The Country I have a particular fondness for libraries: they seem like centres of calm, civility and culture in a rapacious landscape.
And, as I've mentioned before, I often get a sense that whoever is picking the stock for them has a good eye and ear for left-of-centre culture.
This is just one of those times. Organised by James Glossop who I assume also works for the libraries (?)…
The festival was actually to celebrate the relaunch of their Wyrd Britannia collection and boy-oh-boy do I wish this was my local library.
Out on display was a selection of items from the collection…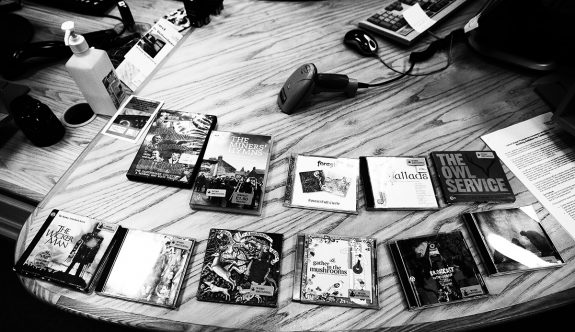 So, surrounded by the paraphernalia of a librarians work above we have Quatermass, The Miners Hymn, lost acid folk band Forest, The Owl Service's fine album The View From A Hill (see Day 30 of A Year In The Country), The Wickerman soundtrack, Trembling Bells, Broadcast and the Focus Group Investigate Witch Cults of the Radio Age and A Year In The Country starting point Gather In The Mushrooms compilation (see Day 3 of A Year In The Country).
Well, blimey again, it's like half of my record collection has been snaffled and made available for public use.
But wait, there's more again…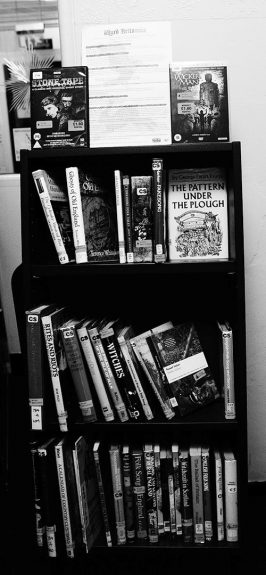 And that's before we get to the books that are part of the Wyrd Britannia section. I think those involved have been delving in the libraries dusty-storage rooms to find all kinds of long neglected tomes…
So, if you look closely you will see Bob Pegg's (he of the-darker-shade-of-folk band Mr Fox) Rites and Riots, a whole other slew of books on folklore and song, various selections of witchery, The Pattern Under The Plough, Alan Garner once or twice and a particularly intriguing looking The Cylinder Musical Box Handbook.
(Looking inside the Bob Pegg book, it was taken out in 1989 and then once in 2012. There was something about the passage and lost-in-time-ness of that which quite appealed.)
Just to add the icing on the cake, the Wyrd Britannia book selection had a double topping of The Stone Tape DVD and the 3-disc Final Cut reissue of The Wickerman.
This just looked like a great library. Aside from the delights above, as I wandered around I kept seeing other swathes of culture that I wanted to delve into. I just wish that I'd had enough time to look around while the library was open.
Ah well, another time.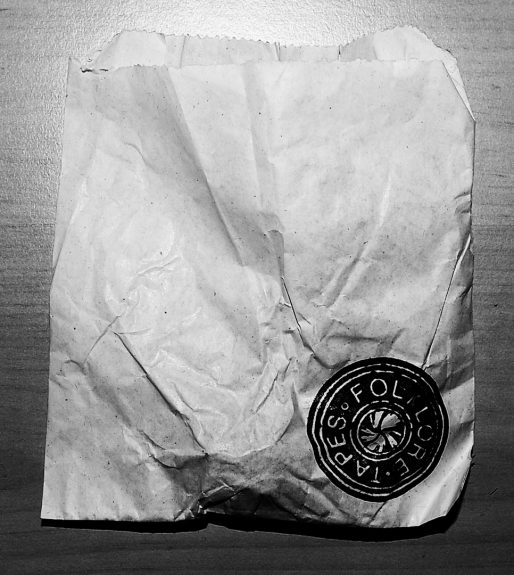 As a final note, attendees went away bearing what can only be described as a Folklore Tapes artifact/goodie bag and a Tales From The Black Meadow bookmark.
Well, you can't say fairer than that.
A tip of the hat to all concerned. Thanks and cheers.
PS The trailer below was on the railway platform, which seemed kind of appropriate to the night in some way: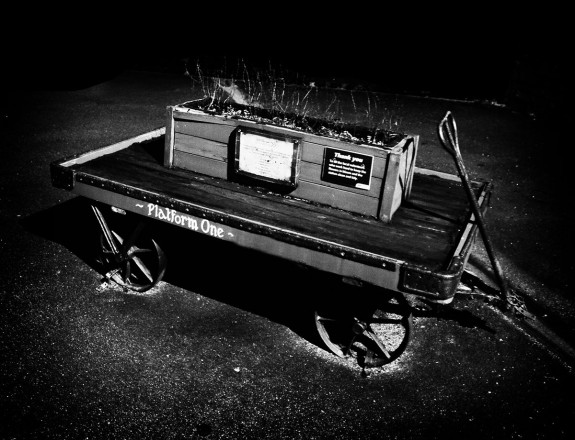 Various pathways and cultural breadcrumb trails:
Folklore Tapes, Tales From The Black Meadow, Wyrd Britannia Festival, Wyrd Britannia Festival in the social ether, Wyrd Britannia Festival library site, Magpahi, Samandthepplants.