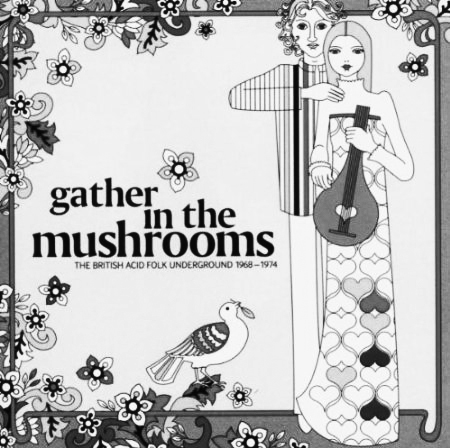 While wandering down the A Year In The Country path, there have been an awful lot of cultural reference points which have inspired, influenced and intrigued me (the three i's as it were).
Part of A Year In The Country will be dropping a trail of breadcrumbs that start off with those three i's and may well lead you good folk elsewhere.
This is the first of these here Trails and Influences…
File Under:
Trails and Influences: Touchstones. Case #1/52.
Where to start. Well, near the beginning is a good place…
A few years ago for a while I had quite a few of one of my friends records and CDs stored at my house.
In amongst his platters and shiny digital discs he had quite a few folk albums. Now, to be honest I think I had tended to write folk off as all being a bit fiddle-di-di, knit your own jumper, earnest kinds of things.
I was drawn to this album, gather in the mushrooms and I'm glad I was. I knew next to nothing about the music, hadn't read the sleevenotes but for some reason it had ended up on my iPod.
The first time I can really remember it grabbing me was on a late night walk through the mostly deserted backstreets of a slightly industrial city. A curious place to discover an interest in oddball folk music maybe…
I think it was Forest's Graveyard or maybe Trader Horne's Morning Way that first grabbed my attention and made me realise that something other than my preconceptions about folk music was going on here. The first lines on Morning Way are "Dreaming strands of nightmare are sticking to my feet…", followed close after by a somewhat angelic female voice in counterpart and well, I thought "This is odd, I like this…"
And so, in those darkened semi-industrial backstreets, some kind of journey started.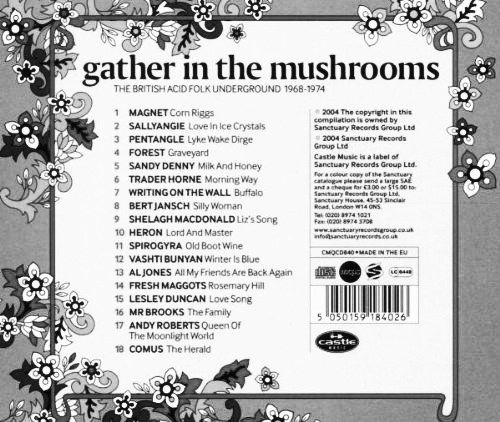 It's a fine compilation by the way. It's sub-titled The British Acid Folk Underground 1968-1974 and well, it does what it says on the can.
It was compiled and rather well curated by Bob Stanley of St Etienne, with sleeve notes by him (which once I eventually bought it and read them, I think I found slightly, hmmm, not quite as satisfying or comprehensive as they might have been… top compilation otherwise though Mr Stanley).
Highlights? Well, for me it's one of those albums where there aren't all the many low-lights. It's all worth a listen but in particular I would recommend:
Magnet: Corn Riggs; an instrumental version from The Wicker Man soundtrack.
Sallyangie: Love In Ice Crystals; a rather young Mike Oldfield and his sister in a pre-Tubular Bells incarnation.
Pentangle: Lyke Wake Dirge; their haunting take on a traditional song.
Forest: Graveyard; ethereal gothic folk as a genre anybody? For a long time I thought the singer was female.
Trader Horne: Morning Way; the start is just superb, features Judy Dyble, originally a singer with Fairport Convention.
Comus: The Herald; well, this probably actually is gothic folk or maybe macabre folk. Epic and unsettling.
Well, it goes on and on really. There's even a Sandy Denny track, Milk and Honey, that's quite lovely (sorry, I know she's greatly loved but I normally find her singing leaves me a little cold).
It was released in 2004, which I think looking back probably around the time that there was something of a revived interest in the odder reaches of folk, in part due to the popularity of folk such as Devendra Banhart and Joanna Newsom were popular and Vashti Bunyan was being rediscovered by a wider audience.
Anyway, unfortunately it's out of print but can still generally be found for around £10-20 of your well earned pounds. If you wish to have a look-see, you could start here at the old Amazon: Gather In The Mushrooms or Discogs etc.
There was a follow up album released a year or few after: Early Morning Hush; Notes From The UK Folk Undeground 1968-1976. In parts it has a look-see at privately pressed folk albums from that time. For my ears it's not quite as superlative as Gather In The Mushrooms but still well worth a listen. Maybe more about this album in a future Trails and Influences.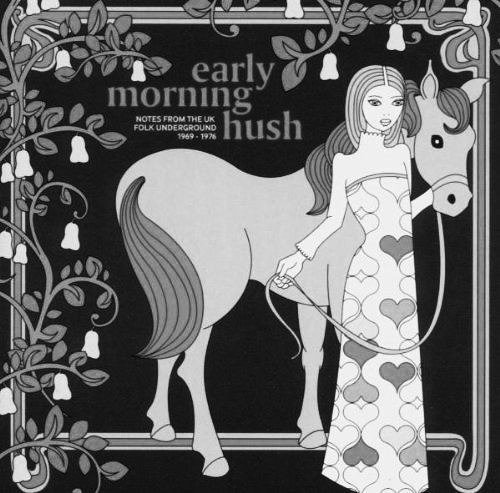 If you should wish to purchase it, you could start a-looking on Amazon… Early Morning Hush or Discogs etc.
File Under:
Trails and Influences: Touchstones. Case #1.