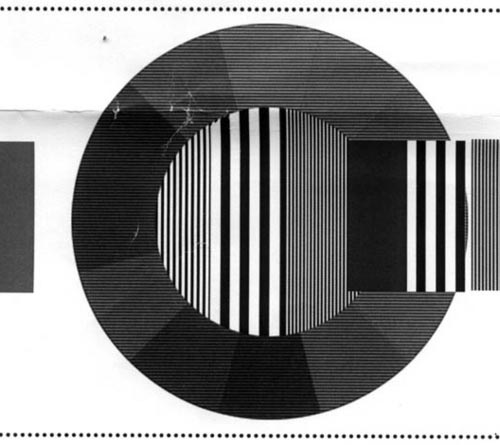 Trails and Influences: Electronic Ether. Case #21/52.
This is a page about a rather draconian deletion of the phrase hauntology when used to refer to a genre of music on probably the electronic ether's most popular encyclopedia. Below is the text of the discussion leading to that deletion.
Wikipedia:Articles for deletion/Hauntology (musical genre)
From Wikipedia, the free encyclopedia
< Wikipedia:Articles for deletion
The following discussion is an archived debate of the proposed deletion of the article below. Please do not modify it. Subsequent comments should be made on the appropriate discussion page (such as the article's talk page or in a deletion review). No further edits should be made to this page.
The result was delete. Consensus is to delete — PhantomSteve/talk|contribs\ 14:19, 8 March 2010 (UTC)
Hauntology (musical genre) [edit]
Hauntology (musical genre) (edit | talk|history | links | watch | logs) – (View log • AfD statistics)
(Find sources: "Hauntology (musical genre)" – news • books • scholar • images)
Neologism made up by one reviewer. Ridernyc (talk) 04:50, 1 March 2010 (UTC)
• Delete hoax Shii (tock) 16:22, 1 March 2010 (UTC)

• Note: This debate has been included in the list of Music-related deletion discussions. — • Gene93k (talk) 01:08, 2 March 2010 (UTC)
• Delete – Hauntology is not commonly considered a musical genre. Therefor hauntology (musical genre) should be deleted and not (!) redirected. gidonb (talk) 21:34, 2 March 2010 (UTC)
• Merge and redirect to Ghost Box Records. Almost the whole thing could be comfortably placed in the "Aesthetics" section with little modification. — Gwalla | Talk 21:55, 2 March 2010 (UTC)
Why would we take unsourced information from here to expand the unsourced information there? Ridernyc (talk) 23:14, 2 March 2010 (UTC)
• Comment From what I could find, the very existence of hauntology as a musical style is rejected by the relevant musical community. This community claims that what is described as hauntology is an effect at most. Between the strong "hoax" and light "unsourced", I think the term "fringe POV" covers hauntology (musical genre) best. In either case, the combination of hauntology with the words musical genre and the contents of this article are misleading and should be deleted. gidonb (talk) 00:38, 3 March 2010 (UTC)
• Delete Totally subjective and undefinable and unsourced term for another music sub genre. Guyonthesubway (talk) 19:09, 3 March 2010 (UTC)

• Delete. It definitely seems to lack notability. I looked at the fifth reference, and IT SOURCES WIKIPEDIA! Ha, what a joke for that to be cited on wikipedia. Backtable Speak to meconcerning my deeds. 00:49, 8 March 2010 (UTC)

• Delete The sources citated actually indicate pretty clearly that it is not a musical genre and that it is a neologism.–SabreBD (talk) 10:28, 8 March 2010 (UTC)
The above discussion is preserved as an archive of the debate. Please do not modify it. Subsequent comments should be made on the appropriate discussion page (such as the article's talk page or in a deletion review). No further edits should be made to this page.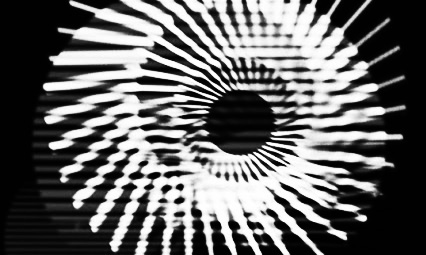 I would say the "Consensus it to delete" is a touch erroneous. If not a little dictatorial. And as Simon Reynolds (via whom I discovered this) points out, those doing the deleting have taken a fair few steps to make sure their own work is not deleted or modified. Do as I say and not as I do…
Just as with the above deletion via consensus, a larger mass of consensus does not necessarily mean something is correct but type the word hauntology accompanied by the word music into a search engine and you're likely to get about 60,000 pages to look at.
That would tend to imply that there is not a "Consensus is to delete" in the wider world, at the very least there is a "Consensus is to discuss, explore, consider, create and debate".
So, maybe rather than deleting the whole notion, making the debate around whether it exists part of its page would have been a more reasonable or culturally democratic thing to do.
Although it's hard to definitely define what hauntology is, it has become a way of identifying a particular kind of music and cultural tendency. It's fluid, loose and not strictly defined but if I was to talk about…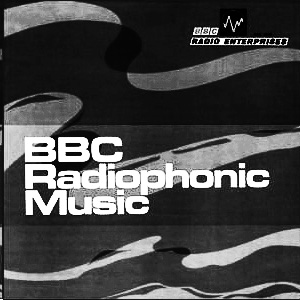 1) Music and culture that draws from and examines a sense of loss of some kind of utopian, progressive, modern(ist?) future that was never quite reached…
2) A tendency to see some kind of unsettledness and hidden layers of meaning in Public Information Films, TV idents and a bit too scary/odd for children though that's who they were aimed at TV programs from the late 1960s to about 1980 (think The Owl Service, Children Of The Stones, The Changes)…
3) Graphic design and a particular kind of often analogue synthesized music, that references and reinterprets some forms of older library music, educational materials and the work of The Radiophonic Workshop…
4) A re-imagining and misremembering of the above and other sources into forms of music and culture that seem familiar, comforting, unsettling and not a little eery, ones which are haunted by spectres of its and our cultural past (to loosely paraphrase Jacques Derrida or I expect to loosely paraphrase others paraphrasing Jacques Derrida)…
…well, I think that a reasonable number of studiers and enjoyers of a particular subsection of culture would probably think I was talking about hauntology and heading in the direction of the likes of Ghost Box Records, Mordant Music and the like.
I've never really had a problem with subcultural genre labels, as long as they're not used to enforce unmoveable, restrictive, unevolving cultural norms and regulations (and as I think I've said before, at the very least they can make it easier to navigate records stores, whether of the scarcer bricks and mortar variety or the more intangible digital ones).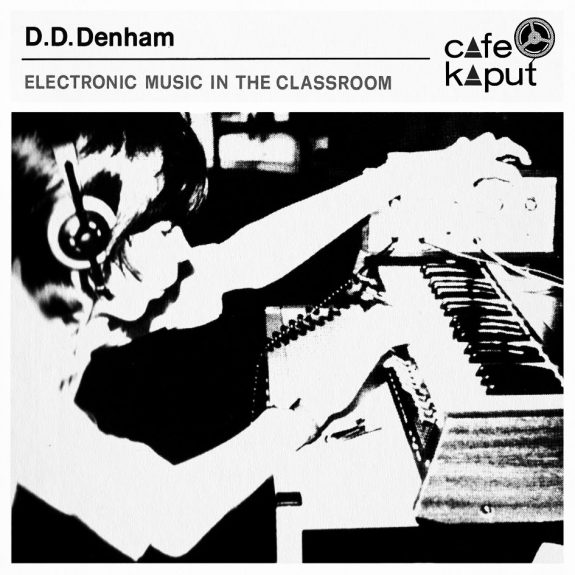 At the same time as setting out a group of hauntological cultural pointers above, I don't think that the formation of overly strictly defined and defining cultural definitions is the case with what has come to be labelled hauntology.
Though those who have been identified as its practitioners often had a well defined vision of their esoteric world and culture before being labelled as such and although there may be some common threads and shared sensibilities in this (debated) genre, it has retained a fair degree of cultural and aesthetic diversity.
A quick peruse of the aesthetics and visuals to be found in the eldritch educationalism of Ghost Box Records, the playful psychedelic whimsy of Blank Workshop and the occult, hidden history experimentalism of Demdike Stare, all of which have at one time or another been labelled hauntology, I expect will easily demonstrate that diversity.
In one of William Gibson's books there is a discussion between two characters about how subcultures were once a place where society went to dream but they have died out because we began to pluck them too early, to shine the spotlights of media attention and mainstream cultural market forces on them too quickly before they had the time to fully develop and gestate.
Today such things which have been able to fully bloom are rare and precious.
In light of that in a way I think it's possibly good to celebrate when a subculture has had the vision of its participants coupled with space and time to gestate and so has been able to develop into what can be identified as a genre, one which has its own characteristics and world view as uniquely as something like Ghost Box Records and some of the cultural endeavours that have been labelled hauntology.
Because of that space, time and vision the resulting culture has proved particularly hardy from those spotlights of attention and has not been diverted or subsumed from its path; it has been able to be a small cultural plot of land where you can go to dream or at least let your mind wander.
Thanks to Simon Reynolds, via whom I first found out about this deletion (who was tipped off by someone called Pete Diaper). You can read his full text about it here and here. You can see the original page about the "Consensus is to delete" here.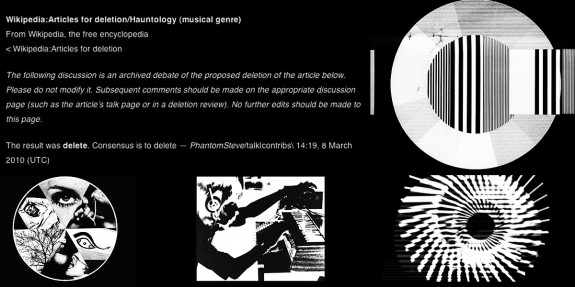 PS All the images on this page/post/day were taken from an electronic/digital search using the words hauntology and music.
PPS Re-reading the original text about the deletion of the genre again, it made me smile because it reads like it could be some form of background text or discussion in a cyberpunk novel from the earlier days of that cultural form…
…and what with many of the ideas of cyberpunk/cyberspace and zipping around the electronic ether having become part of everyday life rather than new, cutting edge cultural/technological developments, the text/discussion/deletion in itself has come to feel a little like a piece of hauntological work and could be said to be haunted by spectres from a cultural past…