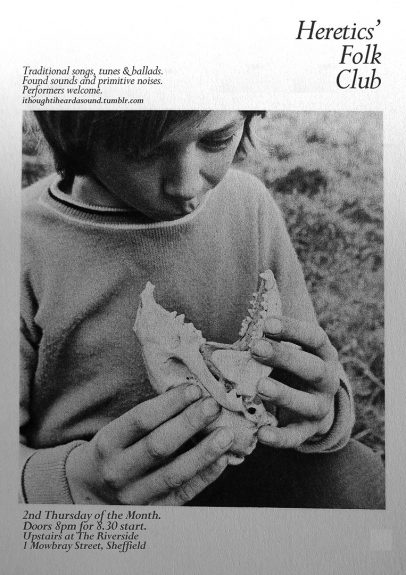 File under:
Trails and Influences: Recent Explorations. Case #5/52.
In my wanderings through the non-analogue fields of the internet, I came across a rather intriguing new event…
The Heretics Folk Club is a monthly event in the fair city of Sheffield and to quote their good selves on their site it is a place which:
"Welcomes balladeers, hauntologists, super-8 soundtracks, audio-archaeologists, analogue electronics, sound artists, field recordists, ethnomusicologists, occult circuit-benders, traditional dancers, drones and free noise."
Well, right up my strasse indeed.
The night will be feauring a fine selection of performers; thus far confirmed over the coming months include Bo'Weavilist C. Joynes, recaster and cherisher of folk traditions Sharron Kraus, Ms Kraus collaborators The Big Eyes Family Players, unearthers of transmissions from an otherly history English Heretics and spinner of wordless stories Nick Jonah Davis.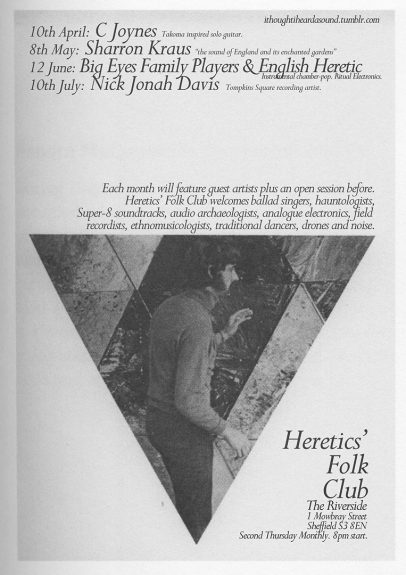 As a way of lineage and background, the proceedings are presented by I Thought I Heard A Sound, who previously hosted an event as a part of the Sensoria Festival which was a wandering through and "examination of the psychedelic and visionary elements of folklore and traditional music"…
That particular gathering included Jeanette Leech (author of Seasons They Change), Trembling Bells, Arianne Churchman (Psychedelic Folkloristic – see Day #36), a broadcasting of Mr Nigel Kneales The Stone Tape and Mark Goodall (who presented the Timecode: Hauntology 20 Years On conference and is the author of Gathering Of The Tribe).
Well, all I can say is curiousity piqued around these parts. Time to find my walking and wandering shoes.
Along which lines…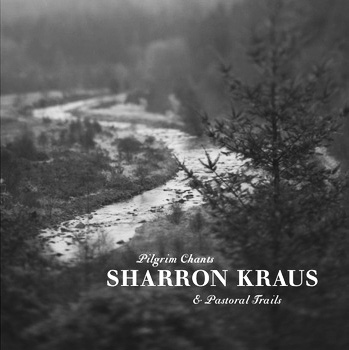 Following a set of breadcrumbs and pathways from the above gatherings, I revisited Sharron Kraus' work and came across her relatively recent Pilgrim Chants & Pastoral Trails album and the accompanying Nightmare collection; these are magicboxes of music, recordings literally from the fallows of personal passions and field trips; I was positively entranced and may well be returning to them in these pages…

…that lead me to Second Language Music who released those albums out into the world via some rather fine, exquisite packaging…
…which lead me to Martin Masai Andersen/Andersen M Studio who put together the artwork/packaging (and who have worked with 4AD collaborator and creator of textural delights Vaughan Oliver, who I suspect somewhere along the line has influenced some of the aesthetic of A Year In The Country)…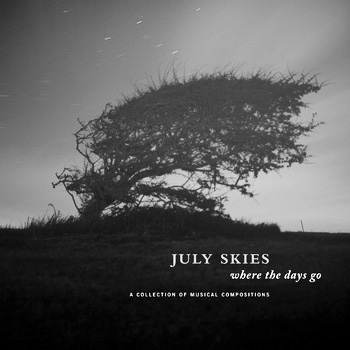 …which lead me interestingly back to points where I have stopped for refuge and succour along the way to A Year In The Country… creator of her own very particular world and work KatIe Jane Garside and Wayside and Woodland cohort July Skies (both of which Anderson M Studio have worked for)…
It's interesting how, as I wander through this year in the country, I discover that so many things which have intrigued, influenced and inspired me are interconnected or only one step or so away from one another…
Some trails and Pathways: Heretics Folk Club, Sharron Kraus, Second Language Music, C. Joynes, Big Eyes Family Players, English Heretic, Nick Jonah Davis, Timecode #1, Timecode #2, July Skies, Wayside and Woodland, Andersen M Studio.
And Ms Garside? Well, I expect a fuller consideration shall be arriving forthwith…