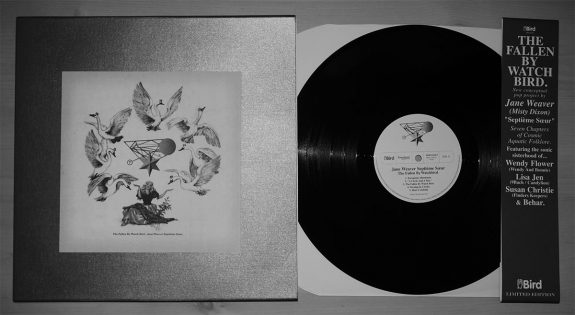 Jane Weaver Septième Soeur's The Fallen by Watchbird album, released in 2010 jointly by Bird / Finders Keepers Records, was one of the early reference points and inspirations for A Year In The Country, along with The Owl Service's revisiting and reinterpreting of traditional folk on The View from a Hill, the enigmatic cut-ups and melodies of Broadcast and The Focus Group Investigate Witchcults of the Radio Age and the acid folk compilation Gather in the Mushrooms.
The Fallen by Watchbird is a loosely defined concept album of "cosmic aquatic folklore", which takes as its themes telepathy, technology, lost-love, wiccan, war and watchbirds. It is part of a multi-faceted project that also included, amongst other things, an illustrated fiction book, poster, video, a "sequel of sorts" album of remixes / reinterpretations and a mixtape album.
As I said in the first year of A Year In The Country, it is resolutely avant garde in concept and influences but also works well as a pop record and has a fair few very "hummable tunes". A form of conceptual non-populist pop, to use the phrase which would be used in the notes which accompanied The Eccentronic Research Council's 1612 Underture, that was also released by Bird / Finders Keepers Records.
The influences on The Fallen by Watchbird have been listed as Germanic kunstmärchen / fairy tales, 70's television music and early murmers of 80's synth pop. And in particular Eastern European children's cinema, including an unsubtitled copy of Malá Morská Víla (The Little Mermaid), which if you should ever see it has some beautiful, entrancing and phantasmagoric imagery, some of which is a direct influence on the video for The Fallen by Watch Bird's title track
Anyways, well worth seeking out and something of a treat to revisit.
The original post published during the first year of A Year In The Country: