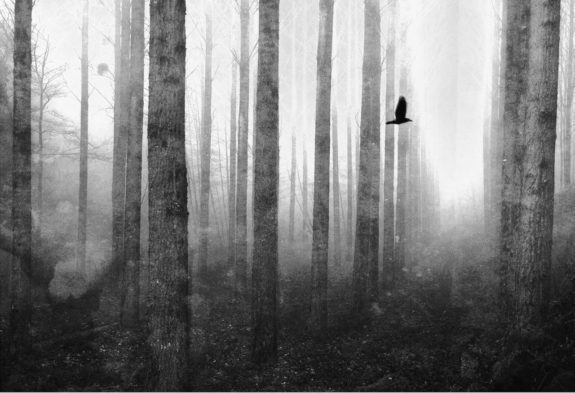 A while ago I came across Lisa Bond's photographic art and initially on a first guick glance, without reading anything about it and having seen only a few pieces of her work, I thought they were a form of illustration, when in fact they are created in part through, I think, collaging photographs, in camera techniques and possibly also some illustration.
There is an interesting layering and interweaving of atmospheres in the images; they capture the beauty of rural areas but are not merely traditional images of it, rather they create an often haunted landscape that is both entrancing and at times subtly, quietly unsettling.
There is also a textural quality to them which, while they have their own character, puts me in mind here and there of some of the work that graphic designer Vaughan Oliver and photographer/filmmaker Nigel Grierson did between 1983-1988, often for the 4AD record label.
Many of the images are available as very reasonably priced gicleé prints (i.e. they are printed with archival and fade resistant inks), fine art cards, tea cups (yes please!) and, in a manner that seems wonderfully incongruous and a coming together of different worlds, phone and tablet cases.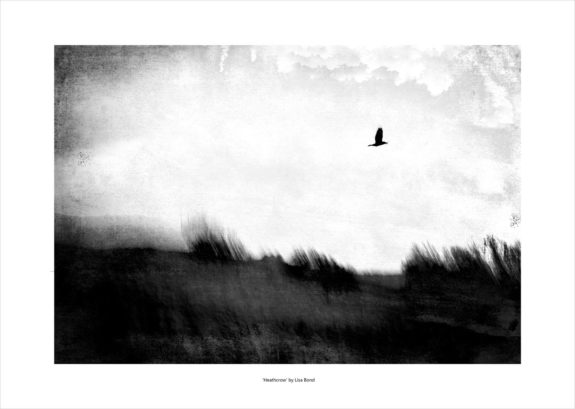 The text below is taken from her website, where she talks about her inspirations, intentions, processes and so on:
"Inspired by witchiness, folklore and the darker side of nature, [my work] encompasses deep-inked illustrative captures of ever changing, resilient weather beaten landscapes. I have emphasised extreme emotions ranging from negative space to elements of claustrophobia.
My inspiration did not just come from spending time in the landscapes I feature; intertwined is my internal soundtrack, and how a place makes me feel and sets my imagination free. I wanted to heighten the mood and take you to the place of my inner soundtrack rather than just portray a 2D version of the landscape in front of me. Although I appreciate the technical brilliance of the more traditional landscape photography, it doesn't make my heart sing or require a second glance.
I want people to 'peer' curiously at my work and hopefully invoke an emotional response or attachment to a place from their own memories or imaginations… As a… lover of the 'other', I explore our relationship with nature and our sense of place. My emphasis is on intimacy; creating multi-layered visual stories to evoke memories of place…
I want my work to reflect my interactions with the world – the ethereal, and the bewitching. My tendency is to sway to the dark side, whilst loving the light.
For [The Spellbound] collection of prints, framed prints, cards and enamel mugs, I was inspired by the enigmatic and ever changing landscapes, especially the windswept, wild Yorkshire moors. All black and white, with a finish like an inked illustration.
For me, these are bewitching visions and bring to my mind the work of Kate Bush, Stevie Nicks, Emily Bronte, Edgar Allan Poe, The Unthanks, along with myths and legends. An eclectic mix of artists and folk story, but all share a touch of the dark in their own ways."
Links: