"Alison Cooper, who often records under the name Magpahi, creates work which feels as though it exists in and has tumbled from an indefinable fabled time and place of its own creation, work which at times seems to have been created by or also tumbled from arcane and lost music boxes.
Her recorded work includes the tremulously vocalled acid or psych-esque folk on the Magpahi EP compilation, released by Jane Weaver's Bird Records in collaboration with Finders Keepers Records in 2008, which is a gathering of imagined poems and tales told in folk music refracted through a filter of woodland fantasia.
The creation and transporting of its listener to an unknown or unknowable place can also be found in her more folk-orientated work as Magpahi on the album Watchbird Alluminate from 2011 where songs from Jane Weaver's Fallen by Watchbird album released in 2010 are reimagined or reinterpreted, on which Magpahi reinterprets "My Soul Was Lost, My Soul Was Lost and No-One Saved Me", imparting an otherworldly fabled atmosphere to the song."
"On Devon Folklore Tapes Vol. IV – Rituals and Practices, released by Folklore Tapes in 20122 Magpahi's contribution includes leftfield glacial otherly and exploratory folk pop, instrumentals and wordless singing as though captured by far away dusty recording mechanisms; in spirit it may not be a million miles away from work that say Broadcast or Cat's Eyes might have created for the insular dreamscapes of Peter Strickland's films."
"As Alison or A. Cooper and collaborating with fellow sometimes Folklore Tapes collaborator and co-founder of the Hood Faire record label Sam McLoughlin, she has released two volumes of folkloric soundscapes called Natural/Supernatural Lancashire and Supernatural Lancashire Volume Two, released in 2009 and 2013 respectively by Finders Keepers Records.
These are largely instrumental works (though just occasionally her voice will fleetingly appear) which create a soundtrack or an audiological tribute to the northern British Lancashire landscape and its stories…
However, neither part is a straightforward pastoral view and on the Natural Lancashire side you can be immersed in the wheezing almost carny previous era world of "Stream Power" one second and then transported to the meadows via "Edder" the next."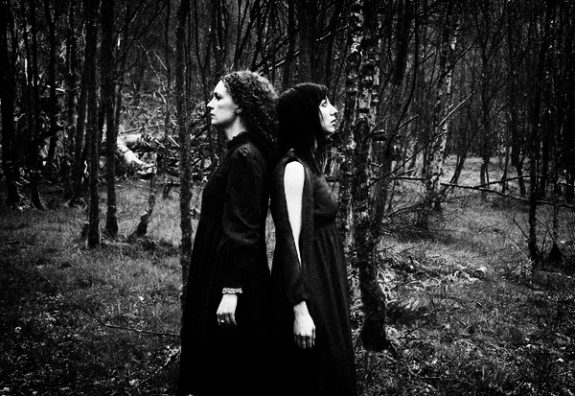 "Alison Cooper has also released work in collaboration with Gwendolen Osmond as Crystal Mirrors on a joint Folklore Tapes/Hood Faire released cassette in 2014, alongside contributing tracks as Magpahi to the compilation Mistletoe & Cold Winter Skies released by Was Ist Das? in 2014 and several A Year In The Country released themed compilations including The Forest/The Wald in 2016 and All The Merry Year Round and The Quietened Cosmologists in 2017."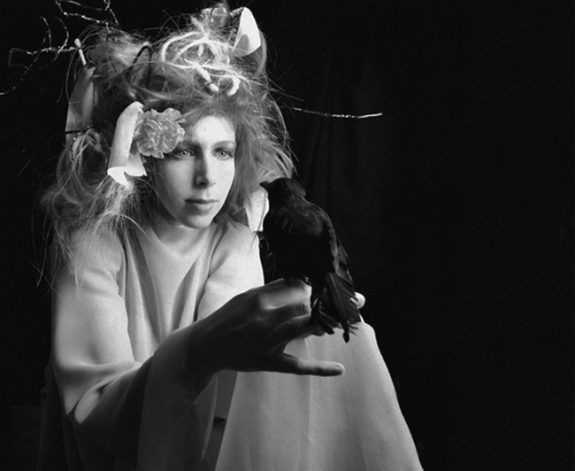 "The Magpahi EP, Natural/Supernatural Lancashire, Supernatural Lancashire Part Two and Watchbird Alluminate were all released by Finders Keepers Records or its collaborative sister label Bird Records, which is run by musician Jane Weaver.
Both labels have proved to be a home for various often female-led or sung explorations of music that could very loosely be connected to folk but which wander amongst their own particular landscape of such things.
This has taken in both modern, newly created work and also the release of archival material such as "O Willow Waly" by George Auric taken from 1961 film The Innocents which was released on 7" by Finders Keepers in 2013.
Sung by Isla Cameron, it could be considered a precursor to the folk horror and soundtrack of the likes of The Wicker Man film from 1973 in the way that it draws from traditional music tropes to create beguilingly entrancing music which also summons a sense of the "other" out amongst rural climes."
"Devon Folklore Tapes Vol. 4 – Rituals and Practices, as mentioned earlier was a split release by Magpahi and fellow Bird Records-released Paper Dollhouse, whose 2012 album A Box Painted Black is an experimental piece of music but as with much of Magpahi's work it also contains an accessibility and/or a left field folk-pop sensibility.
This album was made by Astrud Steehouder working as solo artist; it has been described as "dark gothic minimal folk" and at the time she listed her influences as:
"…bewildering post nuclear landscapes, bleak fields, forests, thunderstorms and archaic industrial objects in the middle of nowhere…"
As with Magpahi's work, the album seems to belong to a time, place and landscape of its own. It comes across as having been recorded in some semi-lost wooden cottage, in an indefinable place and time and the noises and creaks of its habitat have seeped in and become part of the very fabric of the music."
"Paper Dollhouse in part take their name from the intriguing rurally-set 1988 film Paperhouse and its themes of childhood dreams and nightmares of drawings come to life, which was previously made as a television series in 1972 called Escape into the Night, with both being based on Catherine Storr's 1958 novel Marianne Dreams."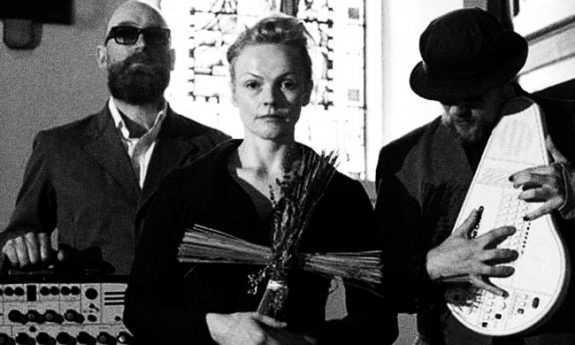 "Bird Records also released the 2012 album 1612 Underture by The Eccentronic Research Council. This was a collaborative work by Adrian Flanagan and Dean Horner, who had previously worked in the fringes and left-of-centre areas of electronica and electronic pop via the likes of Kings Have Long Arms, Add N To (X) and I Monster, alongside renowned actress Maxine Peake."
"1612 Underture is a concept album which takes the form of a spoken word, soundtracked travelogue play, one that sometimes moves into more overtly song based moments; it is said to be "one part political commentary and feminist manifesto and two parts theatrical fakeloric sound poem".
The album's subject matter is the historical persecution of the Pendle Witches in the early 17th century and as suggested by the word "fakeloric" in the album's description, throughout its observations on a contemporary voyage of discovery and pilgrimage it also interweaves historical events, folklore and imaginings and reimaginings of past events.
During the telling of its stories the album draws more than a few analogies with modern-day times: moral panics, folk devils and economic/ political goings on and shenanigans then and now. All of which are wrapped up in a warm, woozy, acoustic and synthesized analogue take on hauntological folk music, primarily voiced by Maxine Peake."
"The album was accompanied by an extended accompanying video/ film by kluncklick (who also worked with Jane Weaver on her The Fallen by Watch Bird album from 20105).
This is rather slickly done on a (presumably) shoestring and handful of pennies budget.
Although using footage of actual people, it is not dissimilar in a way to a semi-animated children's programme from years gone by, while also reminding us somewhat of Chris Marker's film La Jetée (1962) in that it is built up largely from still images rather than traditional movement.
You could call it a fumée: the comic strips that are put together using actors or the book adaptations of films that were made up of stills that in previous decades were published fairly regularly.
While the album's themes are quite serious and it is experimental in spirit, this is also a record which is deeply rooted in electronic pop and has been called non-populist pop.
"Another Witch Is Dead" is pop music, unabashedly so, including ear worm-like choruses, in particular the rhyming couplet "It's a middle class vendetta, on women who are better", which is a fine piece of class-related lyricism.
Today, often even within more leftfield music, it is relatively unusual to hear overt comment on class politics and relations and so in this sense 1612 Underture is somewhat refreshing. It also considers analogies with previous era's magic and belief systems and that of today, describing mobile phones as being "modern-day magic on a monthly tariff ".
Online images to accompany Chapter 35 of the A Year In The Country: Wandering Through Spectral Fields book, alongside some text extracts from the chapter:
Details of the A Year In The Country: Wandering Through Spectral Fields book and the collection of its accompanying online images can be found at the Book's Page, which will be added to throughout the year.