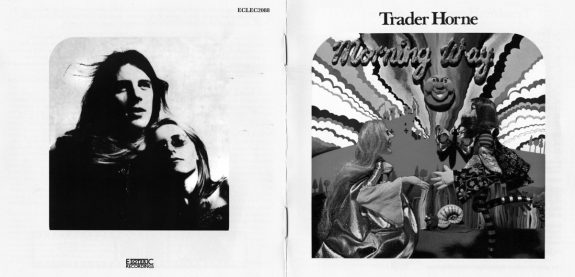 File under: Trails and Influences: Touchstones. Case #33/52.
Well, this is something of a hop, skip and step back to near the start of the year…
Morning Way by Trader Horne, as come upon by my good self amongst the oft-overlooked treasures of Gather In The Mushrooms (see below)…
To my mind and ear this particular song is something of an apotheosis of all things that have come to be known as acid/psych folk.
It sits just at a particular point at the very end of the 1960s/very start of the 1970s and in amongst its notes there is a crystalline purity of a heady, exploratory dream just before it began to tip over into something and somewhere else.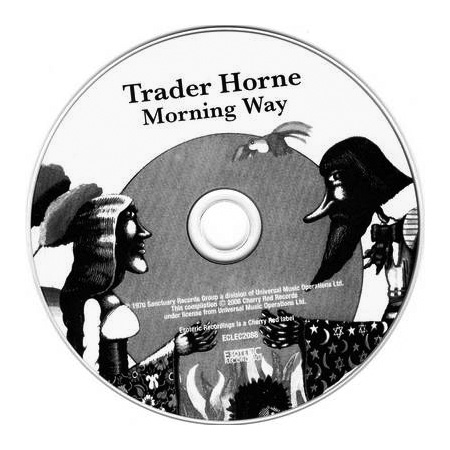 The song is from the album of the same name (their only album it pains me to say)… and talking of playful lysergisms, the cover art reminds me of Malcom English's Carnaby Street illustrations but re-thought by way of Oliver Postgate and The Pogles, maybe after stepping out for an imbibe and escapade or two with Michael Moorcock's Jerry Cornelius (albeit during an evening when he was in a lighter mood)…
I've mentioned this before but this was probably one of two songs that I heard where I thought "Hmmm, something interesting going on here, this isn't the idea of folk music that I thought I knew"…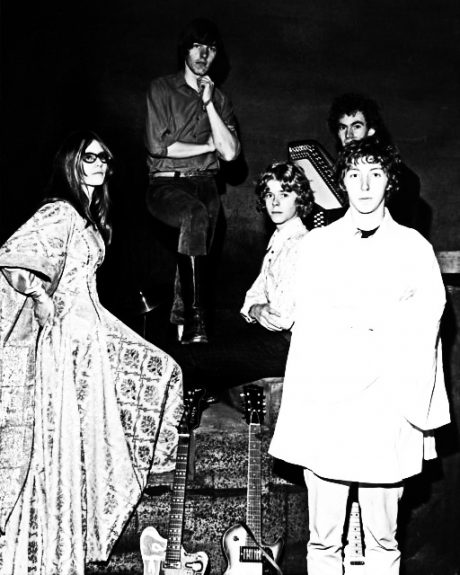 It's a decidedly explorative (that phrase again) track but also wonderfully melodic and accessible. It is a shimmering and a promise of an other world that you may just be able to step into, amongst and back to, even if only for but a few brief moments.
I've just gone away and taken a look and listen at the lyrics in full for Morning Way… the opening set of lines still stops me in my tracks when I hear them… and looking at the remainder of the lyrics, there's a sadness, a gladness, a hope and an optimism to what may well be somebody's passing.
…and in an alternative timeline, Judy Dyble of Trader Horne went on to be lauded as one of the voices of the high watermark of folk rock (prior to this she sang with an early incarnation of Fairport Convention but stepped back from music in 1973 for a number of years… ah, it's that year again).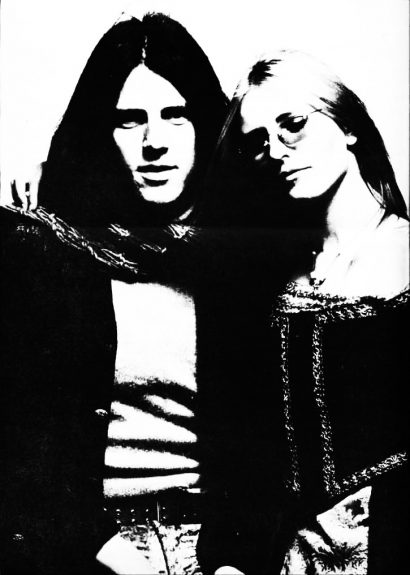 Trader Horne had what could be called a psychedelic/folk influenced appearance/image but one that had a sharp, almost high fashion touch, edging towards the likes of Ossie Clarke and Celia Birtwell…
With that in mind, that other timeline I expect would need to be curated and visualised by Psychedelic Folkloristic (once again, see below),
Ah, we can but dream.
Talking of which…
Dreaming strands of nightmare
Are sticking to my feet
It's time to wake up and throw away
The last remaining sheet
Sunlight sliding down my back
And dripping on the gray
It's time to watch the dawning light
Reveal the morning way
Dreams are fading
Now it's nearly noon
And then it's afternoon
The leaves are creeping
Green inside the day

To where the friends
Who used to lend me love
Are all above my head
And looking down at me
To smile at how it ought to be

To where the friends
Who used to lend me love
Are all above my head
And looking down at me
To smile at how it ought to be
To where the friends
Who used to lend me love
Are all above my head
And looking down at me
To smile at how it ought to be
Visit Mr Bob Stanley's rather fine collection of such semi-lost gems, Gather In The Mushrooms, here.
Visit a few other crystalline voices that have been lost and found over the years at Day #141/365.
Visit Psychedelic Folkloristic at A Year In The Country here and its curators rather fine slight decade displacement elsewhere in the ether here.
Ms Judy Dyble in the ether today here.