Peter Mitchell's book Memento Mori, originally published in 1990 and reissued in 2016 by RRB PhotoBooks, is a documenting of the demolition Quarry Hill Flats, which was a large housing estate in Leeds (a Northern city in the UK), that was built in the 1930s and which was built using advanced, then revolutionary construction techniques and  the estate had a distinctive modern continental design.
The flats were built as part of a "great social experiment" and intended to house an entire urban community. However soon after being built the flats were shown to have a number of serious infrastructure problems and this "daring vision for the future" began to crumble, literally.

Peter Mitchell arrived in Leeds just in time to record that demolition, with the resulting book not just being a photographic record but also effectively a tribute to those who engineered and built the Flats and those who lived there. It includes extensive archive material and reflects on the ideas behind the Flats, their construction, eventual demise and the reasons why they failed.
In connection to reflections on the demise of such building projects, in the Preface Bernard Crick says:
"Nobody welcomes decay, in the contrary; but contemplating such sights sets off a slow burning mixture of nostalgia and hope for a better future. These are somewhat conflicting emotions but if one is honest, it is useless to deny that many of us live with them both."
Which is a conflicting set of emotions which could well be applied to much of, for example, a contemporary appreciation of brutalist architecture and hauntological orientated work and interests, particularly in relation to lost progressive futures.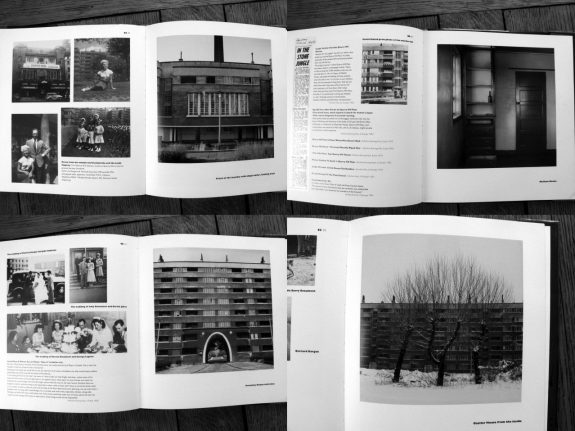 The practical problems that caused the flats to fail include that the automatic waste disposal gummed up and was very costly and difficult to clean, the prefabricated steel and concrete blocks used in the Flats' construction were either defective or poorly welded, leading to water seepage and rust and by the early 1960s repairs were going to cost more than building an entire new estate.
Alongside which due to the outbreak of the war many of the intended communal facilities were never completed.
These practical problems were accompanied by (and possibly in part were some of the causes of) vandalism and antisocial behaviour which plagued the Flats.
By the 1950s the flats were infamous and in the 1970s the decision was made to demolish this "stone jungle".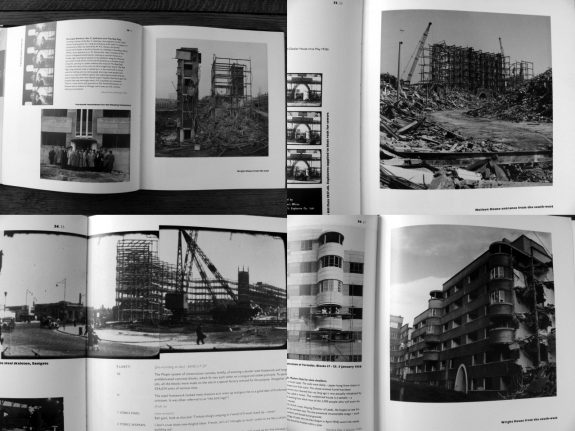 Memento Mori is a curious book: Peter Mitchell's evocative photographs of the demolition and dereliction of the estate are interwoven with period photographs, blueprints, historical details, quotes, news clippings etc – all of which tell a tale of both the initial optimism in regards to the estate and its subsequent decline.
Viewed now these various elements from different periods and their related optimism and sense of failure, defeat and sometimes anger seem to almost not connect with one another nor be records of the same place.
In one spread, which is fairly indicative of much of the book, children are pictured on a slide and swings next to news reports of the playground's vandalising, while on the opposite page is one of Peter Mitchell's photographs which shows a semi-demolished mass of concrete and steel that was once one of entrance's to the Flats.
Adding pathos to that photograph, there is a small illustrated sign which contains an illustration of children playing with a ball and which appears to indicate that this was once an exit which lead to a play area.
The way in which different elements from different time periods and levels of optimism are placed in close proximity to one another in the book create a sense of disjuncture, a fracturing of the traditional photographic book narrative, which may well be appropriate to and a reflection on the fate of the Estate itself.
However, as Bernard Crick also says in the Preface, the book is:
"…no easy polemic against utopianism or modernism in architecture and planning, even though Quarry Hill failed: it is only, if a polemic at all, a polemic against utopias that fail."
When viewed now the aesthetics and grand intentions of creating an entire urban community in such mass housing projects appear to be nearer in spirit to a top-down imposed Soviet/Eastern Europe attempt at social engineering.
As discussed in part by Bernard Click in the Preface, such projects in the UK may have had high and well minded ideals and initial intentions but they also seemed to ignore some of the often basic human needs or wishes for decent autonomous family units, home and hearth.
They appeared in part to neglect or overlook the possibility that say more traditional individual houses may have been more wished for or appreciated by residents and that an accompanying sense of a "home of your own", which such traditional housing may instill, could be more important to the people who actually lived in such homes than a romantic outsiders' intellectual sense of the importance of building communities within and via large scale, flat orientated modernist social housing projects.
Elsewhere:
Sample pages of Memento Mori at propagandaphotos
Memento Mori at RRB PhotoBooks
Peter Mitchell's Strangely Familiar site
Elsewhere at A Year In The Country:
Ether Signposts #1/52a: Peter Mitchell's Some Thing means Everything to Somebody