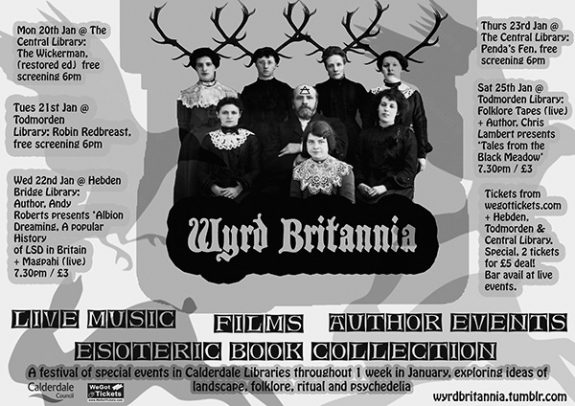 File under:
A Year In The Country: Recent Explorations. Case #1/52.
Well, on my electronic ether wanderings I stumbled upon this festival around and about the environs of Halifax and Hebden Bridge… one of those times where I suddenly find myself counting my pennies and wandering if I can afford to go to all of it if I stay at a rather (ahem) budgetly priced hostelry and eat chips for six days.
It seems like one of those times and events where somebody who works for the council/public services has had some particularly interesting get-up-and-go and has started to put something they're genuinely passionate out into the world… the festival is actually to mark the relaunch of the Calderdale libraries Wyrd Britannia collection of films, books etc… and judging by the lineup and the photograph of the collection below it's a collection below it includes areas of culture that you probably wouldn't expect to see gathered together in a public library. To quote from the council's site the collection "reflect(s) the dark and complex underbelly of English rural tradition and beliefs". Blimey, see what I mean? It's not three shelves or more full of some supermarket friendly blockbusters by the same author as you sometimes see in such places.
I'm not knocking libraries though. They're some of my favourite places and I seem to visit them in the same way I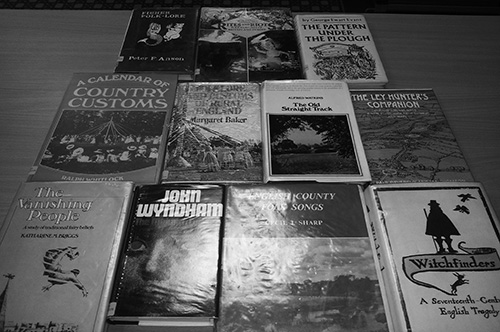 used to track down record shops and to tell the truth I often get the sense that whoever is organising/buying the stock has an eye and ear for the left-of-centre (double Swans live albums? Check. Book of lost New Orleans Juke Joints? Check. Etc). Tip of the hat to them.
Anyway, this festival features some of the core films of what could be called English hauntological* folklore (The Wickerman, Robin Redbreast and the superb, intriguing and rather rare Penda's Fen) alongside performances (installations?), readings and the like by Magpahi, Folklore Tapes, author Chris Lamber (Tales Of The Black Meadow… more on that I expect in a later post), author Andy Roberts on his Albion Dreaming book etc.
Well, it's good to know that there are corners of the world where the public coffers can still be spent on such things.
Thankyou to those involved.
Wyrd Brittania at Calderdale Council
Wyrd Britannia on dear old social media
*Hauntological? Is this the first time I used this phrase in A Year In The Country? Something of a catchall in a way but it does seem to have come to represent a particular cultural sensibility and atmosphere…