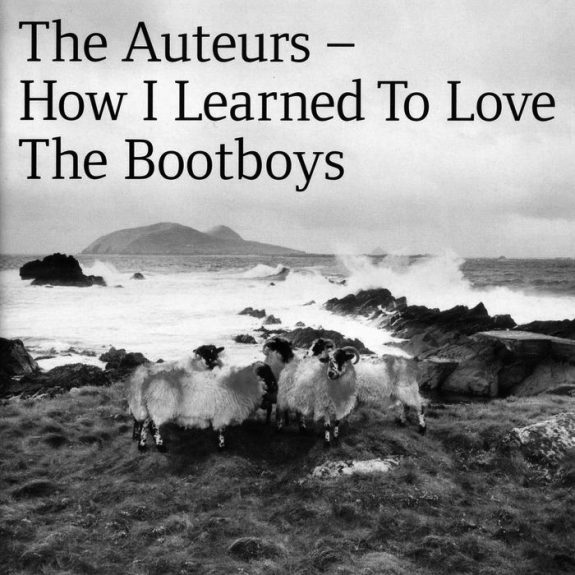 File under:
Trails and Influences: Other Pathways. Case #1/52.
Although the phrase hauntology has often come to mean a particular aesthetic (ie a particular kind of often sample lead music and found imagery, often drawing on library music and TV/film soundtracks of the later sixties through to the early eighties; see Ghostbox, Julian House etc), if you consider it in a more general sense to mean the present being haunted by spectres of the past then Luke Haines is probably one of the more hauntological musicians I can think of.
Why? Well, his music often seems to literally be haunted by the past, his own and society/cultures and bogeymen/figures of one sort and another from previous decades.
Take this album How I Learned To Love The Bootboys, by one of his previous combos, The Auteurs. Lead track The Rubettes borrows liberally from 1970s pop (Sugar Baby Love by it's namesakes), their are maruding skinhead bootboys from a similar era, we've an ode to a 1950s pop/rock band (the singer of whom is "dead within a year"), imbibements popular in other eras (Asti Spumante; known as a "noxiously sweet poor man's Champagne") and so forth… alongside a sometimes and possibly recurring sense of the playground dread of an arty-schoolboy looking back to the marauding dangers of his 1970s childhood.
Elsewhere, such as on his solo album Off My Rocker At The Art School Pop there are teddy boys discos and Vauxhall Corsas, "the three day week, half-day Wednesdays, the spirit of the Blitz", an unsolved 1960s celebrity boxers death and that's before we get to an entire concept album dedicated to 1970s and early 1980s wrestling (called in a "it does what it says on the can" manner Nine and a Half Psychedelic Meditations on British Wrestling of the 1970s and early '80s… a fine title and subject matter).
Or indeed, it's before we get to the sublime Black Box Recorder, his trio with cohorts Sarah Nixey and John Moore. This combo often sounded to me as though they were singing from some kind of brutal, sneering, imaginary 1970s hinterland, all arch pop noir and hidden away in cupboards secrets along with Lord Lucan-esque classy British sleaze…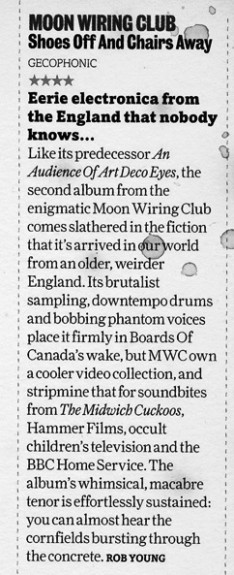 …which reminds me in a way of Rob Young's review of a Moon Wiring Club album in Uncut magazine where he talks of the enclosed music being "slathered in the fiction that it comes from an older, weirder England"… and so we come back round to what is considered hauntological culture in a more conventional sense.
So, Mr Luke Haines, a curious gent and I think an interesting example of how pop/rock can be conjoined with a certain intellectual stance and influence and still be, well, good pop/rock songs (I say pop as both The Auteurs and Black Box Recorder bothered the singles charts in the days when such things kind of still mattered a bit… oh and the songs are often catchy. "Non-populist pop"? to quote the sleevenotes to The Eccentronic Research Council's first album).
I find that there's a certain British nature/countryside brutality to the cover of How I Learned to Love The Bootboys (particularly more so in the original full colour cover version… the red dye splashed on the sheeps coats seems to conjure the edges of nightmares and the blood soaked history of the land. Or is that just me?).
I'm suprised returning to the cover as well as in my head the sheep are next to and below an imposing dark grey cliff. Misremembered cultural memories and all that.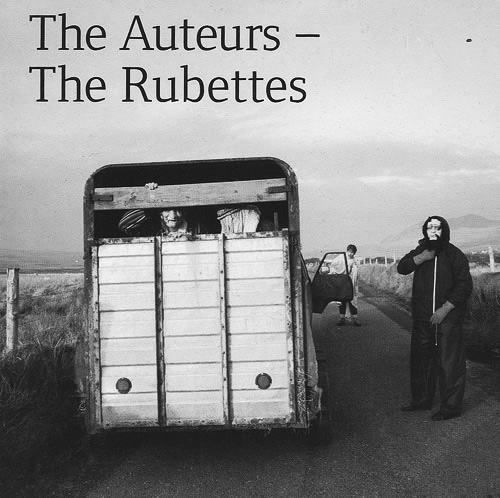 Oh and as final note, just what is going on in tthis cover to The Auteurs The Rubettes? It's genuinely unsettling and well, nasty. Literally contemporary folk horror.