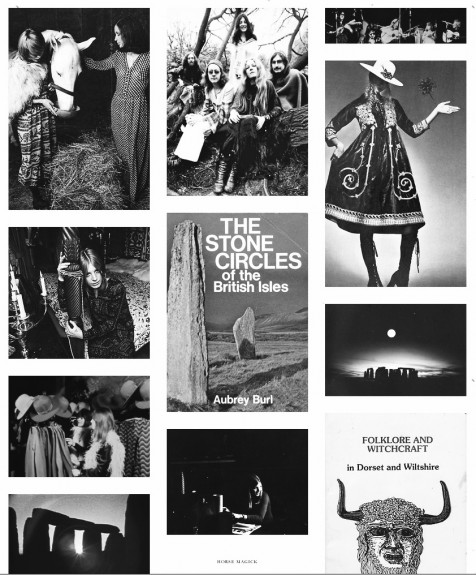 File under:
Trails and Influences: Electronic Ether.
Case #1/52.
The internet is full of all kinds of corners and niches… but this is one of my favourites.
What is it? Well, it's a visual collection of a very specific stylish take on folk and folklore culture; if Michelangelo Antonioni's Blow Up had taken it's starting point to be the wald rather than Swinging London, with art direction by Kenneth Anger if he had grown up in a secret garden corner of England rather than California and hung out with Judy Dyble rather than The Rolling Stones… and if the resulting film had been shot on location in a secluded green grove rather than the Kings Road…
…and if this imaginary celluloid dream had a soundtrack where the pastoral-playland-bubble living hipsters of The Touchables (an intriguing film which is also featured in Psychedelic Folkloristic), Miss Jean Shrimpton and her companions etc had been serenaded by late '60s/early '70s folk rock rather than Herbie Hancock and psychedelic pop minstrels Nirvana (no, not the well known Nirvana)…
Well, if most of those numerous ifs had happened then the vision and aesthetic that was presented to the world might well have been similar to the one found in Psychedelic Folkloristic.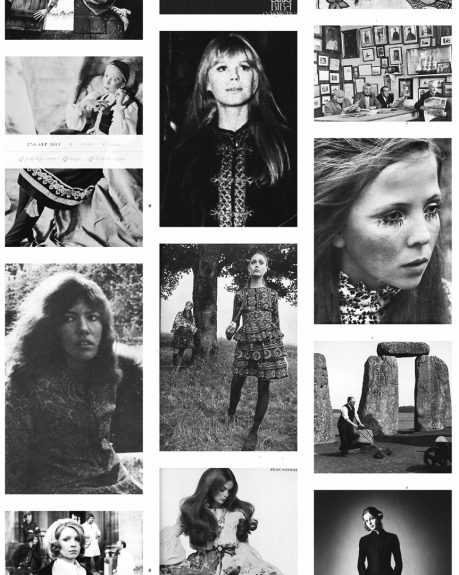 The site explores what in many ways are familiar tropes of the other albion side of folk culture but how it is selected and put together creates a much more pleasing on the eye, suave, (fashionable?) take on such things… '60s high fashion glamour having a cup of tea out in the fields amongst the old monuments indeed. Suprisingly refreshing to view as a take on a culture that is often thought of more in terms of anti-glamour and a rejection of style.
I suppose many of the photographs were drawn from a brief flicker of time when the beautiful people were interested in/adopted some of the aspects of folk culture and music… a time since which there have only been the occasional brief moments when the spotlight of more pop-culture/populist attention has shone on such things
(One of the only such times is probably in the mid-2000s when the largely American, loosely connected likes of Devendra Banhart, Joanna Newsome, Coco Rosie etc were a flavour of the moment… or "the popular kids" as Jeanette Leech, author of Seasons They Change: The Story of Acid and Psychedelic Folk, wrote").
Some of the inhabitants of Psychedelic Folkloristic? Well… Mellow Candle, Dando Shaft, Celia Birtwell, The Owl Service, Sandy Denny, Ossie Clark, Penelope Tree, The Stone Tape, Pattie Boyd, the aforementioned Jean Shrimpton and her sister Chrissie (Mick Jagger's one time beau), Homer Sykes, Anita Pallenberg via Performance, alongside an intriguing set of semi-lost book covers. That small list of those who dwell in the gently lysergic meadows of Psychedelic Folkloristic and the photographs from the site on this A Year In The Country page will probably give you an idea of what I mean by '60s high fashion glamour meeting folk culture.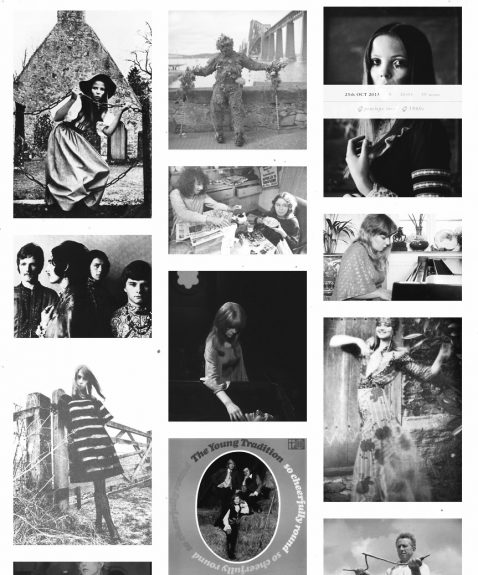 Interestingly, it all fits together surprisingly well.
…I'm not sure if the world and aesthetic that Psychedelic Folkloristic presents existed in as coherent form as the site presents it but I don't think that's the point; as much as anything it is creating it's own world from essentially found and collaged imagery and to be honest it's a world that I could just lose myself in for hours.
Arianne Churchman who puts it together says on the site that she "suffers from slight decade displacement", which leads me back round (again) to Rob Young's idea of "imaginative time travel" and "experiments in consensual hallucination"… this site, if anywhere, is a good expression of such things.
Always a treat to visit and have a look-see at and wander through this particular electronic field, this is a lovely and lovingly curated set of images.
Visit it here: www.psychedelicfolkloristic.tumblr.com
Arianne Churchman's site is here.
I Thought I Head A Sound event.
Not updated for a while but well worth a peruse and meander through: Rob Young's Electric Eden